What The Johnny Depp-Amber Heard Verdict Could Mean For His Music Career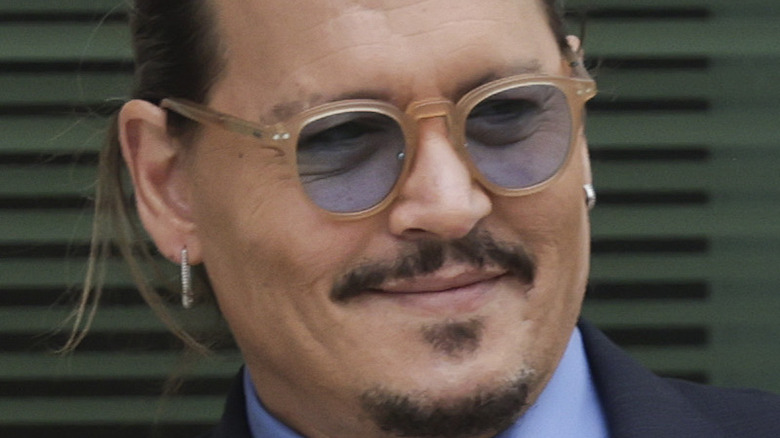 Kevin Dietsch/Getty Images
For the past two months, Johnny Depp and Amber Heard have been the flaming focal point of international media buzz. Depp, in refutation of remarks made by Heard about alleged spousal abuse back in 2018, sued her for defamation of character and demanded $50 million in compensation, stating that the extreme accusations leveled against him by his ex-wife had devastating effects on his acting career (via Time). "I'm suing her over defamation and the various falsities that she used to bring my life to an end," the "Pirates of the Caribbean" actor declared before the jury once the trial was in full swing (via OK! Magazine). On June 1, 2022, the panel of jurors commissioned to oversee the case ruled in Depp's favor and rendered Heard's accusations erroneous and maliciously charged. The actor will be awarded $15 million dollars in defamation damages, while his ex-wife will be granted $2 million dollars on behalf of a countersuit made by her team of lawyers, as Time reports. 
"The jury gave me my life back. I am truly humbled," Johnny Depp shared in a statement following the court's decision (per Entertainment Weekly). Now that the cataclysm of conflicting testimonies and legal sparring has finally reached a merciful end, the world is eager to see what will happen next. Despite his renowned reputation as an actor, Depp has stated that his first true love is music, and that it will likely absorb the bulk of his artistic and professional focus moving forward (via People). 
Depp's deep love of music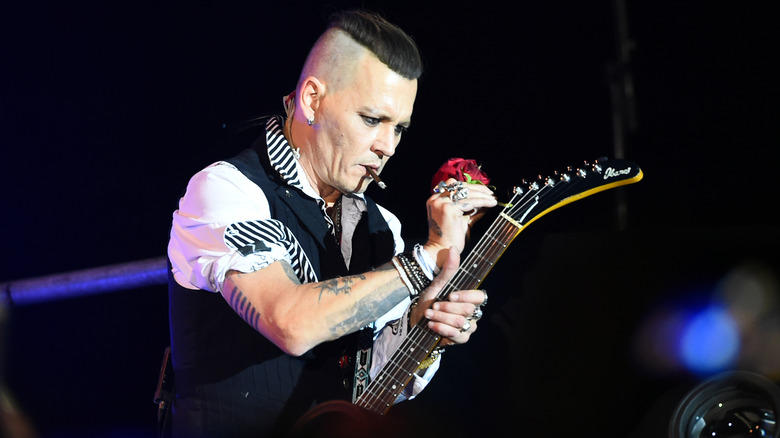 EUPA-IMAGES/Shutterstock
Long before he was braving the high seas with a rusty sword and a spyglass, Johnny Depp was a devout music lover. He picked up a guitar at a young age, and by the time he'd entered high school, it had become his entire world. In order to fully commit himself to his dream, he dropped out and started commanding stages with his band at the time, The Kids, and regularly opened for major acts like The Ramones and Iggy Popp. Ultimately, the troupe of youngsters moved to Los Angeles, where the spirit of rock n' roll was surging, but they broke up shortly after arriving (via Slate). 
Depp then took a stab at acting and landed some major roles ("21 Jump Street," "Platoon," "A Nightmare on Elm Street") that catalyzed his career on the silver screen, though he maintained his musical presence by performing with the band Rock City Angels throughout the duration of the 1980s. In years following, he took up with several notable acts in collaborative projects on the side as well. Ryan Adams, Iggy Popp, Oasis, Patti Smith, Aerosmith, and Marilyn Manson have all welcomed Johnny Depp into the studio and/or on stage with them, and in 2015, he forged his own supergroup, Hollywood Vampires, alongside Alice Cooper and Joe Perry (per Loudwire). In the wake of the COVID-19 pandemic, the group canceled a major tour and announced later on that it would not recommence, according to Blabbermouth. 
What's to come?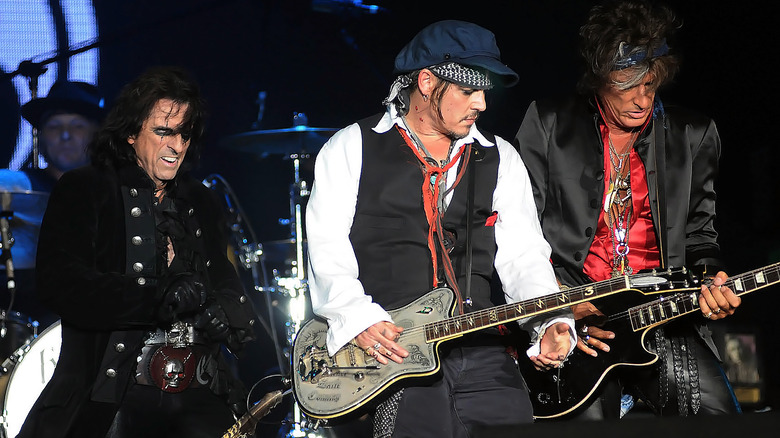 A.PAES/Shutterstock
Even in the heat of a ravenous legal battle, torn open before the watchful eyes of the entire world, Johnny Depp still managed to carve out some time for music. For three nights in a row (May 29, 30, and 31), he joined fellow rocker and dear friend Jeff Beck on stage in London, England (per Deadline). Depp's former girlfriend Kate Moss, who appeared in court over video chat and testified in support of him, was also in attendance on the third night of music. The guitar-wielding pair performed renditions of "Little Wing" by Jimi Hendrix and "Isolation" by John Lennon, among other rock classics (via People). 
"You'll be hearing more from Johnny and me in a little while, but until then, we hope you find some comfort and solidarity in our take on this Lennon classic," Jeff Beck stated before the reeling crowd (per people). He also shared that he and Depp had been working on music together behind the scenes for "a while now" and vaguely hinted at a possible studio collaboration. Some suspect that the legendary Paul McCartney, a close friend of Depp's and past musical collaborator, has been in vehement support of him throughout the controversy (per The Independent). While it's not entirely certain what Depp will do next, the love he's received from fans and other big names in both music and film could be indicative of some sort of impending redemption.