Where Is The Dropout's Sunny Balwani Today?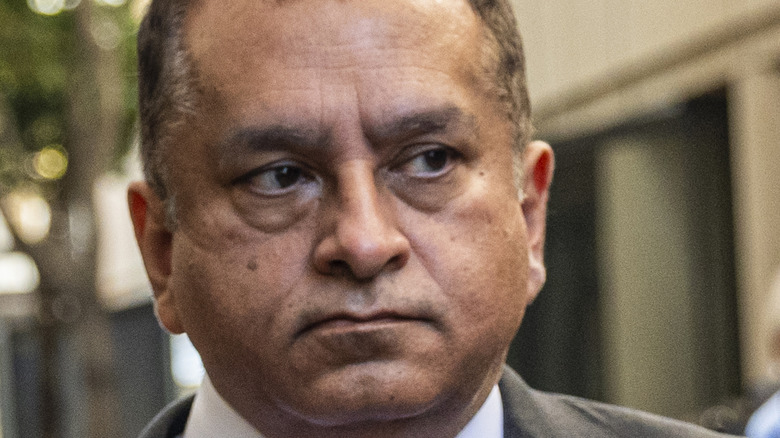 David Paul Morris/Bloomberg via Getty Images
The dramatic rise and fall of Theranos, the company founded in 2003 by then 19-year-old Stanford University dropout Elizabeth Holmes, captured the world's attention. Holmes was lauded as a visionary who would change health care forever and in 2014, she became the world's youngest female self-made billionaire, per Britannica. An investigation by journalist John Carreyrou that uncovered widespread practices of fraud within the company led to Holmes' ousting and the company stopping operations entirely in 2018. Carreyrou published a book on his investigation, "Bad Blood: Secrets and Lies In a Silicon Valley Startup"; several true crime podcasts, articles, and a documentary all focused on Holmes followed his lead. As the story of Theranos came to light, another company executive who had primarily worked behind the scenes during the company's golden years attracted interest. The interest increased with the airing of the limited series "The Dropout," which featured Amanda Seyfried as Elizabeth Holmes and Naveen Andrews as her boyfriend and business partner Ramesh "Sunny" Balwani
Ramesh "Sunny" Balwani joined Theranos in 2009 after loaning the company $10 million, as reported by CNN. At that point, Balwani and Holmes had been living together since 2005; they first met on an exchange program to China through Stanford University in 2002. They kept their relationship a secret from Theranos staff and investors as well as the public. Holmes became a media superstar, regularly profiled and celebrated on television, in print, and online, serving as the face of Theranos while Balwani remained in the background. 
Elizabeth Holmes and Sunny Balwani were tried separately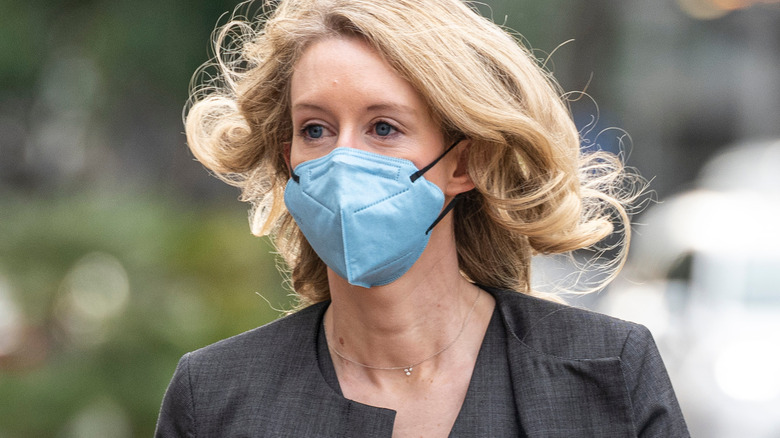 David Paul Morris/Bloomberg via Getty Images
Both Elizabeth Holmes (above) and Sunny Balwani were charged with several counts of fraud; Their cases were split, and both pleaded that they were not guilty. Holmes' trial took place first, and on January 3, 2022, she was convicted of four out of the 11 counts, per The New York Times – three counts of wire fraud and one count of conspiracy to commit wire fraud by lying to investors to raise money for her company. She was found not guilty of four counts involving defrauding patients who'd submitted to Theranos blood tests and the jury didn't reach a verdict concerning three counts of deceiving investors, which led to a mistrial. 
Over the course of her trial, Holmes accused Balwani of emotionally and sexually abusing her over the course of their personal and professional relationships. She broke down in tears on the stand and claimed he controlled her schedule, her appearance, and her interactions with her family. Balwani has denied Holmes' allegations. Another New York Times article reported that Holmes' lawyer told the jury in an opening statement that "Trusting and relying on Mr. Balwani as her primary adviser was one of her mistakes." Jurors were also instructed to avoid speculating why Balwani was absent from Holmes' trial. Holmes will be sentenced in September and remains out on bail as of July 12, 2022.
Twelve counts of fraud, twelve convictions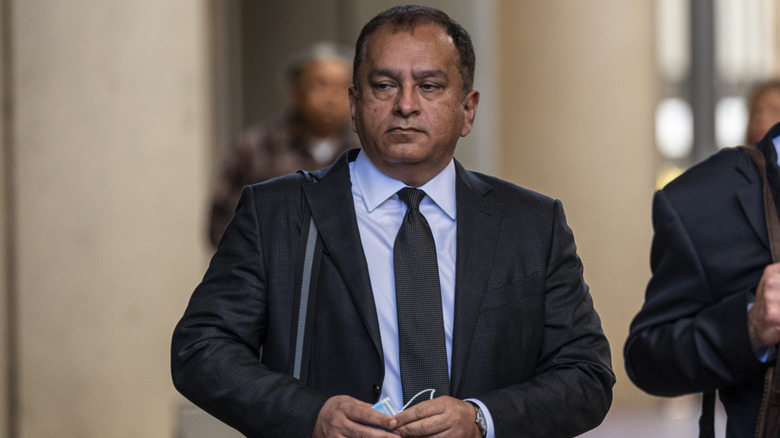 David Paul Morris/Bloomberg via Getty Images
Sunny Balwani's trial began in March 2022; he was charged with 12 counts of fraud. Per The Wall Street Journal, a text that Balwani sent to Elizabeth Holmes in 2015 was particularly damning in the face of his plea of not guilty. Balwani had told Holmes "I am responsible for everything at Theranos. All have been my decisions too." Balwani's lawyers argued that Holmes had been behind the crimes perpetrated by Theranos in the course of its operations, with Jeffrey Coopersmith telling jurors that Holmes was good at "attracting" collaborators like Balwani "to the vision that she had." 
Witnesses for the prosecution included former Theranos lab manager Mark Pandori, who told jurors "I considered Mr. Balwani and Elizabeth to be unified in all of their decision-making processes," and described how Balwani had ordered the lab to misrepresent the ways in which their products worked by prioritizing blood samples from investors to make it seem like the process was faster and more accurate than it was, according to Insider. Balwani didn't testify in his own defense. 
On July 7, 2022, Balwani was found guilty of all 12 counts of defrauding both investors in Theranos and patients who received blood tests using Theranos' equipment, as reported by The New York Times – 10 counts of wire fraud and two counts of conspiracy to commit wire fraud. Coopersmith gave a statement in which he relayed that his client was "obviously disappointed" in the jury's decision and that Balwani was considering several options, including appeal. He, like Holmes, is out on bail and expected to be sentenced in November 2022.