Ivana Trump's Startling Strategy For Leaving Czechoslovakia In The '70s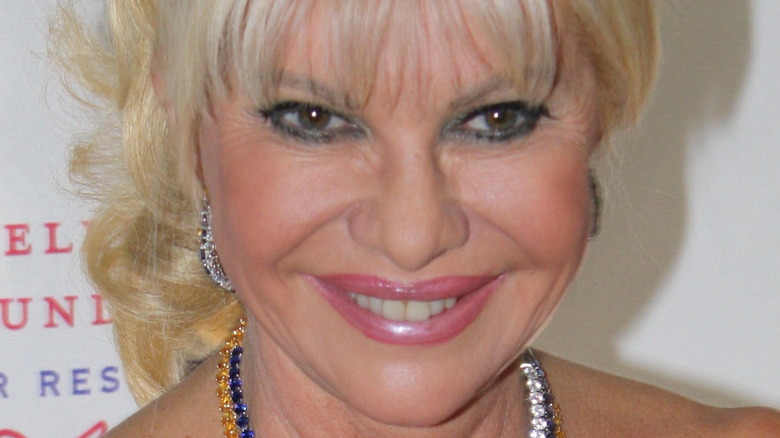 Dylan Armajani/Shutterstock
The ex-wife of former President Donald Trump, Ivana Trump, died on July 14, according to a statement from the Trump family. She was 73. As of this report, Ivana Trump's exact cause of death is unknown, though the New York City Fire Department reports they received a call to New York's Upper East Side to respond to a woman in cardiac arrest, according to ABC News. In their statement announcing Ivana Trump's death, the Trump family called Ivana (via BBC) "a force in business, a world-class athlete, a radiant beauty, and caring mother and friend."
Mother of three Trump children — Donald Jr., Ivanka, and Eric — Ivana divorced Donald Trump in 1992. She was born Ivana Marie Zelníčková in the former communist country of Czechoslovakia, now the Czech Republic, and emigrated to the U.S. in 1977, reports CNBC. Though Ivana Trump entered the United States from Canada legally, to work in promotion for the 1976 Summer Olympics in Montreal before she met and married Donald Trump, the manner by which Ivana initially left her home country is not quite so clear cut, according to 2018 reporting from Quartz.
Ivana Trump first left her home country for Austria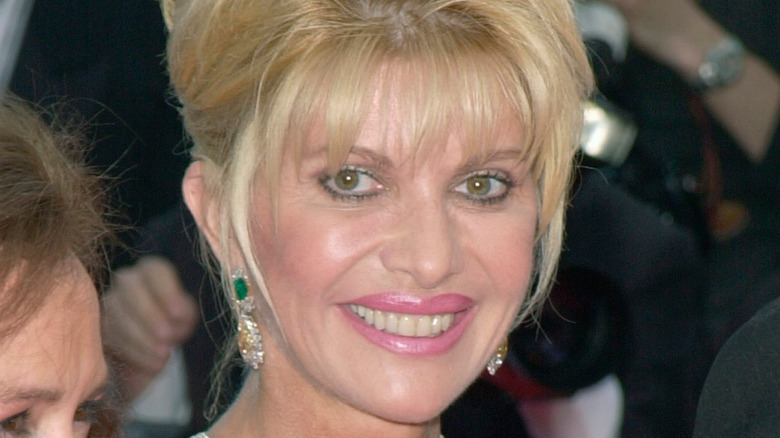 Featureflash Photo Agency/Shutterstock
As a student studying in Prague, Ivana married an Austrian national, Alfred Winklmayr, in 1971. Through this marriage, Ivana was able to obtain an Austrian passport to escape her home country of Czechoslovakia, which was then communist, according to 2020 reporting from Daily Mail. Casting suspicion on the union with Winklmayr, Ivana had been romantically linked to another man, Jiři Syrovatka, since the late '60s, as the Daily Mail goes on to note.
By the early 1990s, the marriage of Donald and Ivana Trump fell apart due in no small part to Donald Trump's infidelity with Marla Maples, as Vanity Fair explains. During the high-profile divorce proceedings at that time, her lawyer, Michael Kennedy, revealed that her marriage to Winklmayr was strictly to help Ivana emigrate to Austria, and that the marriage was reportedly never consummated, as Quartz explains; nor was it alleged that the couple ever lived together. By 1972, Ivana Trump received an absentee divorce from Winklmayr, per Daily Mail. And it wasn't until much later that Ivana revealed that early marriage to her own children, as Quartz also notes.
Marriage fraud is illegal in the US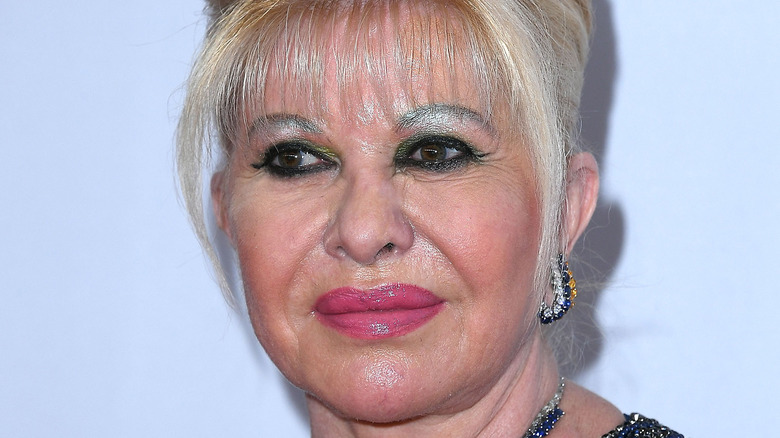 Steve Granitz/Getty Images
Though there's nothing illegal about how Ivana Trump, who became a naturalized citizen of the U.S. in 1988 (per Daily Mail), entered the U.S. for work, only to go and meet and marry Donald Trump, the manner in which she allegedly left her home country — in an apparent marriage of convenience for the sole purpose of immigration — would be considered a federal crime in the United States, defined as "marriage fraud," according to U.S. Immigration and Customs Enforcement (ICE). Marrying strictly for the sake of immigration is also illegal in both Austria and in Canada, per Quartz, and those convicted of the crime in America can serve up to five years in prison and receive fines of up to $250,000, as the ICE website explains.
On the news of his ex wife's death, former President Donald Trump took to his own social media outlet, Truth Social, to pay tribute. In his post, Trump called his ex-wife an inspiration, according to ABC News. She is survived by her mother, three children, and 10 grandchildren, according to the Trump family statement (via Politico).