Where Is Jayne Mansfield Buried?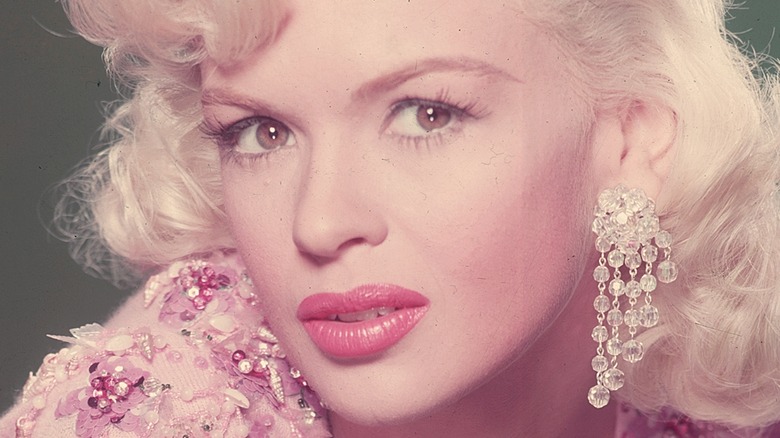 Hulton Archive/Getty Images
Sultry and vivacious, actress Jayne Mansfield dazzled audiences early in her career with such films as the gritty crime drama "Female Jungle" (1955) and the comedic musical "The Girl Can't Help It" (1956), per IMDb. She became one of the most popular sex symbols of her era, starring several romantic comedies including "Kiss Them for Me" (1957) with Cary Grant and "Will Success Spoil Rock Hunter?" (1957) with Tony Randall.
Mansfield seemed to relish her image as a blonde bombshell, once saying, "I like being a pin-up girl. There's nothing wrong with it" (via her official site). But she was much more than that, her daughter Mariska Hargitay later explained to People magazine. "People didn't know that she played the violin and had a 160 IQ and had five kids and loved dogs," she said. Mansfield showed some of her dynamic range in her nightclub act, in which she danced, sang, and showed off her comedic skills. It was after such a performance in Biloxi, Mississippi, that Mansfield set out for New Orleans, per History. She was traveling with a driver, her lawyer, and three of her children when disaster struck.
Jayne Mansfield's tragic accident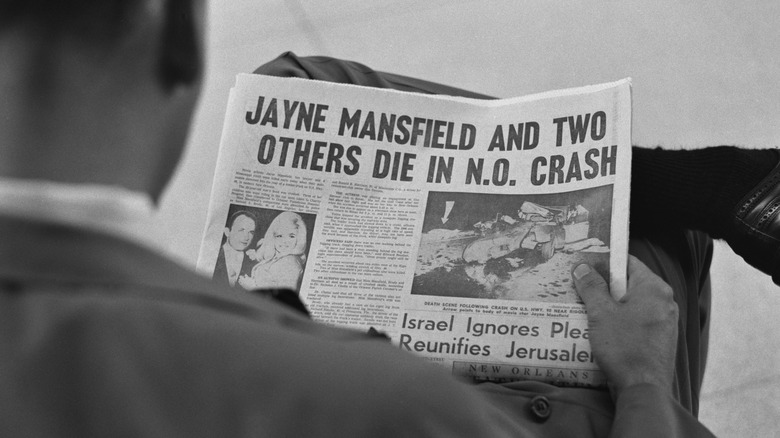 Michael Ochs Archives/Getty Images
The car Mansfield was riding in crashed into the back of a truck on June 29, 1967, according to History. The 34-year-old star was killed instantly along with the driver, Ronald B. Harrison, and her lawyer, Samuel S. Brody. She had been engaged to Brody at the time of their deaths, per Turner Classic Movies. Three of her children, Mickey, Zoltan, and Mariska, had been riding in the back seat, which may have saved their lives. They escaped with only minor injuries, per Mansfield's official site. Mansfield had long brought her children with her when she worked. "I don't believe in having them and then leaving them to someone else to bring up," she once said.
In addition to the three children with her at time, all of whom were from her second marriage, to former Mr. Universe Mickey Hargitay, Mansfield also left behind two more children. She had her daughter, Jayne Marie Mansfield, during her first marriage, to Paul Mansfield. Her youngest child, son Tony, was from her third marriage, to director Matt Cimber. The couple had married in 1964 and separated two years later. 
Jayne Mansfield was buried far from Hollywood
In the end, the Hollywood star was returned to her roots. Born on April 19, 1933, in Bryn Mawr, Pennsylvania, Mansfield started out life as Vera Jayne Palmer (via IMDb). Her early years were marked by tragedy. She lost her father when she was only 3 years old –- he died of a heart attack, per her official site. He was laid to rest at Fairview Cemetery in Pen Argyl, Pennsylvania. After Mansfield's death, it was decided that she would be buried there as well. Her second husband, Mickey Hargitay, reportedly accompanied the body from New Orleans to Pen Argyl (via the Desert Sun).
On the day of her funeral, crowds gathered on the nearby streets to say good-bye to the larger-than-life pop icon. This was not a star-studded affair, but a private service only for family and close friends, according to the Morning Call. She was buried near her father, and her elaborate headstone (see above) has attracted many visitors over the years. Some leave pink flowers, after Jayne's favorite color. She loved it so much that even her Los Angeles home was that color, earning the nickname "The Pink Palace," per her official site. While her official gravesite is in Pennsylvania, there is a special tribute to the popular pinup on display in Hollywood as well. In Hollywood Forever in Los Angeles, there is a cenotaph, an enscribed memorial stone, to honor and remember Mansfield (per Find a Grave).