Charles S. Dutton Spent Nearly A Decade In Prison Before His Acting Career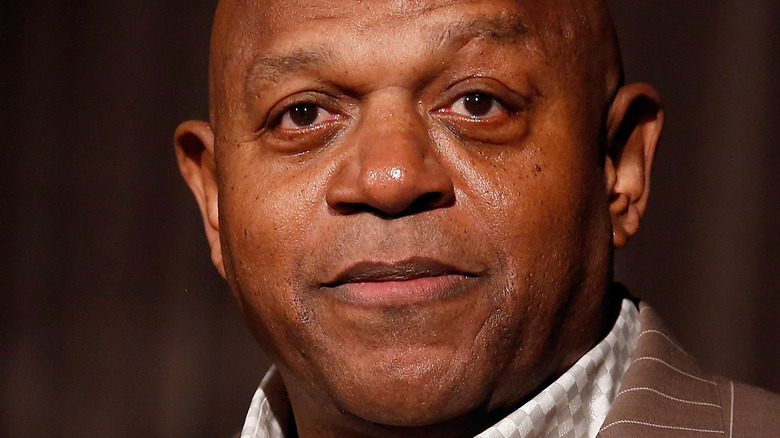 Jemal Countess/Getty Images
Charles S. Dutton has acted in Broadway plays, films, and television. He's recognizable for his roles in films such as "A Time to Kill" and "Rudy." To say his rise to acting success was "unique" would be an understatement. If Dutton's origin story was ever made into a Hollywood script, he's already crafted the perfect tagline: "from Jail to Yale" (via Los Angeles Times).
A teenager living in Baltimore, Maryland in the 1960s, Dutton described himself this way: "I enjoyed knocking the [expletive] out of people ... I enjoyed violence" (via The Washington Post). His nickname "Rockhead" was acquired from violent childhood rock fights which left his head battered and bleeding. When he began amateur boxing, the moniker was shortened to "Roc," a nickname he still goes by (via All About Actors). "I was in the Black Panther Party in the 1960s, raised hell in the streets," he says (via Final Call).
At 16, Dutton got into a fight with a man he said attacked him with a knife, stabbing him seven times. Wrestling the knife into his hands, Dutton stabbed back, leading the attacker to bleed out on the street (via The Washington Post). At 17, he pleaded guilty to manslaughter and was sentenced to five years in prison in 1967.
Acting violent
After serving two years for manslaughter, Charles Dutton was released, only to be sent back to prison to serve three years more for a weapons charge. He wound up in the Maryland State Penitentiary building he used to see out his old bedroom window (via The New York Times and The Washington Post).
Dutton's headstrong, violent, and rebellious nature followed him to his second sentence in prison. A self-proclaimed "troublemaker," he fought guards and inmates with the boxing skills he gained in childhood (via Chicago Tribune).
When a prison guard prevented Roc from seeing a visitor, things got physical. Bolstered by his childhood boxing experience, Dutton put up a challenge for a fair fight and the two began to, as he describes it, have "a wonderful, nice 10 minutes busting each other up" in a locked room (via Washington Post). In a grim summary of the state of the U.S.'s judicial system, Dutton is quoted as saying, "I got three years for killing a Black man and eight for punching a white man" (via The Washington Post). Eight years was added to his prison sentence.
Acting your way out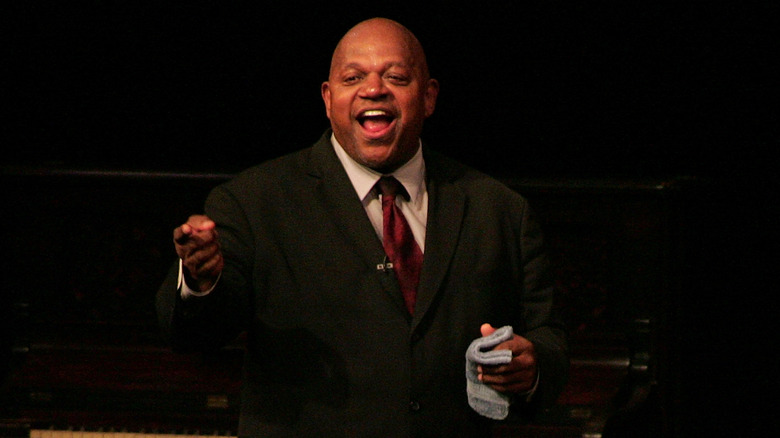 David Livingston/Getty Images
It was a stint in solitary confinement that brought Dutton to acting. Prisoners were allowed one book and he absentmindedly selected an anthology of Black playwrights. In a quiet isolated cell, he became fascinated with larger than life characters and drama (via The Washington Post). His acting career began upon his release from solitary, when he petitioned and was allowed to establish a prison drama group.
All in all, Dutton says he "spent 12 years in and out the penal institution, seven and a half the last time." Charles Dutton's education career went from dropping out of middle school, prison GED, Hagerstown community College, Towson University, to Yale School of Drama (via Final Call). Right out the gates of Yale, Dutton was nominated for a best actor Tony for his depiction of an ambitious trumpeter from the 1920s in "Ma Rainey's Black Bottom" (per IBDB, Internet Broadway Database). He went on to star in movies and television as well as revisiting the theater.
Dutton is aware of the media's fixation on his violent past, and said in a 2018 interview with All about Actors "right now, it doesn't bother me." He seems to acknowledge that "it's not everyday there's a guy who's seven-and-a-half years in a penitentiary, goes to Yale, and goes to Broadway. And not just goes to Broadway, but becomes an acclaimed actor."