Why Suge Knight Can't Stand Dr Dre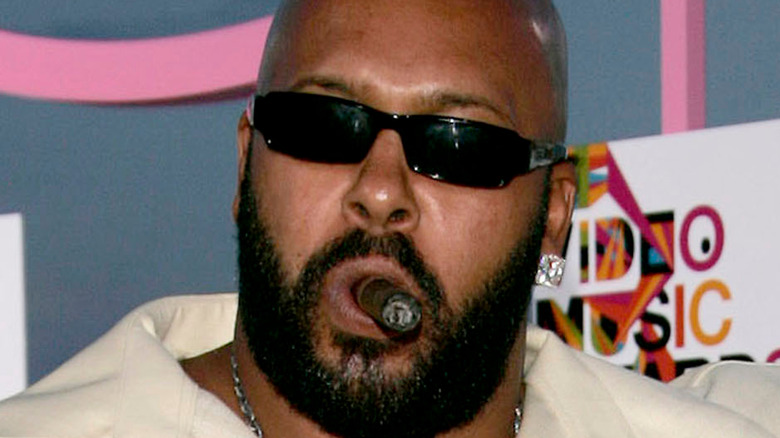 DFree/Shutterstock
Some rivalries in the music world are legendary. Since the 1990s, Suge Knight and Dr. Dre have had an infamous rift that's only gotten more and more vicious over the years. The discrepancy stems all the way back to the early days of Death Row records — of which Knight was once CEO — when Dre parted ways with his former friend, fellow rapper, and business partner, according to Consequence. In the wake of it all, business-related and personal struggles have tirelessly haunted their once cordial relationship for all the world to bear witness to.
"This one was actually an easy separation. When I separated myself from Eazy-E and Ruthless Records, that was a lot more difficult because there was a brotherhood there that was created," Dr. Dre shared while reflecting upon his departure from Death Row in 1996 (via Nation of Podcation on YouTube). While the decision to leave Suge Knight and his record label behind may have been an easy one, the fallout from the motion definitely was not. In recent years, Knight has been more vocal than ever about his contempt for Dr. Dre and where his bitter grudge originates from. In 2018, Knight spoke to The Blast about his infamous quarrel with the former N.W.A. member that has lasted decades, and he did it from behind bars. 
Suge Knight was sent to prison in 2018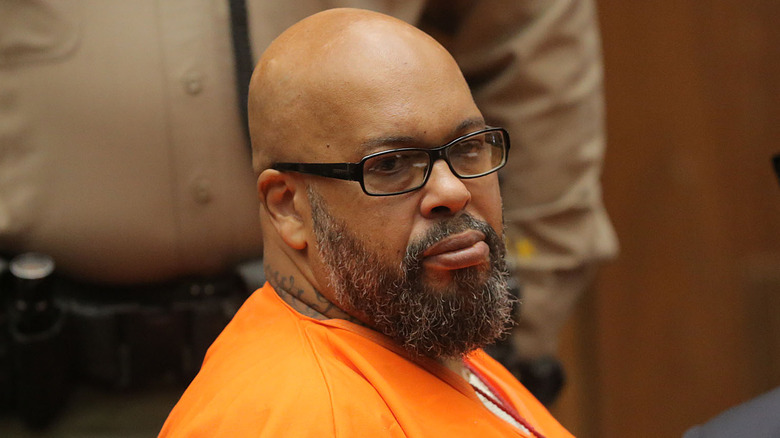 Pool/Getty Images
In September of 2018, Suge Knight was sentenced to 28 years in prison after being declared guilty of manslaughter, according to CNN. It was in 2015 when, after a confrontation between Knight and two other men, he ran them over with his car and accidentally killed one of them. Knight and his defense team postulated his innocence by declaring that one of the men was wielding a pistol at the time of the confrontation, though it did little in the way of reducing his sentence. 
Knight plead no contest to voluntary manslaughter and was sent to RJ Donovan Correctional Facility in San Diego, California where he is currently carrying out his sentence (per BET). It was from the confines of prison that he delivered an interview with The Blast shortly after his conviction and outlined the circumstances leading up to his arrest, his life behind bars, and the real reason he harbors such a heated resentment toward Dr. Dre. 
Suge Knight says Dr. Dre tried to have him killed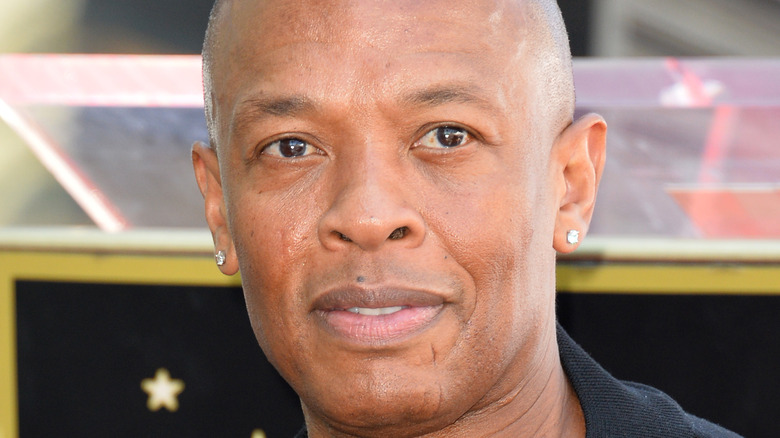 Featureflash Photo Agency/Shutterstock
The primary and most recent conflict between Suge Knight and Dr. Dre is in regards to the almost $3 billion dollar sale of Beats headphones that Dre oversaw in the transaction with Apple, according to Consequence. Knight claims that the life management deal that the former N.W.A. member signed with him entitles him to %30 of any residual income, including the Beats deal. However, Knight's pay day never came, and as a result, tensions ran higher and higher as years passed. The breaking point came when, as Knight puts it, Dr. Dre sent the two men who were involved in the manslaughter incident to have him killed (via Hiphop DX). 
"They also got the paper trail with all the checks and proof of when they talked to the witnesses saying that Dre came to them first and asked the two guys how much it cost to get rid of me. And they said, 'What you mean by get rid of?' And they said, 'Kill him,'" Suge Knight told The Blast. Despite his threat to level a $300 million dollar lawsuit against Dr. Dre in 2016, Suge Knight was never able to solidify his allegations and remains incarcerated in San Diego. "We hope that Suge's lawyer has lots of malicious prosecution insurance," Dre's lawyer stated publicly after rumors of the lawsuit started circulating (per Consequence).