The Truly Bizarre Story Of How Steve Martin Met Elvis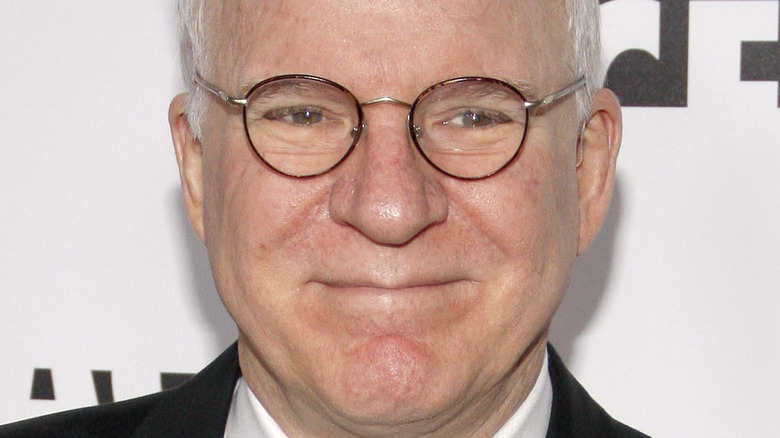 Tinseltown/Shutterstock
There are many, many Elvis stories and a lot of them are very strange, especially when the King of Rock 'n' Roll crossed paths with another celebrity. Exhibit A might have to be the time Elvis showed up at the White House early one morning with a letter asking to speak with President Richard Nixon — a character himself, to put it lightly — about drug culture and Communist brainwashing. Afterward, the two wound up posing for one of the most bizarre photos in United States history, plus, Elvis walked out of the Oval Office with a Bureau of Narcotics and Dangerous Drugs badge, per Smithsonian.
However, not every single personal meeting Elvis had was in the understandably rigid confines of the Oval Office, and the vast majority weren't captured on camera either. This means that many of those encounters are only around in the form of anecdotes. Fortunately, Steve Martin happened to tell the story of his first brush with The King during a 2021 appearance on "The Howard Stern Show" (posted on YouTube) and it was every bit as strange as you'd expect (via The Hollywood Reporter).
Steve Martin encounters The King
Michael Ochs Archives & Michael Ochs Archives/Getty
Steve Martin appeared on "The Howard Stern Show" in 2021 alongside fellow comedian Martin Short to promote their television series "Only Murders In The Building." During the interview, Stern asked Martin if he would tell the story of the time he met Elvis Presley (via The Hollywood Reporter). Martin said that it happened in 1971, while he was opening for Swedish actress, singer, and dancer Ann-Margret. Martin said that he knew Elvis would be coming to the show because he was friends with Ann-Margret, who appeared alongside him in the 1964 film "Viva Las Vegas."
"My act was magic, I don't think I played the banjo in that, but jokes and weird stuff," Martin said, to set the stage. "First, I see a beautiful woman walking toward me and that was Priscilla. And Priscilla moves away and there's Elvis all in white. He looked great and had the huge buckle. And he looked at me and said, 'Son, you have an oblique sense of humor,' which was kind of accurate." Martin added, "He was absolutely dead-on, he really was."
At this point in the story, there's nothing particularly bizarre — although Elvis' use of the word "oblique" was a little surprising — but it's about to become the kind of weird Elvis story we've all come to expect from the man who used to try to move clouds with his mind and shot a TV that was showing a Robert Goulet performance (via Outsider).
Want to see my guns?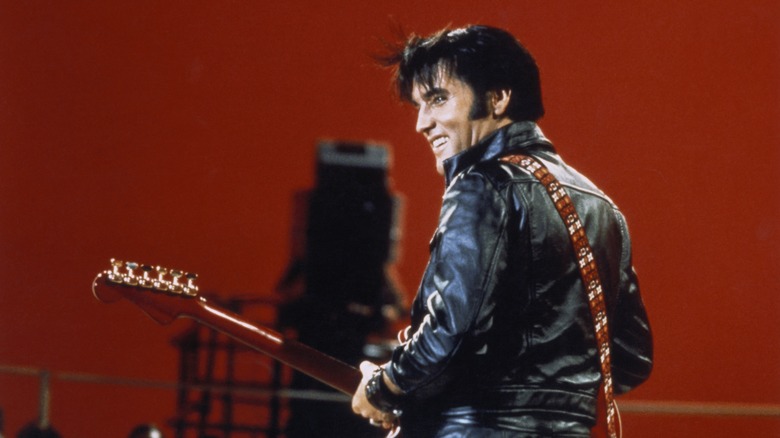 Michael Ochs Archives/Getty Images
As is probably obvious from the TV shooting incident, Elvis was a big gun collector. According to Express, part of the reason for his interest in guns stemmed from receiving a death threat. Elvis was often packing heat, and the night that he went to see Ann-Margret was no exception.
"He came in and we started talking. And then he said, 'Want to see my guns?' And I said, 'Yeah,'" Martin told Stern. "He had three guns on him. He was very safety conscious. He brought out a Derringer and he dropped the bullets in his hand before he gave me the gun so I could examine. It's all pearl-handled and engraved. And then he pulls out another gun and drops the bullets. Eventually, I am holding three guns and Elvis was holding 18 bullets."
Martin said that Elvis was very sweet, and even brushed off a member of his posse whose sole responsibility it was to get him out of conversations that had gone on for too long, an act that Martin saw as a huge compliment. "So, the guy comes up to Elvis and says, 'Elvis, we have to go.' And Elvis looked at him and said, 'It's okay,' and we kept talking," Martin remembered. "So I felt kind of blessed" (via The Hollywood Reporter).