Sports Interviews That Got Athletes In Trouble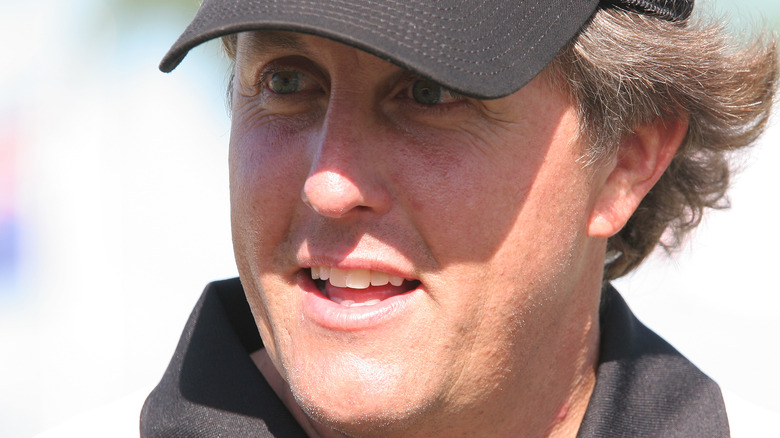 Isogood_patrick/Shutterstock
Athletes are notoriously passionate, hotheaded, and defensive, with a lot of "chip-on-the-shoulder" energy, so you can count on them to slip up every now and then. If you want to get a good, juicy sound bite, just wait for a post-game or post-fight interview.
For example, in 2022, golfer Phil Mickelson openly committed to the controversial LIV tournament, which is backed by a Saudi Arabian investment fund. Mickelson thought his interview was off the record, but the damage was done. His comments, which included calling Saudi Arabian backers as "scary a** motherf****** to get involved with," landed him in hot water with sponsors and the public at large. He lost a sponsorship with KPMG and likely received a suspension from the PGA Tour, per Sports Illustrated. But Mickelson, like a lot of athletes, are keen to speak up on issues important to them, even if it's unpopular or controversial. Read on for all kinds of sports interviews that got athletes in trouble.
Joe Namath
The New York Jets were losing 14-3 during a 2003 NFL season game to the New England Patriots when ESPN sideline reporter Suzy Kolber sought pearls of wisdom from Jets legend Joe Namath. Except at this moment, he didn't have very many. In a conversation that haunted Namath for years to come, he drunkenly told Kolber twice that he wanted to kiss her, slurring his words considerably. Broadcasters immediately switched back to the ongoing game as Namath kept talking. Afterward, ESPN commentators tried downplaying the incident by calling Namath a "happy guy" (via YouTube). In his 2019 memoir, "All the Way," Namath managed to find the positives in the situation. He struggled with alcoholism since his retirement from football in 1977. The embarrassment he felt in the aftermath of his drunken commentary was enough to stave him off of alcohol, and he now credits it for saving his life, per the New York Post.
Kolber, who handled the situation professionally, didn't think much of it. At the time, she didn't realize Namath was drunk and attributed his strange behavior to him being cold. And even when it was evident he was drunk on-air, the producers told her to continue on  (via ProFootballTalk). But in an interview in 2013, Kolber credited Namath for getting his life together. She didn't believe Namath was acting maliciously, and although it was one of the low points of his life, she said (per IndyStar), "Joe was being Joe."
If you or anyone you know is struggling with addiction issues, help is available. Visit the Substance Abuse and Mental Health Services Administration website or contact SAMHSA's National Helpline at 1-800-662-HELP (4357).
Richard Sherman
During the 2013 NFL season, Seattle Seahawks cornerback Richard Sherman had a bone to pick with San Francisco wide receiver Michael Crabtree. Like most football players who know their worth, he was incensed at a perceived slight from a fellow player. In this case, Crabtree refused to say that Sherman was the best corner in the league. When the two matched up at the NFC championship game and Sherman's team prevailed, he gave an impassioned and furious response in a post-game interview. But Fox sideline reporter Erin Andrews bore the brunt of it as Sherman yelled into the mic, warning other receivers not to talk trash about him and calling Crabtree a "sorry" receiver, per Bleacher Report.
Criticism of Sherman's fierce delivery was swift and often harsh. He was called a "thug" by people on social media, which he considered to be a coded racial slur, per Business Insider. Unlike critics, Andrews was more concerned that she wasn't able to get a third question in and called the interview "awesome" (via "Conan"). Sherman eventually apologized to Andrews, and the two reunited seven years later on the field after Sherman's new team — ironically, the 49ers — advanced to the Super Bowl. They shared a photo of their hug on social media, with Andrews calling the interview the coolest moment in her career, per The Washington Post.
Brock Lesnar
Brock Lesnar was an MMA newbie when he fought former heavyweight champion Frank Mir at UFC 100 in 2009. The event was a rematch from Lesnar's debut promotion, which Mir won. A veteran WWE wrestler, Lesnar was used to an atmosphere with scripted conflict and contrived villainy — a "heel" — for the sake of entertainment, per Fansided. So it was with this mentality and flair for drama that he hijacked his post-fight interview with Joe Rogan after beating Mir and began trash-talking and self-promoting. Perhaps spurred by the crowd's booing, he touted his vengeance and insulted Mir. He then tore into Bud Light by promoting Coors Light instead. Bud Light was one of UFC's biggest sponsors, and they apparently hadn't paid him. He ended his interview by saying he would celebrate that night by hanging out with family and friends and maybe even "get on top of [his] wife" (via YouTube).
UFC President Dana White was aghast and said in the post-fight press conference that Lesnar's behavior was unprecedented, distancing the organization from it. He reassured reporters that Lesnar was usually a good guy who made smart decisions. As for Lesnar, he arrived at the post-fight conference with a Bud Light in hand and a change in tune. He apologized for his speech and attributed his style to his WWE sensibilities, per Bleacher Report.
Ryan Leaf
Ryan Leaf was once meant to be the NFL's golden boy. Drafted in the first round only behind Hall of Famer Peyton Manning, Leaf was projected to take the San Diego Chargers to the Holy Land and perhaps surpass Manning career-wise. But these hopes soon crashed when it became evident that Leaf had behavioral issues, per News.com.au. No moment could epitomize his off-the-field struggles than an infamous locker-room video in which he physically threatened a reporter. The interview came a day after what Leaf considered the worst game of his football career. He had one completed pass and four interceptions against the Kansas City Chiefs. The San Diego Union-Tribune writer Jay Posner reported that Leaf cursed at a television cameraman, which Leaf denied. On Monday, Leaf confronted Posner and told him to "knock it off." Leaf stood up and towered over Posner and had to be held back by a teammate and a Chargers executive, per The New York Times.
It was only the third week of his rookie season, and Leaf showed the world that he was incapable of handling failure. The video went viral and was replayed on national television and talk radio. Leaf was reluctant to speak on it at the time, but several years after he retired, he acknowledged it was the moment his career began to crumble. In 2017 (via The Herd), he described himself in the video as a "petulant child."
Floyd Mayweather
In 2011, Floyd Mayweather Jr. knocked out Victor Ortiz for the WBC Welterweight title. Mayweather had not fought in 16 months, and the fight was meant to be a warm-up for a match with Manny Pacquiao (per BBC News). His win was controversial because his decisive blows seemed unfairly timed. Ortiz had just been penalized for a headbutt and was in the midst of apologizing, and while not protecting himself well, Mayweather delivered the final punches. Ortiz felt blindsided and said Mayweather resumed punching before the referee made it legal.
In the immediate post-fight interview, HBO broadcaster Larry Merchant pointed this out to Mayweather, saying that his win didn't sit well with fans. Mayweather defended himself, saying it was a fighter's duty to protect himself at all times. After Merchant kept pushing for another explanation, Mayweather retaliated and said Merchant never gave him a "fair shake" in his commentary. It escalated from there. Mayweather told Merchant that he needed to be fired from HBO and that he lacked expertise in boxing. Merchant then delivered the punchline of the exchange (via YouTube): "I wish I was 50 years younger so I could kick your a**." Mayweather later said that he apologized to Merchant and felt he was pushed to his limit during Merchant's questioning. They were able to conduct another interview without any yelling after Mayweather's win over Miguel Cotto the following year, per Boxing Scene.
Michael Strahan
The 2006 New York Giants were in the middle of an implosion when defensive end Michael Strahan decided to make things worse. The team was losing games and blowing 21-point leads, players were openly criticizing coaches, and Strahan began a rift with receiver Plaxico Burress (via The New York Times). In a loss to the Tennessee Titans, Burress allowed a pass to be intercepted and failed to make the tackle to stop its progress. It was the second time that Burress had a weak showing. When Strahan appeared on a radio show a day after the game, he lamented the receiver's performance, implying that Burress was quitting on the team. ESPN reporter Kelly Naqi asked for Strahan's comment, which he declined. She then asked Burress for his response, reading him quotes from the radio appearance. Burress, who was at that point unaware of Strahan's comments, said the criticism was "tough to hear" and took issue with the idea of criticizing fellow teammates to the public.
Afterward, Strahan entered the locker room, and Naqi took the chance to ask about his comments again. Angry, Strahan demanded to see her face amid the press scrum (per The New York Times): "Look a man in the eye before you try to kill him or make up something." He then went on a tirade in which he accused Naqi of trying to divide the team. Strahan was criticized for berating a female reporter, but he refused to apologize, saying male reporters have received worse treatment, per ESPN.
Derek Anderson
Losing 27-6 in a game to a division rival is probably the worst time for a starting quarterback to laugh on the sideline. Arizona Cardinals signal caller Derek Anderson learned that the hard way during the 2010 NFL season. Anderson only had 16 out of 35 completions and one interception during the game, but cameras captured him having a lighthearted conversation with a teammate and bearing a grin, per NESN. Anderson caught flak from fans and color analyst Jon Gruden, who all wondered what was so funny about his team's 18-point deficit during that part of the game (via The Arizona Republic). He was confronted with questions about his behavior in the post-game conference, but he denied laughing. When reporter Kent Somers told him that ESPN caught his smile on camera, Anderson blew up. He began yelling at Somers while cursing, reassuring him that he took his job seriously and didn't find his team's loss funny. He then left the room without taking other questions.
As it turned out, Anderson was taken aback by the questioning since the moment that made him laugh was fleeting. A fan had been heckling Anderson all game and cursed at him. Teammate Deuce Lutui reassured Anderson that the team "had his back," which made Anderson smile. It was all a case of unfortunate timing. Anderson later reconciled with Somers, and the quarterback admitted that he could've handled the situation better, per The Arizona Republic.
Chuck Liddell
In 2007, it appeared that UFC Hall of Famer Chuck Liddell committed the worst and easiest of modern sins: showing up to an interview drunk. He appeared on the WFAA "Good Morning Texas" show to promote the movie "300" and slurred through the interview, which mostly consisted of him praising IMAX theaters and discussing his MMA career incoherently (via YouTube). He sat most of the appearance leaning his head onto a fist. At one point, the host had to ask Liddell if he was okay and ended the interview by telling him to "hang in there."
The interview went viral and caught the attention of authorities, requiring Liddell to undergo a drug test in Nevada before his next fight. His boss, Dana White, didn't take too kindly to his drunken appearance. He and UFC co-owner Lorenzo Fertitta immediately flew over to check up on him. White attributed Liddell's behavior to partying all night and getting caught up in the fame and fortune that comes with being a UFC star. But Liddell dispelled the drunken theory. In 2021, Liddell explained that Ambien was the culprit. He had trouble sleeping, and a friend gave him pills. However, he didn't remember making it onto the show, and he couldn't recall how he got home. Somehow, he flew from Texas to San Diego and was driven to San Luis Obispo before the effects of the pill wore off, per MMA Fighting.
Jim McMahon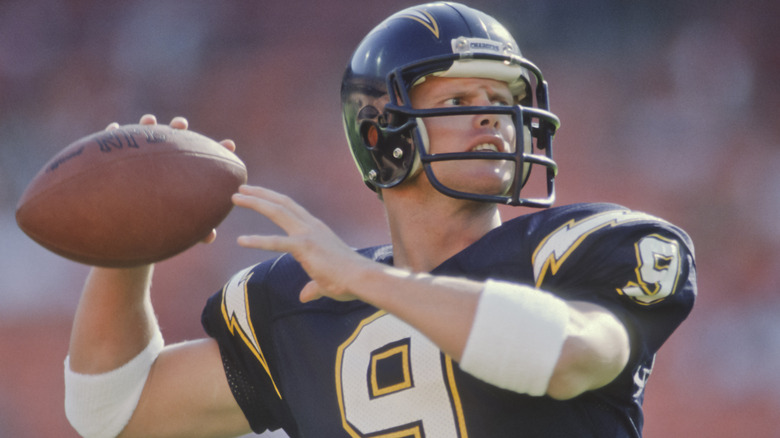 David Madison/Getty Images
San Diego Chargers quarterback Jim McMahon had perhaps the grossest interaction with a reporter back in 1989. For two weeks, McMahon refused to talk to reporters. His boycott came to a head after a 10-7 loss to Seattle when San Diego Union reporter T.J. Simers was adamant to get a quote from him (per Deseret). Simers wanted to know about the offense's struggles in detail, but McMahon merely walked up to the journalist and blew his snot onto him. McMahon sarcastically said that was his answer and walked away. Although his coach Dan Henning defended his behavior, saying McMahon only wanted to be left alone, the media came after the signal caller. Newspapers and radio shows criticized the exchange and McMahon's follow-up explanation, in which he said the other alternative was to beat Simers up. After doubling down, McMahon blew his nose into a trash can, causing his teammates to crack up in laughter.
McMahon and Simers reunited nearly two decades later, and Simers jokingly brought along a handkerchief. McMahon revealed the incident nearly had him kicked out of the league. Although he refused to apologize to Simers, he reassured him that the amount of snot could've been worse, per the Los Angeles Times.
Al Iaquinta
They called him "Raging Al" for a reason. After receiving a split decision victory from the judges during the 2015 UFC Fight Night 63, MMA fighter Al Iaquinta was booed by fans in the stadium (per MMA Junkie). Rather than answer the post-fight questions, Iaquinta defended his narrow win by cursing at the audience, which was broadcast on live television. In the post-fight press conference, he admitted that the booing bothered him, but he didn't understand why the audience reacted that way. His belligerent response was set off specifically by the sight of two "kids" who were flipping him off. Iaquinta's coaches helped him cool off, reassuring him that he had earned his victory and that he shouldn't succumb to the crowd. Iaquinta added that he knew he had to learn to adapt to a hostile audience.
UFC boss Dana White responded to Iaquinta's expletive-filled speech with a single emoji on Twitter. Media talk heads wondered whether Iaquinta's behavior would land him in hot water with White. The saga ended when Iaquinta appeared on "The MMA Hour with Ariel Helwani." The two fans who initially angered Iaquinta made a surprise appearance and apologized for flipping him the bird, and announced their new allegiance to Iaquinta. He accepted their apology, per Bleacher Report.
Yoel Romero
UFC middleweight Yoel Romero was undefeated in all of his six UFC matches when he bested former light heavyweight champion Lyoto Machida, but all of the attention went to his post-fight interview, per Cagewriter. Romero, who is from Cuba, first apologized for his English before asking Americans "what happened" to the United States a day after the Supreme Court ruled in favor of gay marriage. He urged Americans to "go for Jesus, not for gay Jesus," which people on social media interpreted as disapproval of the ruling. It was also possible that he said, "Go for Jesus, not forget Jesus." Romero tried to clear up his comments in the post-fight press conference by apologizing and saying his words were misinterpreted. He praised the American Dream, which he said he had been blessed with. He believed the country is blessed by God and wasn't trying to pass judgment on gay couples, per ESPN.
Even with the initial understanding of his statement, Romero received support from fellow MMA fighters. Phil "CM Punk" Brooks offered to send Romero merchandise and emphasized the need for freedom of speech, per Cagewriter.
Phil Mickelson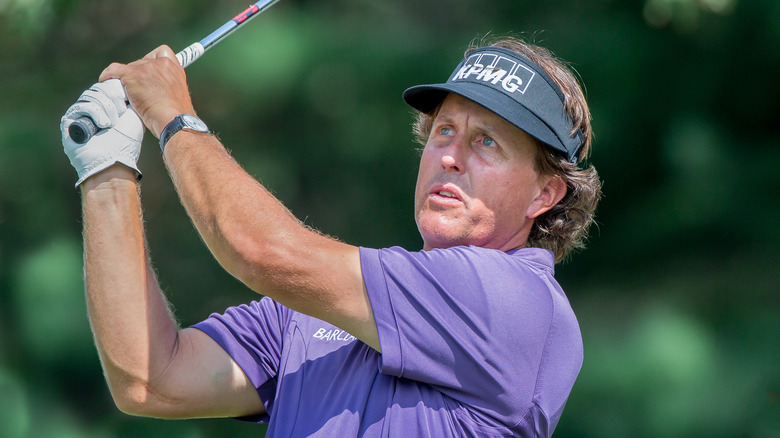 David W. Leindecker/Shutterstock
Pro golf champion and Hall of Famer Phil Mickelson lit the internet on fire when he gave his reasons to sign with Saudi Arabia's LIV Golf tournament. Professional golfers now have two high-profile tournament options to compete in: the PGA Tour and the new Saudi-funded LIV Golf Invitational Series. The latter has been mired in controversy due to its ties with the Saudi Arabian government and its Public Investment Fund. The PGA Tour has gone so far as to penalize players who choose to play for LIV, denying them PGA membership benefits, per ESPN. But LIV has managed to strip away top golfers, including Mickelson. In a conversation with the "Fire Pit Collective" podcast, Mickelson acknowledged Saudi Arabia's human rights violations, including its assassination of journalist Jamal Khashoggi and its crackdown on gay people. But citing LIV's abundant Saudi Arabian funding, Mickelson saw the tournament as an opportunity for leverage against PGA's monopoly. The tournament earned him $20 million, per Sports Illustrated. 
Mickelson apologized for his comments and said he needed time away from golf. He said his choice of words were reckless and didn't reflect the positive experiences he had with LIV Golf Investments, per NBC Golf.