How David Warner's Troubling Childhood Pushed Him Toward Acting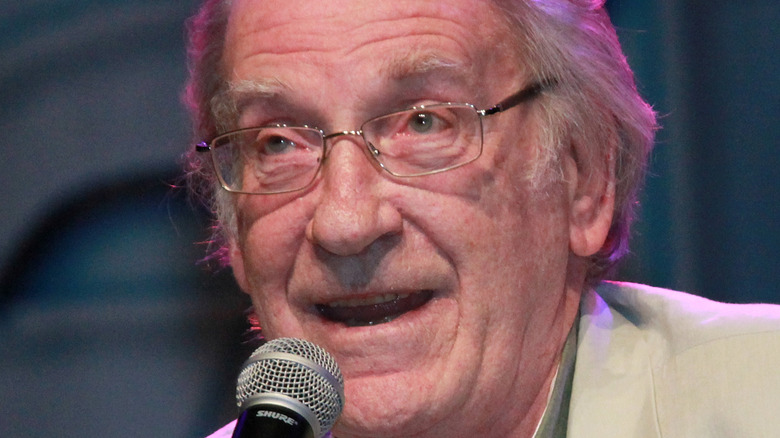 David Livingston/Getty Images
Prolific actor David Warner has died (via Deadline). Per the BBC, the 80-year-old was suffering from cancer. His family noted that "Over the past 18 months he approached his diagnosis with a characteristic grace and dignity." The Hollywood Reporter states that Warner is best remembered for his work on "Tron," "The Omen" and the "Star Trek" franchise. However, Variety explains that his career began on the stage. After studying at the Royal Academy of Dramatic Art (RADA) in London, Warner made his debut in a 1962 production of "A Midsummer Night's Dream." By the 1970s, he was on his way to a successful film and TV career (per The Guardian).
Some of his other notable performances can be seen in "Titanic," "Time After Time," "Time Bandits," and more. (via Variety). IndieWire writes that Warner was nearly always cast as a villain. Even so, the publication notes that he truly shined in roles where he portrayed compassionate characters. Such is the case in the 1984 made-for-TV film "A Christmas Carol" where Warner starred as Bob Cratchit. Regarding his decision to become an actor, he told the podcast "Who Am I This Time?" that "I became an actor only to get out of the house" (via The Hollywood Reporter). Warner, whom IMDb writes was an only child, had a less than ideal childhood.
Acting became his refuge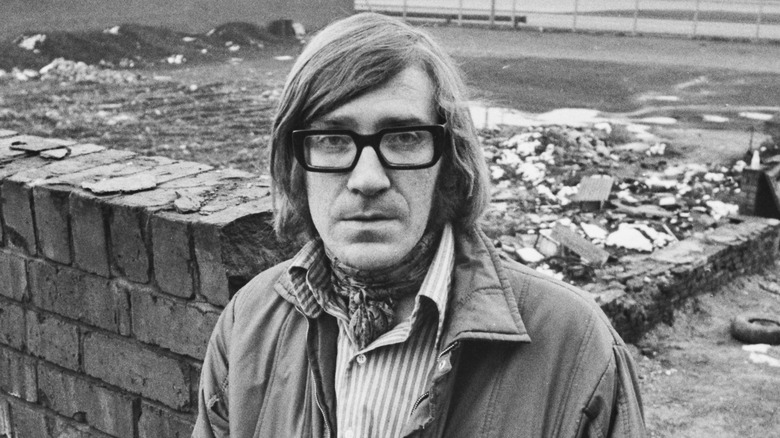 Evening Standard/Getty Images
David Warner was born in Manchester, England in 1941, as Deadline notes. His parents were unmarried and as a result, he was raised by both of them separately (via IMDb). As he explained, "My parents kept stealing me from each other, so I moved across England a lot," according to The Guardian). Warner went on to say that his formative years were "troubled" and "messy," as another article from The Guardian notes. His father sent him to various boarding schools, where he floundered academically. Eventually, he became estranged from his mother. In fact, IMDb states that he did not see his mother again until she was on the verge of dying.
He began acting in school plays and the BBC reports that he viewed his newfound hobby as "a means of escape" from his "dysfunctional" life. Warner noted that a teacher became his mentor. He later said that he believed that acting was the only choice for him; it was that or "being a juvenile delinquent." Per The Hollywood Reporter, Warner failed out of eight schools before making the decision to enroll at RADA. Up until then, he worked odd jobs and joined an amateur acting group (via The Guardian). His father reportedly supported his decision. After graduating from RADA, the then 21-year-old joined the Royal Shakespeare Company and never stopped working.
David Warner had an extensive career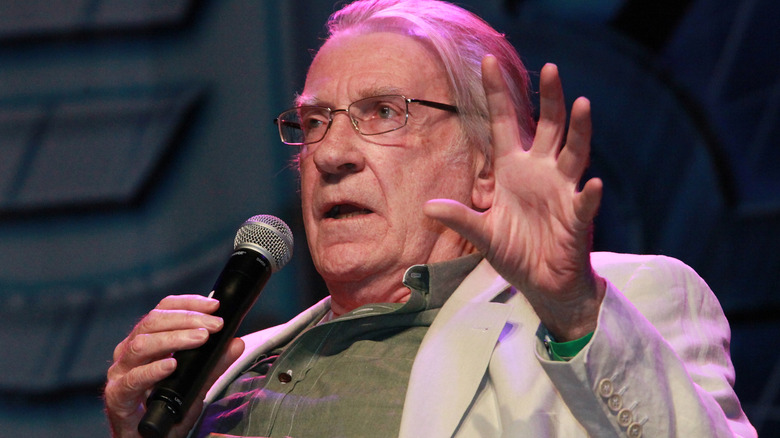 David Livingston/Getty Images
At the time of his death, CNN reported that David Warner's career had lasted more than 50 years. The Hollywood Reporter writes that he has over 220 credits on IMDb. Warner was known to rarely refuse a role. As he put it "When others say no, I say yes." In an interview with The Guardian, Warner stated that this attitude had kept him relevant. He explained, "I'm grateful for those roles: they were bread and butter, and they kept me around as an actor." He also admitted that he worked non-stop to prevent the bouts of depression that occurred when he had time off.
However, in a 2011 interview with Star Trek, Warner described himself as a "recovering workaholic" that was previously open to doing any role in any genre of work. Despite this, IMDb, states that the actor continued to work well into the final years of his life. One of his last credits is for the 2018 Disney film "Mary Poppins Returns." As he aged, Warner became less inclined to speak about his early years. In 2002, he rebuffed an interviewer's attempts to discuss his troubled childhood and family history. He stated, "I'm 60. I don't want to talk about that" (via The Guardian).