How $50 Kept Willie Mays And Hank Aaron From Becoming Teammates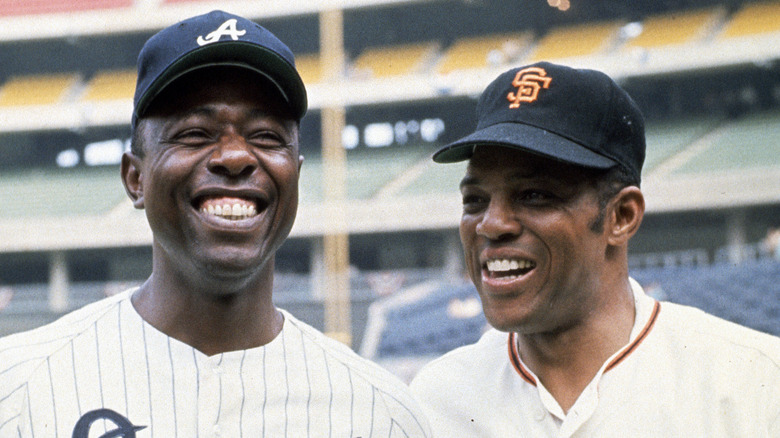 Focus On Sport/Getty Images
Willie Mays and Hank Aaron were titans of 1950s and '60s baseball. Signed by the New York (later San Francisco) Giants the day he graduated high school, outfielder Willie Mays won the Golden Glove 12 times and climbed to third place in most career home runs with 660 (via Academy of Achievement). He played in four World Series and won in 1954. With a career batting average of .302 and consistently scoring 100 runs a season, Mays became the highest paid player in American baseball.
Outfielder Hank Aaron could be counted on to hammer 30 home runs, bat in 90 runners, and hit .300 every season (via National Baseball Hall of Fame). He led the Milwaukee (later Atlanta) Braves to victory in the 1957 World Series and was selected for the All-Star Game a record 25 times. In 1974, Aaron broke Babe Ruth's home run record of 714 in a career, which had stood for some 40 years. By the time Aaron retired he had 755 homers, a record that would last 30 years. Further, he wasn't far off from 4,000 hits.
He also wasn't far off from joining Willie Mays on the Giants, which would have absolutely blown up the power balance of Major League Baseball.
A Slim Margin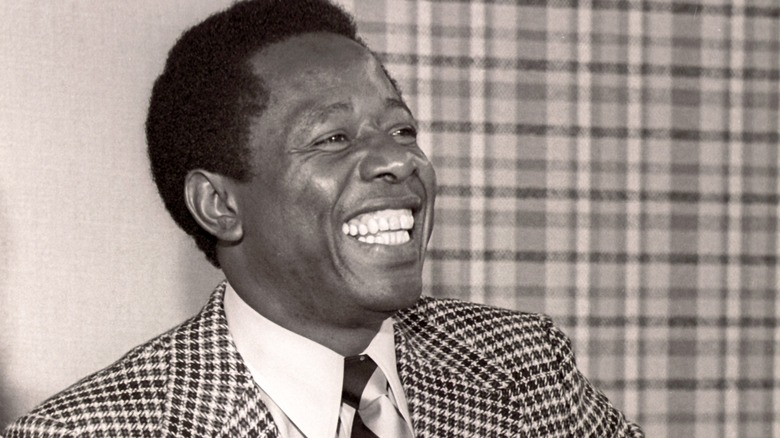 Michael Ochs Archives/Getty Images
In 1952, Willie Mays was already with the New York Giants, but the younger Hank Aaron had a (wildly brief) stint with a Negro League team called the Indianapolis Clowns. There, according to Major League Baseball's website, scouts from the Majors clamored for him. Both the Giants and the Milwaukee Braves wanted him.
"I had the Giants' contract in my hand," Aaron said later, "but the Braves offered $50 a month more. That's the only thing that kept Willie Mays and me from being teammates — $50." For context, in today's currency that's $500 more a month. The Giants lost out. The Braves paid the Clowns $10,000 for Aaron, according to NBC Sports, which would be about $100,000 today.
MLB's website, however, issues a word of caution about the story. The Braves, Giants, and other teams would have been making offers to the Clowns, not to Aaron directly. A team with a contracted player could sell the contract to another team. The player had to go along with it or break contract and quit the profession. This raises the question: Was the choice really Aaron's? Perhaps the truth lies somewhere in the middle. It is possible the Clowns, looking out for Aaron's best financial interests and not just their own, gave him a say in the decision.
Aaron and Mays Suit Up Together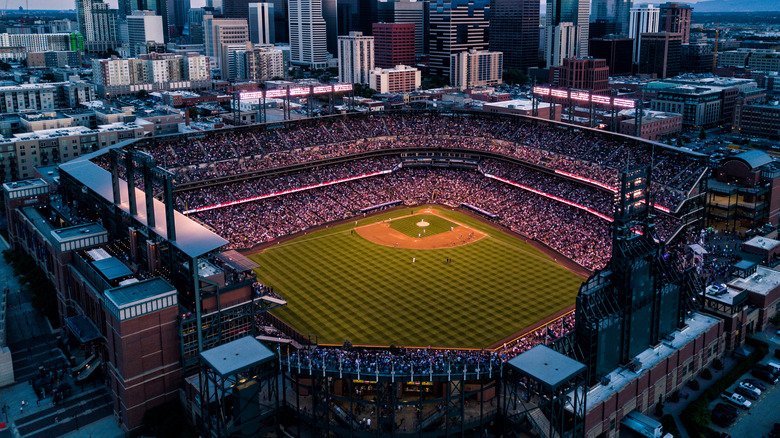 Nicholas Courtney/Shutterstock
Hank Aaron and Willie Mays never played on the Giants together, which was unfortunate for the New York team and both players in the obvious sense that they likely would have won far more World Series together. And though this could have gone differently had they been teammates, Aaron and Mays had a friendly and highly respectful relationship, according to Major League Baseball. It isn't hard to envision these superstars having the time of their lives destroying other teams and building a dynasty for their own.
Happily, from the late 1950s to the early '70s, Mays and Aaron were annual teammates in the All-Star Game. Both their teams were in the National League, so they wore the same uniform once a year to take on the top American League players. According to Aaron's stats and Mays' stats on Baseball Almanac, from 1955-1972 they combined for 34 hits, 16 RBI, and 26 runs in All-Star games.