Bill Russell Led An NBA Boycott That Changed The League Forever
Michael Kovac/Getty Images
Bill Russell is considered one of the most legendary basketball players of all time. He was the first NBA player to achieve an average of 20 rebounds per game, the first to get 50 rebounds in a single game, and was the first African American to be inducted into the Basketball Hall of Fame in 1975 (via Bleacher Report). Furthermore, he was an Olympic gold medalist, a five-time MVP in the NBA, and the first African American head coach in the NBA. These are just a few of what Russell has achieved in sports, but he was also a champion outside the basketball court.
In 2011, then-president Barack Obama awarded Russell with the Presidential Medal of Freedom for his efforts in sports and beyond. In his speech, as reported by Sportskeeda, Obama described Russell as the definition of the word "winner" and said that he hoped future generations would not only look up to him as a sports figure but also as the great man that he was.
Bill Russell the activist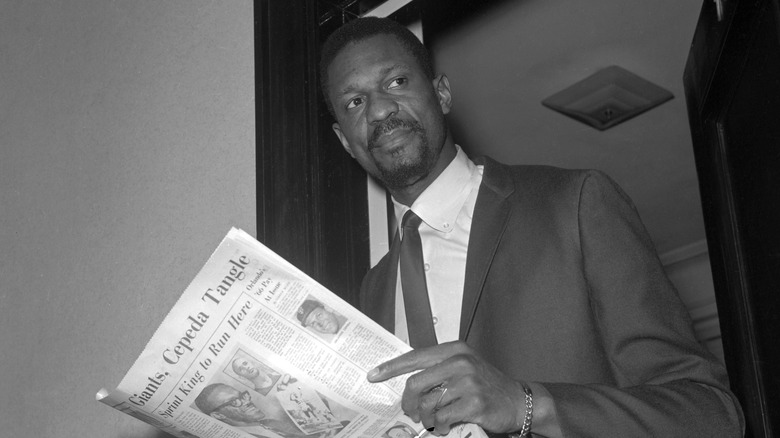 Icon And Image/Getty Images
Basketball is what often comes to mind when the name Bill Russell is mentioned, but he was also a civil rights activist. He used his popularity as a basketball player to spread awareness about certain issues, most especially racism, and he wasn't afraid of the backlash or consequences. On August 28, 1963, Russell was among those who joined the March on Washington for Jobs and Freedom and witnessed Martin Luther King, Jr.'s "I Have a Dream" speech, as noted by Mass Live. He also showed up in demonstrations against segregation and gave speeches to African American youth.
In June 1963, civil rights advocate Medgar Evers was assassinated in Mississippi. Upon hearing the news, Russell called Evers' brother, Charles, and offered to help in any way he can. As The Seattle Times reported, Charles asked Russell if he was willing to head down to Jackson, Mississippi, and be a coach for the first inter-racial basketball camp for kids. Jackson was heavily segregated back then, and it was a risk for Russell to take part in such an activity, but he agreed. He received death threats and there were Ku Klux Klan members present, but that didn't deter him. Years later, Russell said, "It was just something I felt I had to do."
The 1961 NBA boycott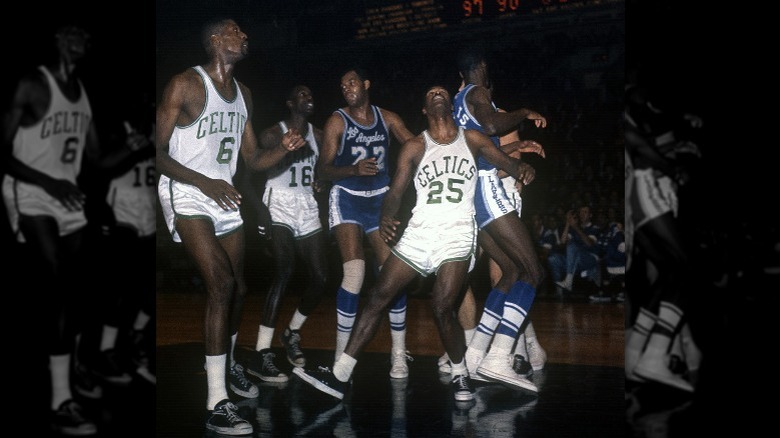 Focus On Sport/Getty Images
In 1961, the Boston Celtics and the now-defunct St. Louis Hawks were slated to play a pre-season exhibition game in Lexington, Kentucky. Two of the Celtics' players — Thomas "Satch" Sanders and Sam Jones — headed down to the café located at the hotel where the team stayed to grab a meal. When they got there, however, Sanders revealed to WBUR that they were told, "We really can't serve you people." The two players then headed to Bill Russell's room to discuss what happened.
Russell was furious and four African American Celtics team members — Russell, Sanders, Sam Jones, and K.C. Jones — talked to their coach, Red Auerbach, about the situation. As reported by The Washington Post, Russell said that they would be boycotting the game and flying back to Boston. Auerbach tried to convince the players to push forward with the game, but Russell was firm in his decision. The four players, as well as another Black Celtics teammate, Al Butler, flew back to Boston. Furthermore, two Black players for the St. Louis Hawks also joined the boycott. It turned out that one of them was refused service as well. That incident was the first NBA boycott over inequality.
According to Sanders, their other team members considered the situation, but in the end, they proceeded to participate in the exhibition game. In an interview with NBA TV, Russell talked about the incident and said, "It was important to me everybody, everywhere, knows that the Black players are deciding they'll stand up for themselves." Throughout the years, NBA players have chosen to boycott games to protest various issues, such as racism and police brutality.