Who Inherited Naomi Judd's Money After Her Death?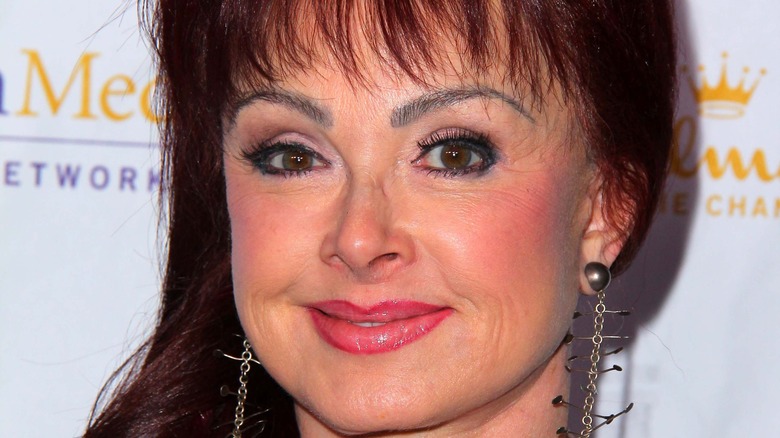 s_bukley/Shutterstock
Country singer and Kentucky native Naomi Judd was best known for being part of the music duo The Judds with her daughter Wynonna (via CNN). According to NPR, The Judds were incredibly successful throughout the 1980s and 1990s. Their hits include "Mama He's Crazy" and "Love Can Build a Bridge. Ultimately, they sold more than 20 million records. Their rise to fame was meteoric. Per The Guardian, Naomi was a nurse in Nashville before a chance encounter with a record producer's daughter landed the duo a record deal. In 1984, they won a Grammy for "Mama He's Crazy." Naomi later told Entertainment Tonight that "Wynonna and I both said the same thing, that it felt like we were in a car crash 'cause it happened so fast it was life-changing."
US Weekly explains that The Judds broke up in 1991 when Naomi was diagnosed with Hepatitis C. However, in April 2022, they announced that they were hitting the road once again for a 10-show final tour (per Billboard). Days later, on April 30, The Washington Post reported that Naomi Judd had died at the age of 76. In an interview with "Good Morning America," her daughter Ashley Judd, who is a star in her own right, revealed that her mother had died from a self-inflicted gunshot wound (via Variety).
In the years before her death, Naomi had been open about her battle with severe mental health issues (per NBC News). Moreover, People writes she admitted that her daughters Wynonna and Ashley were unable to pull her out of her deep depression.
If you or anyone you know is having suicidal thoughts, please call the National Suicide Prevention Lifeline by dialing 988 or by calling 1-800-273-TALK (8255)​.
She cut her daughters out of her will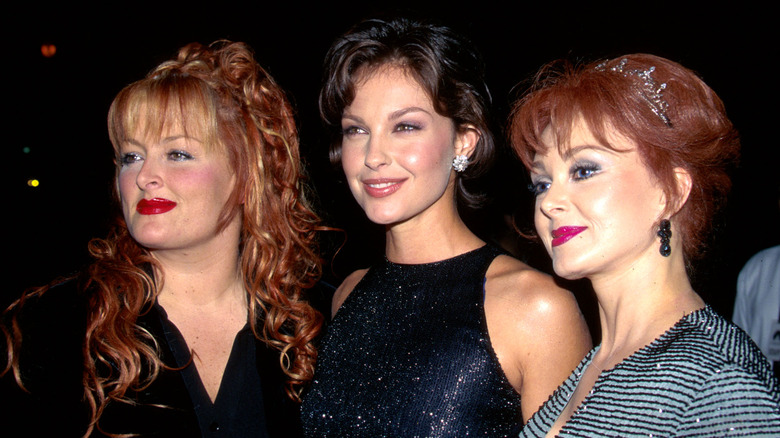 Russell Einhorn/Getty Images
At the time of her death, Naomi Judd was worth an estimated $25 million (via Celebrity Net Worth). Besides her daughters Wynonna and Ashley, PBS writes that she was survived by her husband, Larry Strickland. That being said, Yahoo reported that Naomi left her entire fortune to Strickland, whom she married in May 1989. Her recently released will states, "In the event my spouse ceases or fails to serve, then I nominate and appoint my brother-in-law, Reginald Strickland, and Daniel Kris Wiatr as Co-Executors. I direct that no bond shall be required of my Executor." In other words, Naomi chose to completely exclude her daughters from her will.
Page Six explains that the will was created in November 2017 while Naomi had a "sound mind and disposing memory." The will reads that Strickland has "full authority and discretion" over her estate "without the approval of any court." The document goes on to explain that Strickland will receive "reasonable compensation" for his role as Naomi's estate executor. However, Page Six notes that it's unknown if Wynonna and Ashley will inherit any other assets that are not included in the will.
According to RadarOnline, Wynonna is reportedly "upset" that she was not included in her mother's will as she "believes she was a major force behind her mother's success." Ashley's thoughts on her mother's decision are currently unknown. Only a day after Judd's death, Wynonna and Ashley attended her induction ceremony into the Country Music Hall of Fame (per "Today"). There was nothing to indicate their relationship with their mother had soured before her death.
Naomi Judd had a complicated relationship with her daughters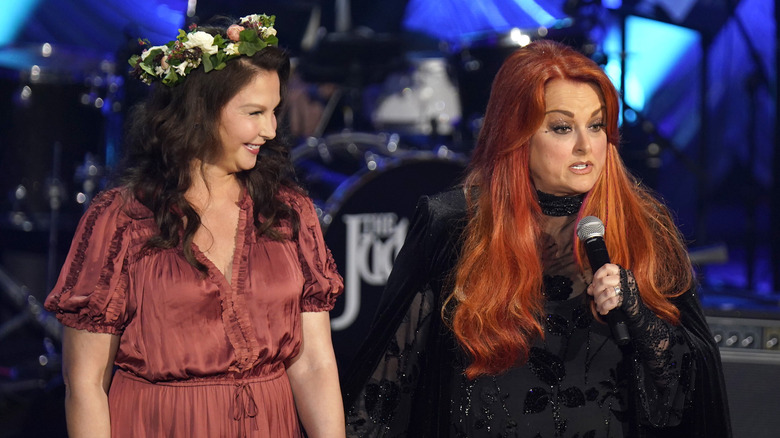 Mickey Bernal/Getty Images
According to The Blast, it has not been disclosed why Naomi chose to cut her daughters out of her will. Nevertheless, it is known that there were periods in time when Naomi's relationships with Wynonna and Ashley were fraught (via Hollywood Life). ABC News explains that in her 2011 memoir "All That Is Bitter and Sweet," Ashley wrote that she suffered from depression and was sexually abused while her mother and sister were off chasing fame and fortune. Per "Today," Ashley also said that she felt like her mother negatively affected her relationship with her father Michael Ciminella, whom Judd had divorced. Naomi replied to these allegations by saying, "I was as honest as I could be with what I knew, but I'm a different person now" (per The Washington Post).
Regarding her relationship with Wynonna, Naomi told People in 2016 that "Wynonna and I make each other so emotional it's not healthy." As for Wynonna, PopCulture reports that she has referred to her mother as "my beloved enemy." The Judds' former manager, Ken Stilts, has gone on to say that while The Judds were still together and touring, "They were at each other's throats every minute of the day" (via People).
Three months after Naomi's death, Ashley went on the "Healing with David Kessler" podcast and admitted that her mother did the best she could raising her and her sister while being mentally ill (via E! Online). She added, "when (Naomi) transitioned, she was hopefully able to let go of any guilt or shame that she carried for any shortcoming."