Alex Jones' Infowars Pulled In A Ridiculous Amount Of Money Per Day At Its Peak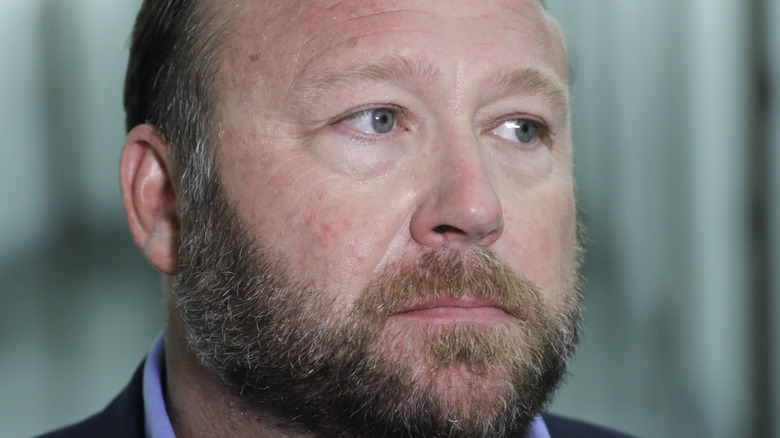 Drew Angerer/Getty Images
Media personality Alex Jones is currently on trial for defamation (per CNET). The Infowars media founder is being sued by Neil Heslin and Scarlett Lewis for $150 million. The Texas Tribune notes that this is the first out of three trials against Jones for perpetuating falsities and emotional duress regarding the mass shooting at Sandy Hook Elementary School in Newtown, Connecticut. According to ABC News, Heslin and Lewis are the parents of Jesse Lewis, a 6-year-old who died in the 2012 massacre. NPR explains that Jones used his platform to deny that the shooting was real. Instead, he stated that the Sandy Hook tragedy, in which 26 people died, was staged by the government.
He went on to say that the victims and their parents were nothing but actors (via The Atlantic). Per CNN, Heslin told jurors that "Infowars" had "tarnished the honor and legacy" of his young son. He added that he couldn't "even begin to describe the last nine-and-a-half years of hell" that Jones had put him through. Lewis, on the other hand, told Jones that she was not an actress but a "real mom." AP News reports that Jones has stated that he now believes Sandy Hook was "100% real." Additionally, he admitted to pushing false narratives about the shooting and other tragedies. Forbes states that Jones is now being accused of committing perjury in court.
He falsely claimed he lost money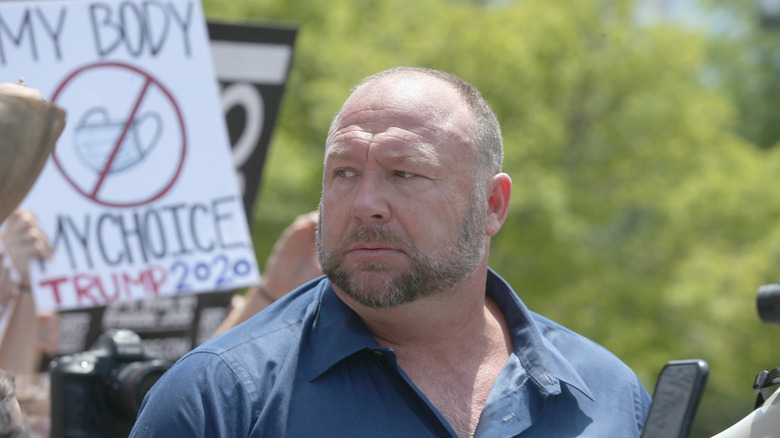 Gary Miller/Getty Images
NBC News explains that Jones' attorneys accidentally sent the plaintiffs his complete text and email history from his phone. According to the Texas Tribune, the conspiracy theorist previously testified under oath that he did not send texts or emails regarding Sandy Hook. He also denied having an email address. Per NPR, Jones bemoaned the fact that he has been "typecast as someone that runs around talking about Sandy Hook, makes money off Sandy Hook, is obsessed by Sandy Hook." That being said, Forbes reports that his phone's contents proved that Jones did indeed send numerous messages and emails discussing Sandy hook.
The Texas Tribune states that in 2018, Jones and Infowars were banned by YouTube, Facebook, Twitter and Apple. Each platform cited hate speech as the reasoning behind their decision (per Vox). Jones testified that this ban subsequently made him lose millions of dollars. AP News adds that he stated that any award over $2 million "would sink us." However, an email on Jones' phone revealed that Infowars was making up to $800,000 a day, or nearly $300 million a year (via NPR). Jones did not deny these records and noted that those sums came in during the Conservative Political Action Conference (per NBC News).
His company has filed for bankruptcy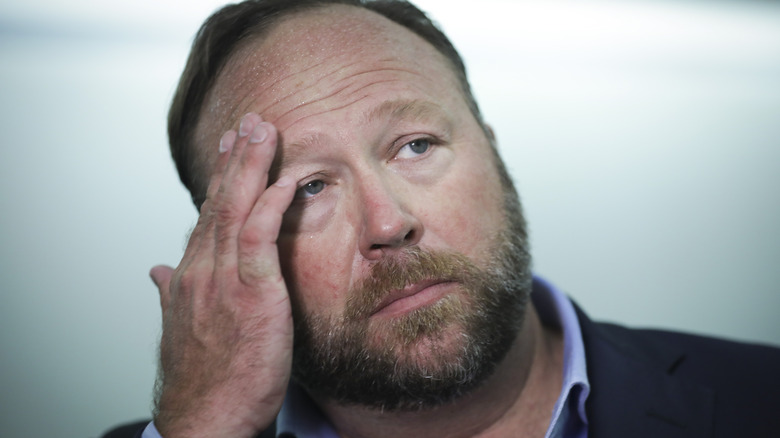 Drew Angerer/Getty Images
According to CNN, Lewis has stated that financial reparations are the only option for this case. She and Heslin are seeking $150 million in damages (via CNET). She explained that an apology from Jones was not enough. Lewis said, "It seems so incredible to me that we have to do this." She added, "That we have to implore you — not just implore you, punish you — to get you to stop lying ... It is surreal what is going on in here." Shortly after his defamation trial began, the Texas Tribune reported that Jones' company, Free Speech Systems, had filed for bankruptcy.
Bloomberg explains that Free Speech Systems is Infowars' parent company. Despite this, the Texas Tribune writes that the filing will not interfere with the current defamation trial. Jones' attorney noted that Free Speech Systems wants "to put this part of the odyssey behind us so that we have some numbers" for damages (via NBC News). In April, three of Jones' businesses, including Infowars, filed for bankruptcy, delaying the trial. Earlier this year, Jones offered to pay $120,000 to family members of the Sandy Hook Elementary School shooting that had filed a lawsuit against him (per ABC News). They rejected the offer.