Alex Jones' Trial Verdict Explained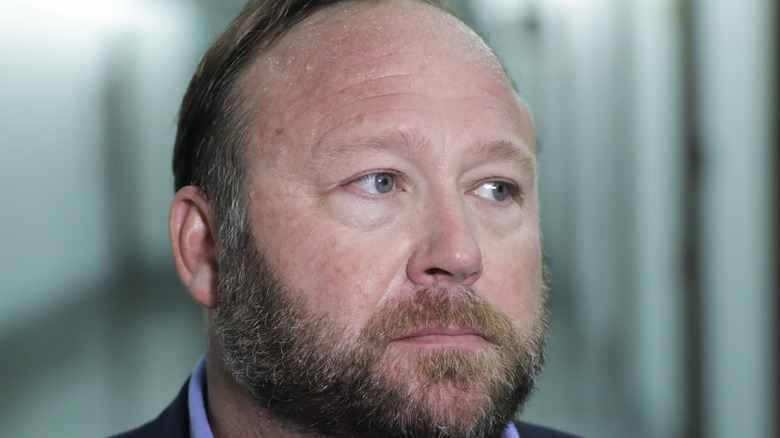 Drew Angerer/Getty Images
In August 2022, the courts wrapped up the first of three trials that radio personality Alex Jones has already lost (via CNET). Each trial is related to Jones' rhetoric about the 2012 Sandy Hook Elementary School mass shooting. He had told his millions of listeners that the tragic event was faked. And now, Alex Jones now has to pay hefty amounts of damages to the families of the victims. Alongside losing millions of dollars, he has admitted that the shooting was "100% real," and that he now believes it was wrong to tell his fans otherwise. Here's what the verdict was for his first trial and what's next in Alex Jones' upcoming legal battles.
For the families reeling over the grief of losing a child, dealing with Alex Jones and the harassment from his fanbase made a hellish situation even worse. Per NPR, Jones actually met the parents of the deceased children, which helped him to believe the tragic reality of America's deadliest school shooting. Neil Heslin and Scarlett Lewis' son Jesse was 6 years old when he was murdered in the 2012 Sandy Hook Elementary School shooting (via CNN). 
Alex Jones owes one Sandy Hook family millions of dollars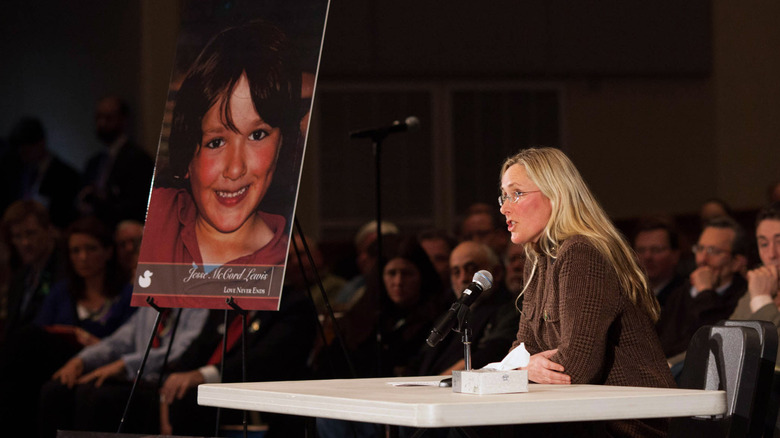 Christopher Capozziello/Getty Images
With nonstop media coverage during the trial, Jesse Lewis' family finally faced the man who had caused them anguish since their child died (via CNN). Scarlett Lewis spoke face to face with Jones in a silent courtroom, saying, "Jesse was real. I am a real mom." She told him about the unimaginable pain of knowing her six-year-old died in the massacre, compounded with Jones very publicly accused her of being an actress involved in a hoax.
Alex Jones must pay $45.2 million to the Sandy Hook Elementary School families who brought a lawsuit against him for his inflammatory statements about the horrific mass shooting, according to CNN. That total is for punitive damages, he will also have to pay the families $4.1 million in compensatory damages, for a total of $49.3 million. NPR reports that Jones' main business, Infowars, earns roughly $300 million per year. But Jones still claimed that if he had to pay more than $2 million, he would go broke. 
Jones is guaranteed to have to pay out the first $49.3 million, and then there will be two more trials from Sandy Hook families that Jones has already lost. Per Reuters, Jones' next trial to determine damages will be heard in Austin, Texas, but it has been put on hold since his company declared bankruptcy. Damages will then be decided in a case in Connecticut in a different defamation trial.
Did Jones bankrupt his own company?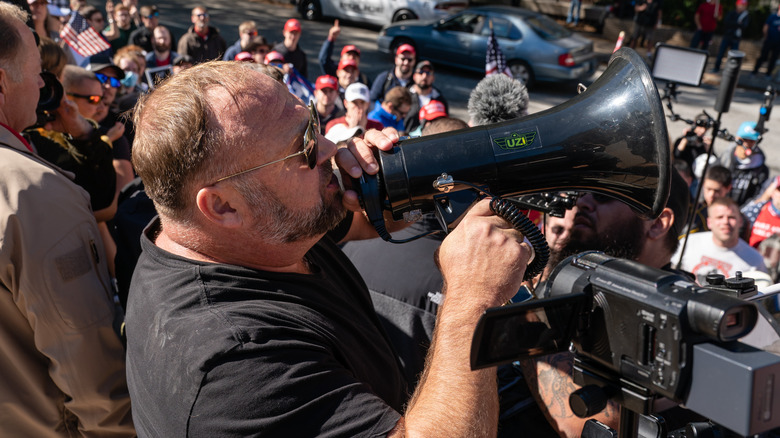 Elijah Nouvelage/Getty Images
Some of the families were worried that Jones might siphon money from his parent company, Free Speech Systems, and asked the courts to stop Free Speech Systems from paying Alex Jones until they know if he is really bankrupt (via Reuters). Per CNN, Jones reportedly drew $62 million from Free Speech Systems and transferred it to himself over a two-year period and how that's the reason the company went bankrupt.
Reuters reports that his own phone records, which were obtained by the plaintiff's legal team after Jones' lawyer accidentally sent them out, established that Jones had lied about some aspects of the case. He reportedly lied under oath about being bankrupt and his own phone messages prove it, but he probably won't face any consequences now that the trial is over.
According to the Independent, the January 6 committee has asked for Jones' cell phone information. The Select Committee is investigating the Capitol attack on January 6, 2021, in which 140 people were injured, and several died. Per a report from the Los Angeles Times, the verdict sends a message to others who have a big following: There are legal consequences for spreading harmful misinformation.