What Happened To Hugh Hefner's Secretary, Mary?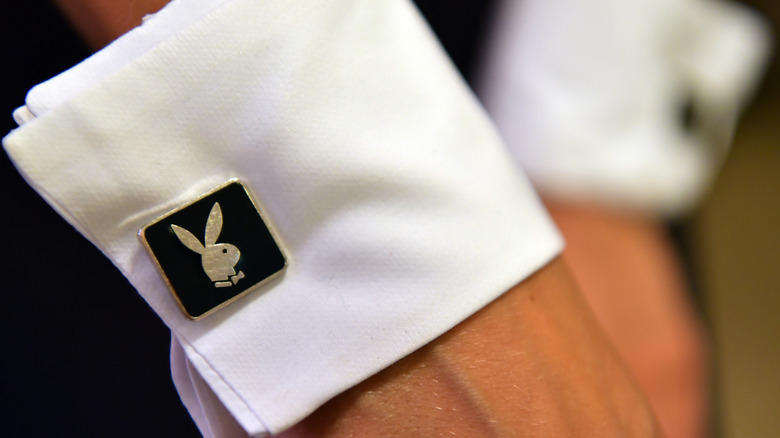 Carl Court/Getty Images
A popular idiom says that "behind every great man is a great woman" and usually this saying is attributed to a male's romantic partner (via Cambridge Dictionary). However, a devoted female friend can make a difference in a storied career. Mary O'Connor, Hugh Hefner's secretary, was a dedicated and valued employee and friend who was content with not being the center of attention (via Irish Central). 
Perhaps no one exuded more Hollywood razzamatazz than "Hef." The late media publisher was known for making the pages of his bombshell-filled glossy come to life daily at his Playboy Mansion (via Britannica). With pool parties filled with voluptuous models and champagne fountains galore, Hef lived a life that is considered controversial in a post #MeToo climate. Former Playboy Bunny Holly Madison has been outspoken about her traumatic experiences while other former women around Hefner defend his over-the-top lifestyle (via BuzzFeed). 
But always behind the Chicago-born playboy was his loyal and humble friend and secretary, Mary O'Connor. O'Connor and Hefner spent 40 years working side by side (via The Hollywood Reporter). Certainly not as flashy as the Bunnies that Hefner typically surrounded himself with, Mary O'Connor had just as fascinating of a life as the media mogul did.
The road less traveled
O'Connor came from an adventurous Irish and German family. According to Irish Central, O'Connor's grandmother emigrated from Ireland in the 1800s. The family settled in Pittsburgh but soon enough, O'Connor's mother, a traveling musician, relocated to Berlin where she would meet Mary's father. The lovebirds headed back to the United States and decided to live in Chicago, where Mary was raised with the last name Feuchtinger. (She would take her well-known last name from her fourth husband.)
At age 18, O'Connor met her first husband who was 11 years older. According to Irish Central, Mary was married a total of four times before meeting her "soulmate," a gent who simply went by the name "Captain Bob."
Through her second husband, O'Connor got into the speed racing business as a road race promoter and competitor. 
She was on the board of advisors at a hospitality magazine at the time and a fellow advisor encouraged her to apply for a position with Playboy. She immediately moved to Chicago in 1969 and relocated with Hef and his women to a bigger, roomier abode in sunny Southern California. O'Connor worked traditional 9 to 5 hours and many weekends.
A pal and a confidante
Michael Buckner/Getty Images
Naturally, Mary O'Connor had many adventures in her years working with Hugh Hefner. She was a close friend to many of the women, especially Kendra Wilkinson and Bridget Marquardt, and even cameoed on the hit E! television series "The Girls Next Door" and Wilkinson's spin-off, "Kendra." According to The Hollywood Reporter, O'Connor was quite reserved but had an "X-rated" sense of humor. She was close to Crystal Harris, the third and final wife of Hugh Hefner. When she considered calling off their engagement, O'Connor encouraged her to reconsider (via US Magazine).
Much of Hefner's behavior today is considered questionable (via Time). However, O'Connor seems to have been an outspoken advocate of sex positivity for women. She appeared in documentaries not only about Playboy, but also about the role of women in the film industry (via IMDb).
In 2013, O'Connor died at the age of 84 with loved ones by her side. Her soulmate, "Captain Bob," died the year before. To honor Mary's legacy, Harris auctioned off the pink wedding dress she wore in her wedding ceremony to raise money for cancer research. According to The Daily Mail, Hefner, who was 86 at the time of O'Connor's death, took to Twitter to acknowledge his old friend, stating, "Mary passed away today. We loved her more than words can say." 
Mary's memorial service was held at the Playboy Mansion on February 8, 2013 (via Facebook).