How Nirvana Got Their Name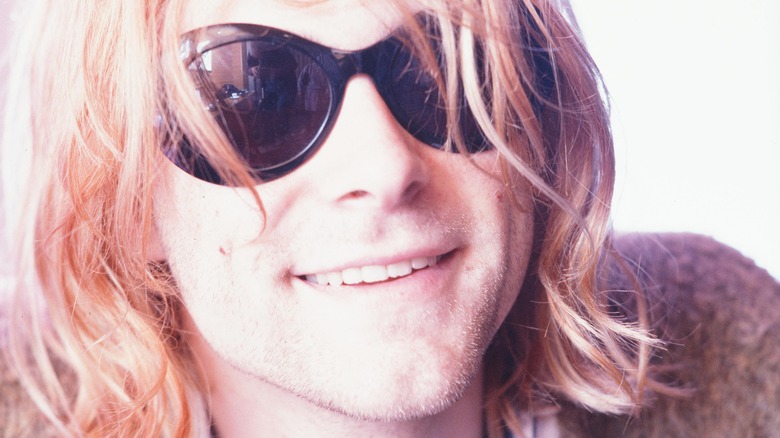 Koh Hasebe/shinko Music/Getty Images
Juliet of William Shakespeare's famous tragedy muses while longingly staring out the window addressing her star-crossed lover (via Folger Shakespeare Library), "What's in a name? That which we call a rose / By any other name would smell as sweet; / So Romeo would, were he not Romeo call'd, / Retain that dear perfection which he owes / Without that title."
Diehard fans know that Kurt Cobain hated lyrics by many big rock bands. Cobain, who penned some darkly romantic songs to his lovers Tracy Marander and Courtney Love, and wrote even gloomier songs about his own personal demons, called his band Nirvana (via NME). Merriam-Webster defines the word nirvana as "the state of perfect happiness and peace in Buddhism where there is release from all forms of suffering" so there is an irony in an angsty punk rocker choosing such a moniker for his music project with teen pal Chris Novoselic.
Cobain explained to biographer Michael Azerrad (via SeattlePI), "I wanted a name that was kind of beautiful or nice and pretty instead of a mean, raunchy punk rock name like the Angry Samoans." Cobain stated (via MTV News), "It was 9 o'clock in the morning and I was hungover [when coming up with the name]."
Endlessly nameless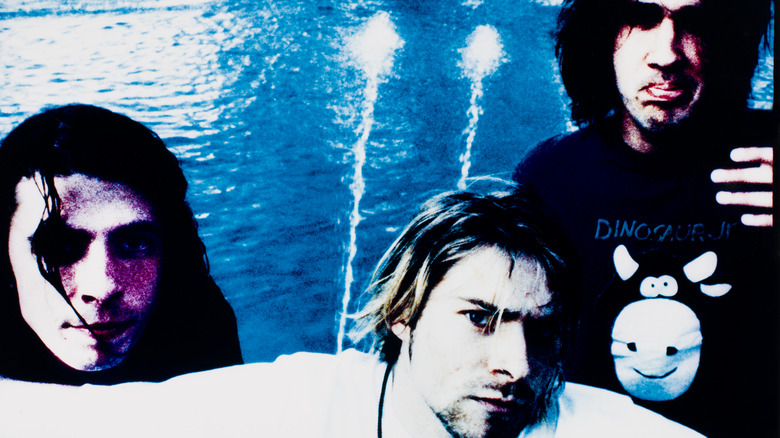 Niels Van Iperen/Getty Images
Kurt Cobain met bassist Chris Novoselic while in high school but they solidified their friendship while hanging out with mutual pals in The Melvins (via Loudwire). Before meeting Novoselic, Cobain had a short-lived band called Fecal Matter with Melvins drummer, Dale Crover (via NME). He even began toying with the spelling of his own name, interchanging k's and c's and interjecting d's. He's signed his name as Kurdt Kobain and other variations over the years. Chris, of Croatian ancestry who actually lived in the country for a time, occasionally spells his name Krist and with an accent on Novoselić to honor his heritage (via The Plitvice Times).
Cobain and Novoselic originally started jamming together as a Creedence Clearwater Revival cover band to appease their local Aberdeen, Washington audiences and aptly dubbed themselves: The Sellouts. The band only lasted for a few rehearsals but reformed with new drummer, Aaron Burckhard, who is considered by most as the first official Nirvana drummer (via HuffPost). But while the early incarnation of the band that would make history was finding its footing by covering tracks like Shocking Blue's "Love Buzz" and writing music that would appear on later albums, they were nameless.
Recordings of the band rehearsing and performing as Skid Row, not to be confused with the glam metal band of the same name, have been preserved (via YouTube). While they developed fans with this lineup, they continuously tinkered with other names such as Ted Ed Fred, Throat Oyster, Pen Cap Chew, Windowpane, and the very thematically-similar Bliss.
By January 1, 1989, the band was a four-piece (with additional guitarist Jason Everman and drummer Chad Channing) and signed to Sub Pop under the name Nirvana (via Billboard).
Something got in the way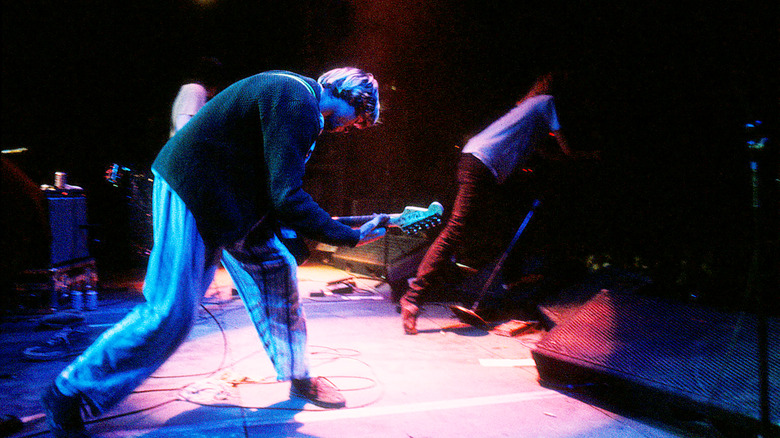 Lindsay Brice/Getty Images
By the time Nirvana was a household name, Kurt Cobain admitted to biographer Michael Azerrad he didn't even like the name because it sounded (via Hamilcar's Books) "too esoteric and serious." Ironically, even Dave Grohl admits he can't stand his current band name, Foo Fighters (via Rolling Stone). But there was another reason that made the Nirvana name even worse.
As Nirvana, the now three-piece from a small logging town in Washington state, exploded to international stardom, a defunct '60s psychedelic band from the UK who had the same name took notice (via The Guardian). In addition to trying to make money off of an album covering songs by the '90s Nirvana USA group (an album called "Nirvana Sings Nirvana"), the band sued Cobain & Co. in 1992. They settled out of court for $100,000.
Never mind that the US band is considered one of the most successful and influential rock bands of all time. Twenty-seven years after the release of "Smells Like Teen Spirit," Nirvana was the most played radio rock band of the decade (via Loudwire). With modern artists sampling their sound on pop hits and blockbuster films such as 2022's "The Batman" using "Something in the Way" for its soundtrack, Nirvana remains a household name (via Variety).