The British Royal Family Members Named After Queen Elizabeth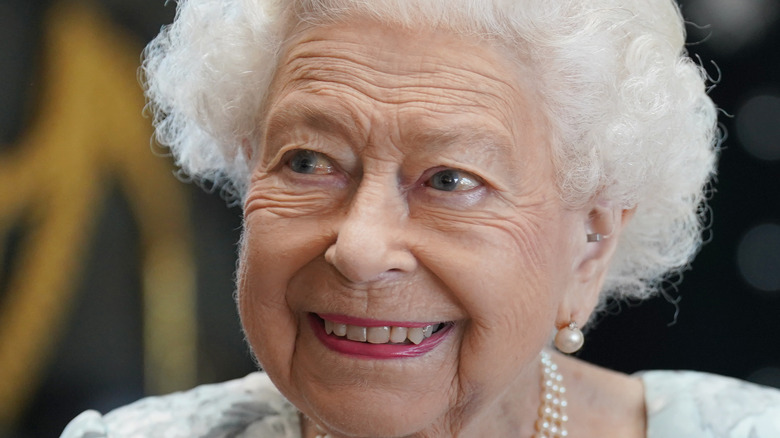 Wpa Pool/Getty Images
The name "Elizabeth" was first used in the royal family by Queen Elizabeth I, who reigned from 1558 to 1603, and the name has been commonly given to members of the British royal family since. However, Queen Elizabeth II wasn't named in honor of the monarch. She was named after her mother, Elizabeth Bowes-Lyon, also known as the Queen Mother (via Biography). When monarchs ascend a throne, they choose a regnal name, and typically, they pick their first baptismal name, which is what the queen did. When asked what her regnal name should be, she reportedly replied, "My own, of course." She was born Elizabeth Alexandra Mary in 1926, and inherited the throne as Queen Elizabeth II in February 1952, after the death of her father, King George VI.
After Queen Elizabeth II, several succeeding members of the royal family have "Elizabeth" in their names — from the queen's own daughter to her great-granddaughters.
The origin of the name Elizabeth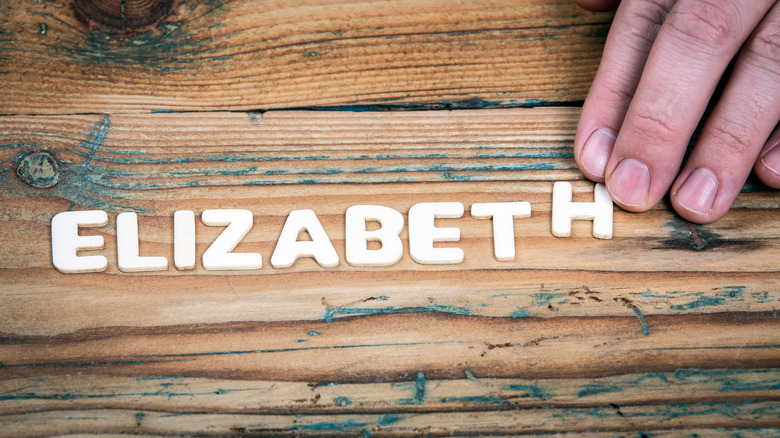 stoatphoto/Shutterstock
According to Behind the Name, the name Elizabeth is of Hebrew and Greek origin and means "oath of God." In the Old Testament, the wife of Aaron is named Elisheba, which is the Hebrew form of Elizabeth, while the New Testament identifies John the Baptist's mother as Elizabet or Elizabeth, the Greek form of the name. The name Elizabeth increased in popularity in England during the reign of Queen Elizabeth I, but it became a popular name in the U.S. as well.
From 1900 to 1905, the name Elizabeth ranked as the sixth most popular girl's name in the U.S. (via Social Security). For decades, it remained one of the top 20 baby names, save for a couple of years in the 1940s when its rank dropped to 26. In 2021, it was the 14th most popular girl's name. Elizabeth has many other variations in different languages, some of which include Elsbeth, Isabella, Elisabeta, Elikapeka, and Elsabeth.
British royals named Elizabeth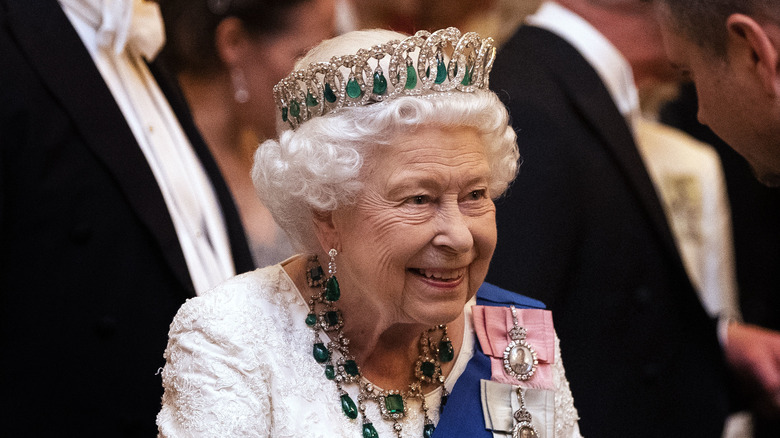 Wpa Pool/Getty Images
Queen Elizabeth II has only one daughter among her four children, and she passed her name to her. Anne Elizabeth Alice Louise was born in 1950, and she is known as Princess Anne of Edinburgh. As reported by Town & Country, three out of four of the queen's granddaughters also bear the name Elizabeth: Lady Louise Alice Elizabeth Mary Mountbatten-Windsor, Princess Beatrice Elizabeth Mary, and Zara Anne Elizabeth Tindall.
Four of Queen Elizabeth II's great-granddaughters are also named after her: Sienna Elizabeth Mapelli Mozzi, Lena Elizabeth Tindall, Isla Elizabeth Phillips, and Princess Charlotte Elizabeth Diana. Prince Harry and Meghan Markle, on the other hand, chose a different form of the queen's name for their daughter. Lilibet Diana Mountbatten-Windsor was born in 2021, and as noted by People, Lilibet was the queen's nickname given to her by her father. According to reports, Prince Harry asked permission from his grandmother before naming his daughter Lilibet, and the queen approved.