What We Know About Kareem Abdul-Jabbar And Pam Grier's Complicated Relationship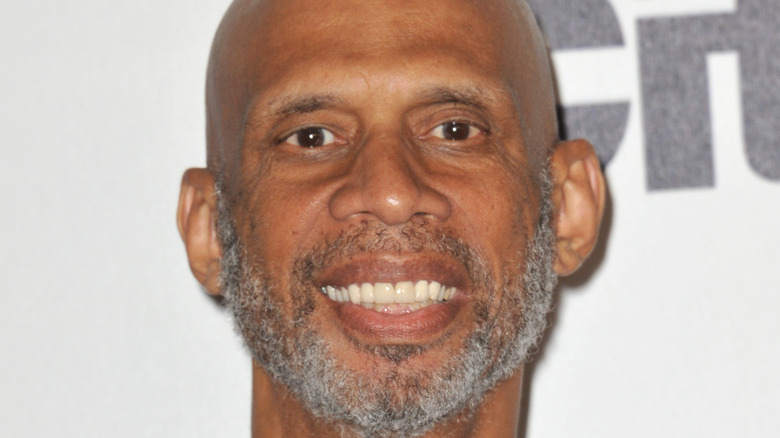 Jaguar PS/Shutterstock
They were both Black 1970s icons. He was a basketball star whose career started as a first-pick in the NBA draft for the Milwaukee Bucks, where he became Rookie of the Year and was named MVP before transferring to the Los Angeles Lakers. She was the ultimate "blaxploitation" action movie star in such classics as "Foxy Brown," "Coffy," and "Friday Foster," to name but a few. Kareem Abdul-Jabbar and Pam Grier seemed like a power couple — a glamorous, talented, and seemingly well-matched pair. However, the truth was actually much more complicated and fraught with drama and tension. 
As reported by I Love Old School Music, in 2010, Grier published her memoir, "Foxy: My Life In Three Acts," in which she discussed her relationship with Abdul-Jabbar. According to Grier, the two were together for several years when they were both in their 20s, before she was famous, and it was during this time that Abdul-Jabbar converted to the Muslim faith. Grier described waiting for Abdul-Jabbar to return home to Malibu, California after a series of away games and running to him to hug him upon his return, but "he moved back, as if I had bad breath or a contagious skin disease. 'Nice to see you, Pam,' he said. And that was it." He was accompanied by a group of friends who had also recently converted to Islam, and per Grier, "I wasn't supposed to speak to them at all, unless I was answering specific questions."
Pam Grier didn't appreciate Kareem Abdul-Jabbar's demands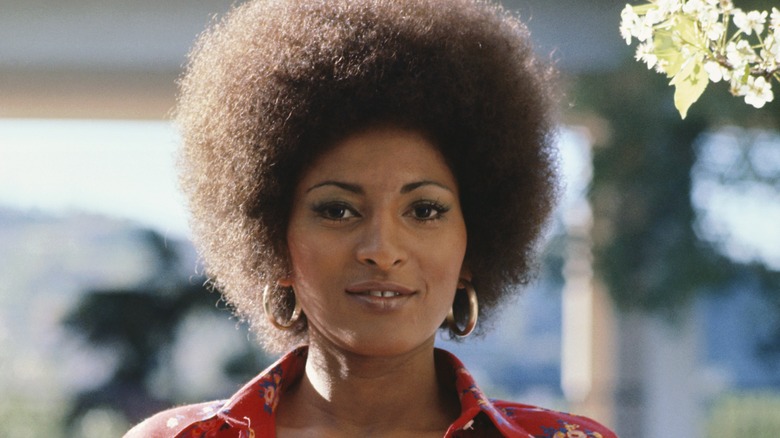 Michael Ochs Archives/Getty Images
Pam Grier went on describing her reunion with Kareem Abdul-Jabbar: " I stood there awkwardly, when Kareem said in a quiet voice, 'You're supposed to leave the room now, Pam.' I walked out of the room feeling upset and humiliated." As reported by I Love Old School Music, Grier noted that things continued to disintegrate when Abdul-Jabbar asked her to make sandwiches for the group of men and then rudely dismissed her from the room, telling her, "You have to go now, you can take your sandwich with you." She left after changing into a halter top and cutoffs, an outfit that angered Abdul-Jabbar when he discovered she'd been wearing it, leading him to announce she'd "disgraced him on the beach" and demand "You have to be covered. Arms, legs, and head. Only your hands can be seen." He also demanded they marry, noting he had another woman standing by who was ready to do so, if Grier wouldn't. "She's been prepared for me," he told Grier. The relationship between Abdul-Jabbar and Grier soon ended.
Grier revisited the topic of her relationship with Abdul-Jabbar in a 2020 interview with The New Yorker.  When the interviewer asked her why she'd walked away from his offer of marriage, Grier replied, "I'd seen women being validated by men and marriage. Some people fall in love with the idea of marriage: 'You can be a basketball player's wife, and you'll have wealth and money and kids, and you won't have to work!'" Pam Grier, however, was a committed feminist who wanted her own work and success.
What really ended the relationship?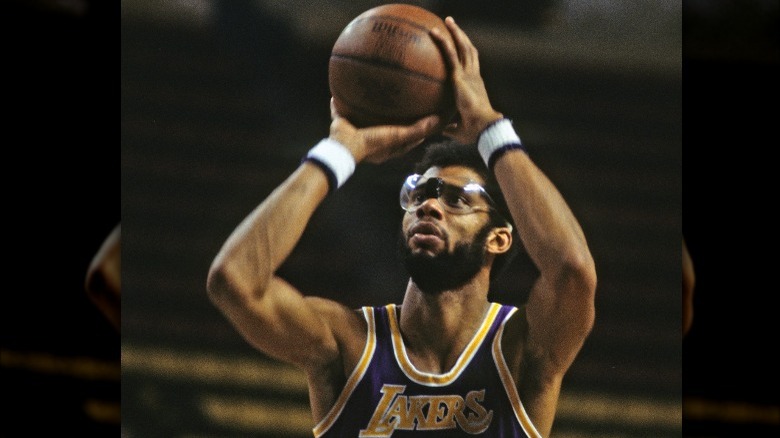 George Gojkovich/Getty Images
As Pam Grier explained to The New Yorker about her decision to leave Kareem Abdul-Jabbar and focus on her career as an actress, "If someone gives something to you that you didn't earn, they can take it away. When you earn it, they can't." She went on to reminisce about what could have been, noting "Without all of that, he was the perfect man. He loved jazz. He loved sports. He was an academic. He could have been that first love."
Abdul-Jabbar spoke out about his past with Pam Grier in 2015 in response to an article published on the conservative website Breitbart titled "Oppressive View of Women Came with Kareem Abdul-Jabbar's Islam Conversion." In an April 3, 2015 post on Facebook, Abdul-Jabbar called Grier "a wonderful artist and person" and noted that the Breitbart article had used her biography as "evidence." Abdul-Jabbar wrote of his conversion, "Given my youth and newness to the religion, I embraced the most orthodox teachings because that's what I was taught. ... Not many of us would like to be judged by our behavior in our youth." He went on to explain that he is still a practicing Muslim and "my views on what a Muslim is and how he or she should behave have gone through changes." He also blamed distance and the fact that they were both focused on their careers for the breakup with Grier, writing, "Like a lot of couples, we couldn't make the long-distance relationship work."