Here's Who Inherited McDonald's Founder Ray Kroc's Estate After He Died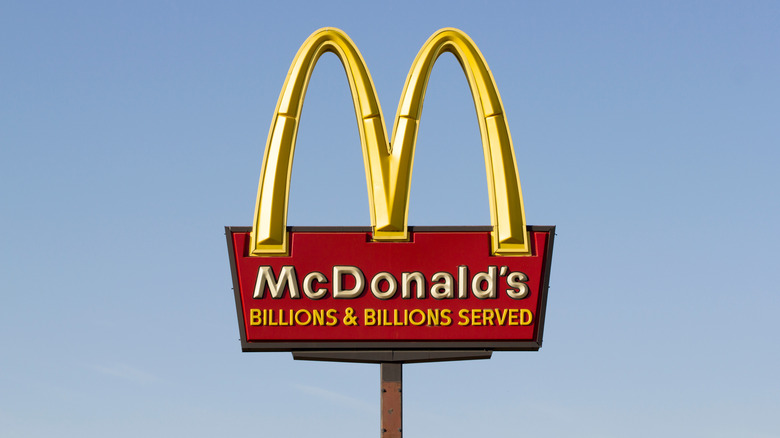 Tada Images/Shutterstock
Ray Kroc was a businessman popularly known as the person responsible for expanding McDonald's to the fast food giant that it is today. Kroc was born in Illinois on October 5, 1902, and in his youth, he started his own lemonade stand and also worked at a soda fountain. After his stint as an ambulance driver during World War I, he worked several jobs until he became a salesman, and eventually a sales manager, as noted by Biography. In the 1940s, Kroc decided to focus on selling a milkshake machine that can produce multiple batches of milkshakes at the same time. It was in 1954 in San Bernardino, California, when he met the McDonald brothers — Richard and Maurice — who needed to purchase several units of the machine for their local restaurant business.
The McDonald brothers ran a restaurant that had a small menu of burgers, fries, and drinks. Despite the limited choices, the business was a big success, as they focused on food quality and quick service. The brothers were looking for a franchising agent, and Kroc saw a big potential in the business. He became the franchising agent in exchange for profits and founded McDonald's System, Inc. just a year later (via McDonald's). McDonald's opened its 100th franchise in 1959 and two years later, Kroc purchased the company from the McDonald brothers for $2.7 million, or approximately $26.7 million in today's money. From then forward, Kroc worked on the operations and expanded the business.
How Ray Kroc expanded McDonald's
Before Ray Kroc bought out the McDonald brothers, he wasn't making as much profit as he initially thought he would. Then, he met financial wizard Harry Sonneborn, who showed him how he can increase profits via real estate. As noted by Entrepreneur, the idea was to establish a company that leased or purchased lands where McDonald's franchises would be built, and that's what Kroc did. He earned more money from the rent the franchisees paid in addition to a percentage of sales from the restaurant.
Kroc was a perfectionist and a workaholic, and those traits helped expand McDonald's. However, his personal relationships suffered, according to FranchiseWire. Kroc and his first wife divorced in 1961, and his second marriage in 1963 ended in divorce as well five years later. In 1969, he married his third wife, Joan Mansfield Smith, to whom he remained married until his death. Kroc died in 1984 at the age of 81. According to a report by The New York Times, the McDonald's mogul died of a heart ailment at the Scripps Memorial Hospital in San Diego.
He served as the senior chairman of McDonald's and also owned the Major League Baseball team, the San Diego Padres, which he purchased in 1974. At the time of his death, his net worth was reported to be $600 million, which is equivalent to $1.7 billion in today's money. Today, McDonald's has more than 38,000 restaurants in over 100 countries (via World Population Review).
Who inherited his wealth?
As reported by Time, Ray Kroc's third wife, Joan, inherited his estate when he died. The two met in 1957, and they were both married at that time. A few years later, Joan and her husband opened their own McDonald's franchise, and more than a decade afterward, both Kroc and Joan were divorced. They married in 1969, but it wasn't a smooth relationship. Joan filed for divorce in 1971 citing Kroc's temper and violence, but it never pushed forward, and they remained married until his death.
Kroc's widow decided to make good use of the vast fortune that was left to her by being a philanthropist. Joan's friends told Deseret News that she "loved to surprise people with her money." However, it wasn't about the fame that came with it; she often donated to charities in secret and rarely gave interviews. In fact, the length of her generosity was only revealed after her death. She donated millions to the Salvation Army, underprivileged children, homeless shelters, schools, and zoos, just to name a few. "The things I believe in, I'll spend money on," Joan once stated. One of her friends called her St. Joan of Arches for her philanthropic efforts.
In 2003, Joan was diagnosed with terminal brain cancer and she died just months later at 75 years old. According to WYFI, Joan's last will stated how to distribute her wealth. She donated $1.5 billion to the Salvation Army, $225 million to the National Public Radio, and millions more to other charitable organizations including the Ronald McDonald House.