The Beatles Song You Never Realized Robin Williams Covered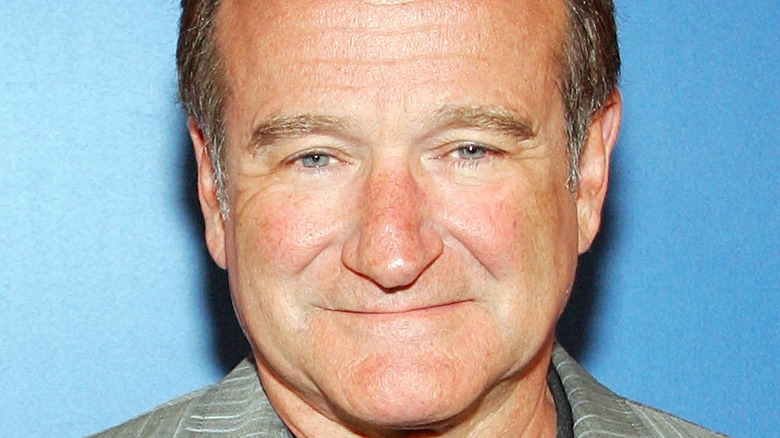 Ethan Miller/Getty Images
Eight years after his death, Robin Williams is still revered for his legendary career (via Yahoo! Entertainment). On August 11, 2014, the actor and comedian killed himself after being misdiagnosed with Parkinson's disease. An autopsy later revealed that Williams was actually suffering from Lewy body dementia, a disease (per Mayo Clinic) that slowly deteriorates the mind. Per Biography, his legacy lives on, remembered for his beloved roles in "Good Will Hunting," "Mrs. Doubtfire," "Jumanji," "Aladdin," and many more. Besides his Oscar for "Good Will Hunting," Williams was also a five-time Grammy award-winning performer, out of nine nominations.
According to The Hollywood Reporter, Williams had numerous musical accomplishments to his credit. In 1993, he was a part of the "Aladdin" soundtrack, where he sang "Friend Like Me" and "Prince Ali." The album later climbed to No. 6 on the charts. Moreover, NME reports that Williams sang in several of his other films and projects, including in "Mrs. Doubtfire." At the 2000 Academy Awards, he performed "Blame Canada" (as seen on YouTube) from the film "South Park: Bigger, Longer, and Uncut." The Ringer writes that it is now considered to be one of the most iconic moments in Oscar history. All Music explains that in 1998, Williams, along with Bobby McFerrin, recorded a cover of a 1969 Beatles song.
He was featured on a George Martin album
All Music writes that Williams' cover of "Come Together" appears on an album produced by George Martin titled "In My Life." "Come Together" was originally released on The Beatles' "Abbey Road" album (via The Paul McCartney Project). According to The Guardian, Martin signed The Beatles to Parlophone records and produced nearly all of their albums. For this reason, he is often referred to as the "fifth Beatle." Album Liner Notes explains that Martin, who died in 2016, wanted "In My Life" to be his final album. The album consists of various artists covering different songs from The Beatles' discography.
Besides Williams and McFerrin, other artists, including Goldie Hawn, Jim Carrey, and Sean Connery, are included on the album. NPR states that McFerrin is widely known for his 1988 song "Don't Worry, Be Happy." That being said, Album Liner Notes reports that Martin asked Williams to cover "Come Together." Williams, however, added McFerrin into the mix; the pair had been longtime friends, and Williams, along with Bill Irwin, had performed in McFerrin's "Don't Worry" music video (on YouTube). In the end, Williams and McFerrin recorded their Beatles cover in San Francisco. Their song is the first track on the album. Days after Williams' 2014 death, NME praised the duo's unique cover of the song.
Robin Williams' other covers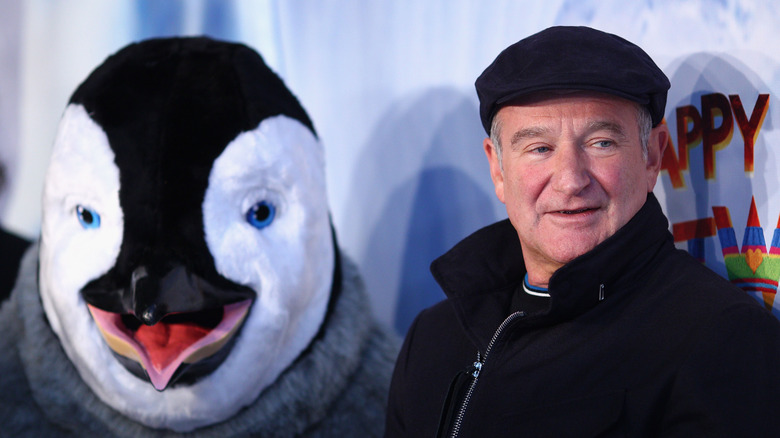 Ryan Pierse/Getty Images
According to WhoSampled, Williams' rendition of "Come Together" is far from his only cover. In 1983 (per AllMusic), Williams released his album "Throbbing Python of Love." In it, he includes a cover of "Fire" by Bruce Springsteen. However, the track is titled "Elmer Fudd Sings Bruce Springsteen" (as seen on YouTube), as Williams was imitating the cherished Looney Tunes character in his performance. In 1980, he starred in "Popeye" along with Shelley Duvall (via Biography). Williams' covered "I'm Popeye, the Sailor Man" (also on YouTube). The song originally appeared in the 1933 cartoon (per WhoSampled).
For the 2006 film "Happy Feet," Williams sang in Spanish. He covered Frank Sinatra's 1969 song "My Way." Titled "A Mi Manera," the song appears on the film's soundtrack.
At the time of Williams' death, Neil Portnow, the former Recording Academy president and CEO, released a statement. "Our entertainment community has lost an immense talent, a true inspiration, and a creative genius," said Portnow, "and his remarkable legacy will forever be immortalized in his vast and impressive body of work" (via The Hollywood Reporter).