The Source Of Elvis' Grammys Success Didn't Come From Where You Think It Did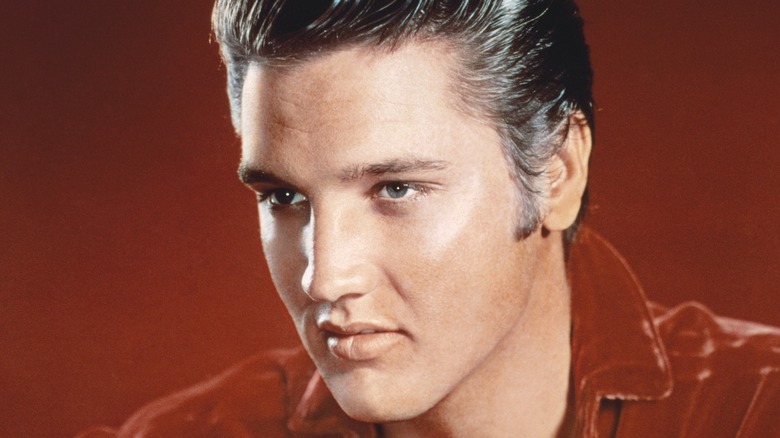 Michael Ochs Archives/Getty Images
Elvis Presley popularized and advanced rock 'n' roll starting in the mid-1950s, setting the stage for the titans of the '60s, such as The Beatles, The Rolling Stones, Jimi Hendrix, and more. Heavily influenced by Black singers and musicians, Presley's rise began with 1954's "That's All Right Mama," a song originally performed by Arthur Crudup, plus other bluesy-country ballads (via Britannica).
Unlike the British and other American rockers that he later influenced, the Tennessee-born Presley brought a distinctly Southern sound to the masses. "Heartbreak Hotel" was one of his first major hits, but also upbeat bops like "Don't Be Cruel" and "All Shook Up." But he rocked hardest with 1956's "Hound Dog" (earlier sung by Big Mama Thornton), "Blue Suede Shoes," "Tutti Frutti" (credit Little Richard), and the next year's "Jailhouse Rock." Alongside artists like Little Richard and Jerry Lee Lewis, Elvis Presley showed America and the world that rock could be harder, faster than ever imagined. Music wasn't just something you sang or danced to, it was something you screamed.
But for all that, the songs that won the King of Rock his Grammys were of an entirely different nature.
How Great Thou Art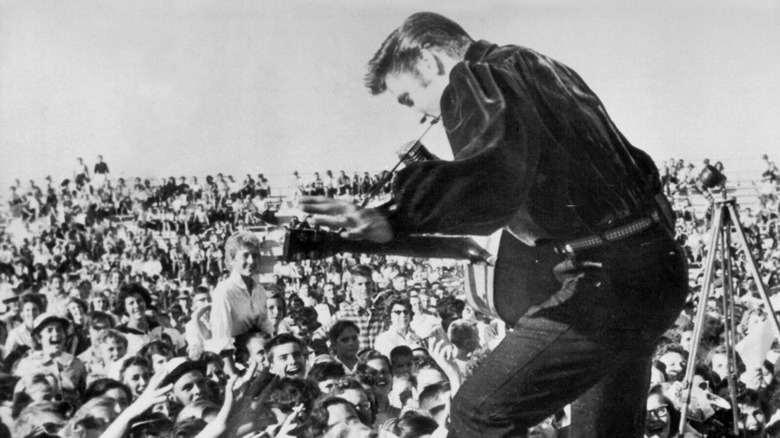 Michael Ochs Archives/Getty Images
Elvis Presley earned 14 Grammy nominations and won three times, twice for Best Inspirational Performance and once for Best Sacred Performance (via Grammy.com). In other words, for gospel songs. "How Great Thou Art" won a Sacred nod in 1968 and an Inspirational one in 1975. "He Touched Me" won Best Inspirational Performance in 1973.
While "Big Hunk O' Love" got some nominations, his rock went largely unrewarded. In fairness, of course, the Grammys did not exist until 1959 (via Britannica). This was after many of Presley's greatest rock triumphs, though of course not all of them. Neither of his wins was an original song, but he sang them beautifully. "How Great Thou Art" was soaring, chilling. "He Touched Me" was thoughtful and passionate. The former song came from Sweden in the late 19th century and the latter from Bill Gaither (via The St. Augustine Record and UMC Discipleship Ministries). Presley had spent much time in both white and Black churches in his youth, according to Britannica.
Earning Grammys for wholesome religious songs, of course, was somewhat ironic.
Irony and horrors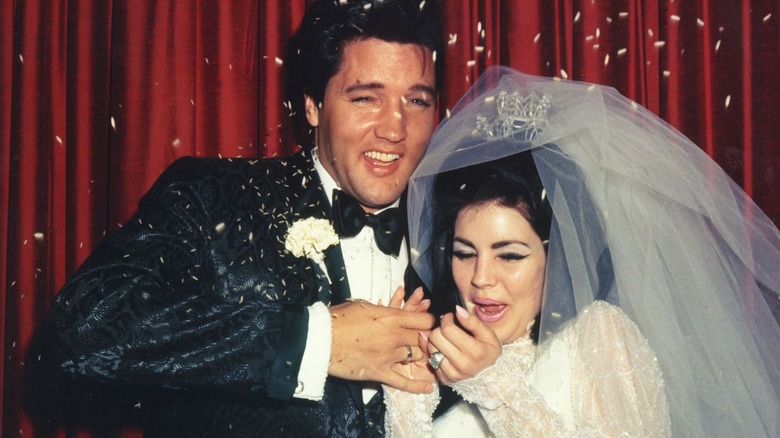 Michael Ochs Archives/Getty Images
Elvis Presley was denounced by many churches and parents of the 1950s as being a corrupting force (via Britannica). "Elvis the Pelvis" would thrust and gyrate his hips, which some Americans saw as obscene and sexual, somewhat paralleling the modern twerking conversation. Screaming young women and boys parroting his hairstyles and moves made him a teen idol, which in turn made him a target upon which all social ills could be blamed. If a teen misbehaved, it was due to that Elvis character and his devil music.
As for Presley himself, he is increasingly recognized as one of the many artists that gave the world an incredible gift with his music, while at the same time behaving abhorrently. The influence of his songs on youths may not have been worthy of the hysteria, but his private actions gave it at least some legitimacy. Presley was involved with young girls and obsessed with virginity, according to Vice. Allegations swirl around him today concerning domestic abuse against his partners, including drugging his wife and firing a gun at a later girlfriend (via Far Out Magazine). Finally, he also grew addicted to a host of drugs, including opiates (via PBS).
If you or someone you know is dealing with domestic abuse, you can call the National Domestic Violence Hotline at 1−800−799−7233. You can also find more information, resources, and support at their website.
If you or anyone you know is struggling with addiction issues, help is available. Visit the Substance Abuse and Mental Health Services Administration website or contact SAMHSA's National Helpline at 1-800-662-HELP (4357).