What Elvis Really Thought About His Infamous Appearance On Steve Allen's Show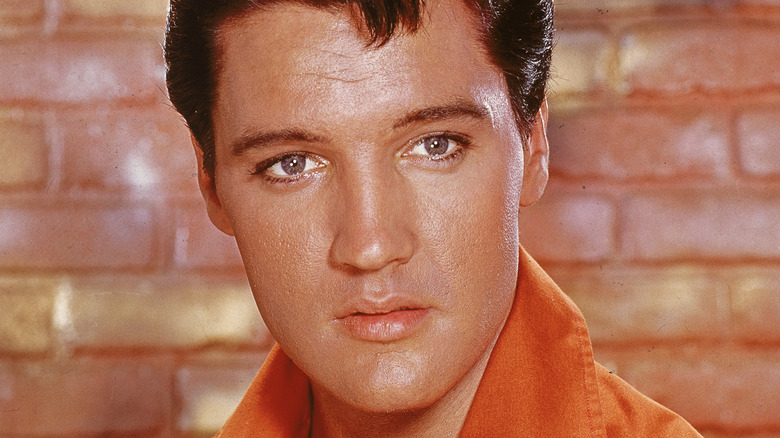 Hulton Archive/Getty Images
Elvis Presley, The King, Elvis the Pelvis — he's known to all as one of the fathers of rock and roll, with images of gyrating hips and flamboyant suits driving women across the country mad, and old-fashioned traditionalists even madder (via Express). He performed songs like "Jailhouse Rock" and "All Shook Up" to adoring fans for years, but there's one incredibly popular song that went down in infamy (via Billboard). "Hound Dog," released just at the start of his career in 1956, went on to be one of Elvis Presley's greatest hits (via Outsider) — but it was never supposed to be his, to begin with (via Shmoop).
The dynamic songwriting duo of Jerry Leiber and Mike Stoller actually wrote "Hound Dog" for Willie Mae "Big Mama" Thornton's incredibly strong and guttural voice. The notable lyricists also went on to write "Jailhouse Rock" for The King. But Big Mama was no stranger to other artists covering her songs, like Janis Joplin singing "Ball and Chain." Despite who the song truly belonged to, Elvis made it even more famous, but there were times he wish he hadn't.
The (incredibly cute) embarrassment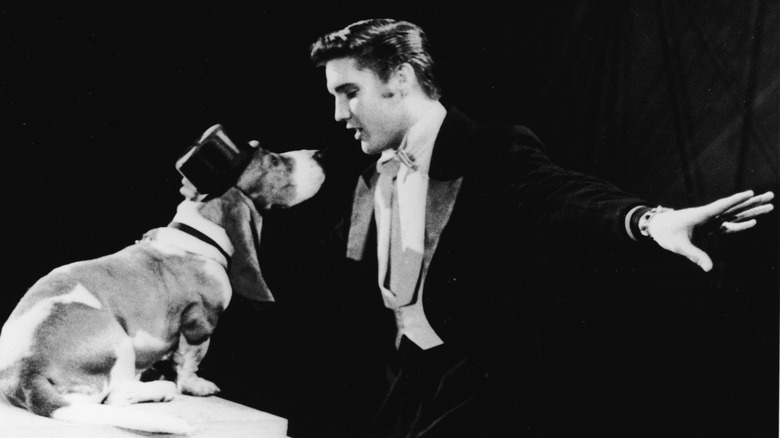 NBC Television/Getty Images
Elvis Presley was known for driving girls wild with his shaking hips, striking outfits, and charisma (via Express). He was confident from the beginning of his career in 1956, when he did a slew of TV and radio appearances to promote his first single. The song, "Heartbreak Hotel," would go on to be the top hit song in the country (via Outsider). And Presley was known to break hearts, serenading women around the globe from their radios. But those he serenaded were not usually slobbery. Except for one furry fan. You guessed it, we're talking about a dog.
Steve Allen was a funny yet wholesome American TV personality who was popular at the time. He was well-respected for hosting NBC's "The Steve Allen Show," and considered it family-friendly. But "Elvis the Pelvis" had an impending live performance coming up, and NBC's executives were not happy about it. Allen did not appreciate the rise of rock 'n' roll in general and promised the executives he had it under control. He also made Presley's manager promise the star would appear in an "improved" way. Trading in his loud garb for a bow tie and black tailcoat, The King took the stage to perform his rendition of "Hound Dog," which he would officially record for the first time the next day. But rather than performing for adoring fans, Allen revealed a basset hound, wearing a top hat, sitting on a table, that Elvis was supposed to perform for.
The king's reaction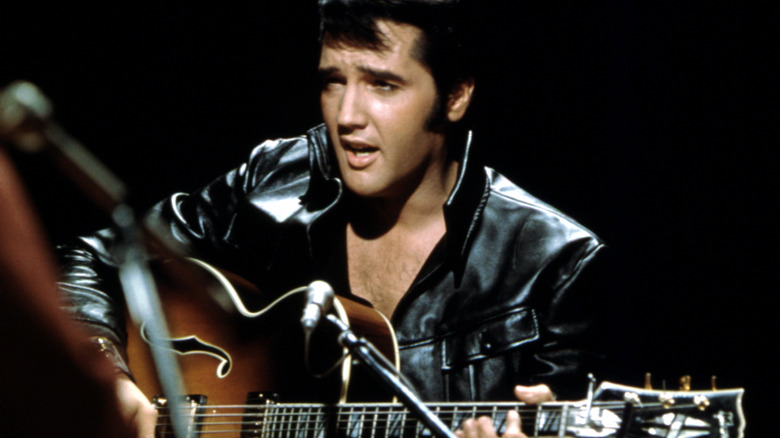 Michael Ochs Archives/Getty Images
Dressed in attire he would never have chosen, and singing to a fan he would have never expected, Elvis Presley performed to a basset hound that night in 1956 on "The Steve Allen Show," and he regretted it throughout his life (via Outsider). Immediately before the performance, the basset hound slobbered all over The King's hand, and although Presley laughed and wiped it on his suit (which can be seen in this YouTube video), he was furious (via Express). While Presley's dance moves and demeanor were considered obscene for 1950s sensibilities, this performance seemed obscene to him, and he was incredibly embarrassed.
Whether Allen meant to embarrass Elvis is unknown, but Rolling Stone went on to name "Hound Dog" one of their 500 Greatest Songs of All Time in 2004. It became one of his top-selling songs and was inducted into the Grammy Hall of Fame in 1988. But despite its immense success, Presley said of the song's performance on Allen's show (per Outsider), "it was the most ridiculous appearance I ever did and I regret doing it."