One Man's Abraham Lincoln Protest Resulted In A Ridiculous 12-Foot Beard
Political protest is nothing new, according to the BBC, and neither are men who grow beards, as The Farmer's Almanac notes. In the 1860s, though, one Missouri man named Valentine Tapley combined political protest with beard growth to express his disapproval of then presidential candidate, Abraham Lincoln. Because of the form that Tapley's gesture took, by the time that he died in 1910 with a record-setting beard, his facial hair was quite distinctive based on 2015 reporting from the Hannibal Courier-Post.
Unusual appearance aside, one thing's for certain: Valentine Tapley was a man who kept his word. With the American Civil War brewing in 1860, Tapley, a Democrat, vowed that if Abraham Lincoln, a Republican, were to be elected president, he would put his razors away for good and never shave again for the remainder of his life. In Tapley's time, the Democratic Party was split over the issue of slavery, as The Smithsonian notes. When Lincoln won the presidency in 1861, Tapley followed through on his promise.
From a young age, Tapley was gifted with quick-growing whiskers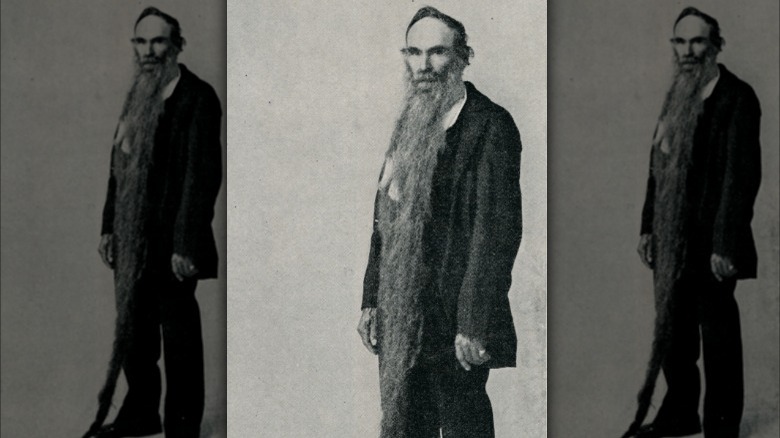 Print Collector/Getty Images
As the Hannibal Courier-Post goes on to report, Valentine Tapley (pictured) grew an impressive beard starting at a young age. He reportedly had a six-foot-long beard even before he vowed to never shave again should Lincoln get elected. Spurring Tapley on, he entered an 1860 beard-growing competition with another man, Elijah K. Gates, though Gates' commitment to beard growth has no known political connotation, as the Hannibal Courier-Post relates.
Even after the reelection of Lincoln and his subsequent assassination in 1865, Tapley stuck to his commitment to let his beard grow (via The White House's website). As a result, Tapley's beard reached a record-setting length of more than 12 feet, according to Missouri Life. In fact, Tapley became so famous for this feature that he was offered money to go on tour in England, but he ultimately declined. By 1907, a man named Sam Brinkley boasted the world's longest beard at a bit more than five feet, but Tapley fans knew the truth: He had Brinkley beat by more than six inches (via NCPedia).
Tapley went to his grave, beard intact
In his lifetime, it's said Topley's beard kept him warm, and in the hot summer, it acted like a fan, as it was long enough to create its own breeze (via the Hannibal Courier-Post).Tapley was reportedly even once asked to stand in for the May Pole at a local May Day celebration. After decades of commitment to his beard-growing project, Tapley, who died in 1910 at the age of 80, made arrangements for his 12-foot-long facial hair to be buried with him. Over concern someone might steal it, Tapley was interred in a reinforced tomb to deter grave robbers. 
Some twenty years after Tapley died, a Norwegian-American man named Hans Langseth (pictured) beat Tapley's record with a beard exceeding 17 feet, which was donated to the Smithsonian Institution (via Smithsonian Magazine). Today, Langseth's record of 17-foot-six-inch-long beard still stands according to Guinness World Records. As of 2015, Tapley's beard ranked fifth longest, according to the Hannibal Courier-Post.