The Gruesome Accident That Made Bob Gibson A St. Louis Cardinals Legend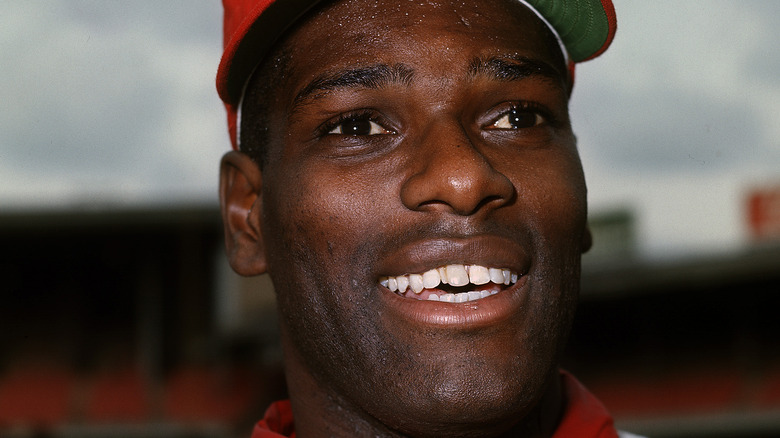 Focus On Sport/Getty Images
There are many reasons why major league right-handed pitcher Bob Gibson, who died in 2020, is considered a baseball legend. On the strength of his fastball and slider, the nine-time All-Star made nine World Series appearances for the St. Louis Cardinals, winning seven with an earned run average (ERA) of 1.92 (via Britannica). In the 1967 season, though, a freak in-game accident happened that helped cement Gibson's place in baseball lore, according to St. Louis fan site STLRedbirds.
The 1967 accident aside, in the 1964 Series, Gibson made two complete appearances in games five and seven to help his Cardinals win the title. Gibson's 1968 Cy Young and MVP-winning performance, in fact, was the best since 1914, with an ERA around 1.0 and 28 wins in 34 starts that season. In 1967, though, Gibson made a regular season appearance when another future baseball hall-of-fame player came to the plate, according to This Day in Baseball. 
Roberto Clemente was up to bat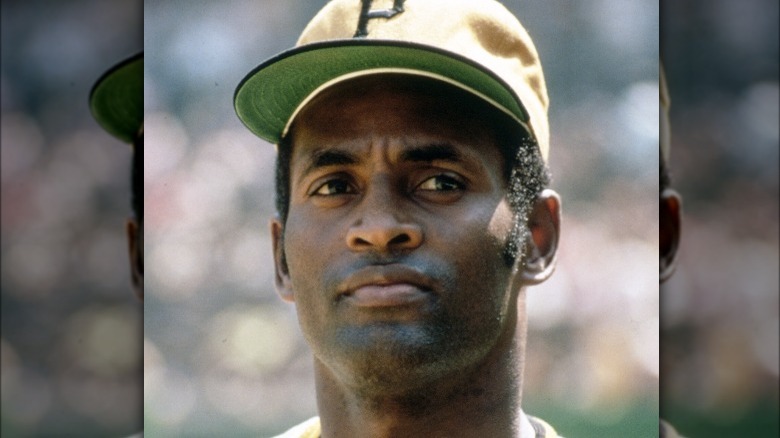 Focus On Sport/Getty Images
On that July day in 1967, Gibson's St. Louis Cardinals faced-off with the Pittsburgh Pirates. Another all-time baseball great, right-fielder Roberto Clemente (pictured) with a lifetime batting average of .317 came to the plate (via Britannica). According to STLRedbirds, the Cardinals lead the division and Gibson had 10 wins that season with an ERA less than 4.0. In the Pittsburgh matchup, though, St. Louis had a 1 – 0 lead in the fourth inning when Clemente faced-off against Gibson.
According to This Day in Baseball, Gibson remembered what happened next. In his at-bat, Clemente hit a line drive off Gibson's right shin, and falling to the ground, the star pitcher failed to get up. At that point, St. Louis trainer Bob Bauman came to check on the right-hander. While doing so, Bauman applied ethyl chloride spray for pain relief on what turned out to be a baseball-shaped indentation on Gibson's leg. As Gibson later explained (via This Day in Baseball) "It was odd that I couldn't feel where I had been struck, but since I couldn't feel it, I wasn't particularly worried. I told Doc to put a little tape on it and let me get back to work."
Gibson's leg was broken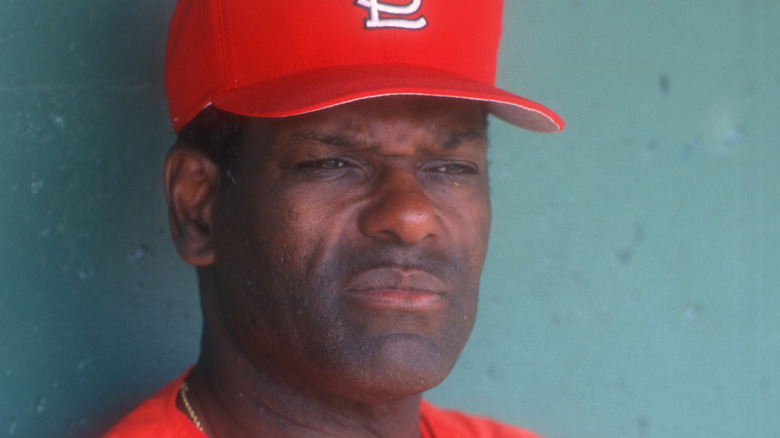 Mitchell Layton/Getty Images
As The New York Times reported that same season, Gibson faced a total of three batters in that game against Pittsburgh with a broken leg. As This Day in Baseball goes on to note, Gibson walked Willie Stargell, and Bill Mazeroski popped out. It was against Pittsburgh right-handed batter and first baseman Donn Clendenon when Gibson realized the full extent of his injury (via Baseball-Reference). Against Clendenon, Gibson recalled, "I tried to put a little extra on the payoff pitch and collapsed."
It was more than just a baseball-shaped indentation in Gibson's shin and it took more than ethyl chloride for him to heal: Gibson's fibula bone had been damaged by the ball struck by Clemente, and when Gibson continued to pitch in the game it finally snapped in two, according to STLRedbirds. The Times quotes the Cardinals' team physician, Dr. I.C. Middleman, predicting that Gibson would only be out of commission for three weeks — "he has big, thick bones." As it turned out, Gibson was absent for eight weeks. St. Louis still managed to win the pennant that season, and after Gibson returned, he won the Series MVP on the strength of a complete game seven performance against the Red Sox. All told, Gibson's broken leg story certainly redefines a "high threshold for pain," as The Times put it in 1967 when they reported the injury.