Gregory Peck's Special Gift That Got Robert Mitchum To Star In Cape Fear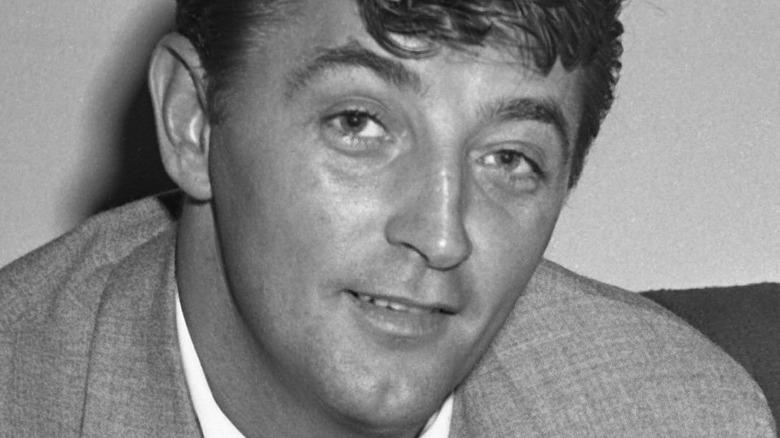 Donaldson Collection/Getty Images
The 1962 film "Cape Fear," starring Gregory Peck and Robert Mitchum in the leading roles, is a stone-cold classic thriller. If it weren't for an intoxicating gift that Peck and the film's producer gave Mitchum, though, the timeless on-screen pairing of Peck and Mitchum may not have ever happened. That's according to Mitchum himself, based on 1978 reporting from The New York Times.
At that time, Mitchum was known for playing baddies in movies like 1955's "The Night of the Hunter," among others (per IMDb). That's while Peck had made a name for himself in Hollywood playing good guys, as Entertainment Weekly explains. In "Cape Fear," the more all-American Peck and the dark and brooding Mitchum were at odds, with Peck playing the lawyer Sam Bowden and Mitchum the serial killer Max Cady. In the movie's plot, Mitchum's character seeks revenge against Peck, a lawyer who he sees as responsible for his prison sentence (via IMDb).
The film was controversial at that time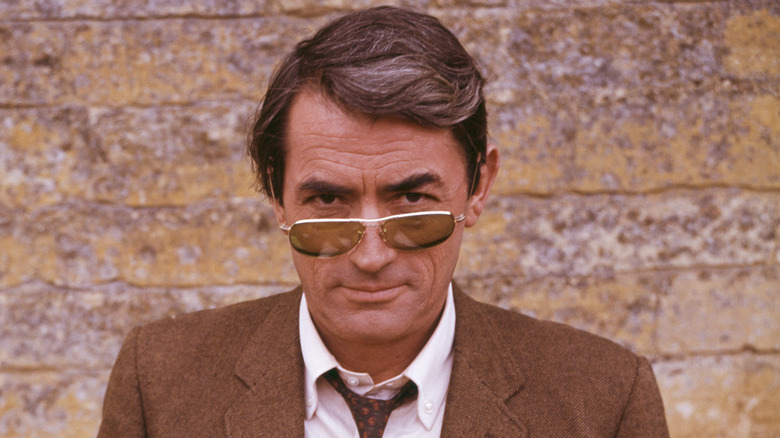 Hulton Archive/Getty Images
As The New York Times goes on to note, Mitchum was reluctant to take the part of Max Cady, despite his reputation for taking on similarly dark roles. Based on the 1957 book by John D. MacDonald, published at that time as "The Executioners" but now also called "Cape Fear," the Cady character rapes a young woman in the story. For these reasons and more, the "Cape Fear" production was controversial by 1962 standards (via the South Florida Sun-Sentinel).
Because of the subject matter, though, Peck (above) — who had already signed on for the part of Bowden — and the movie's producer, J. Lee Thompson, found Mitchum perfect for the role. Mitchum disagreed. According to The New York Times, Mitchum said, "I tried to get out of making 'Cape Fear.'" According to the South Florida Sun-Sentinel, Mitchum at that time added, "I really don't know if I want to take on another heavy." After suggesting some other actors, Mitchum left Hollywood and returned home to Maryland.
If you or anyone you know has been a victim of sexual assault, help is available. Visit the Rape, Abuse & Incest National Network website or contact RAINN's National Helpline at 1-800-656-HOPE (4673).
The gift arrived early in the morning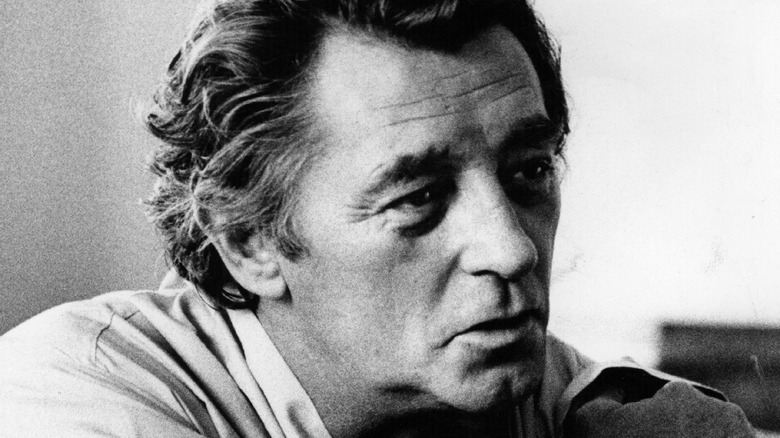 Evening Standard/Getty Images
As Robert Mitchum went on to explain to The New York Times, it was around 7 a.m. in Maryland when he heard a commotion downstairs at his residence. As it turned out, Peck and the film's producer, J. Lee Thompson had sent him a gift of flowers and bourbon, with a note politely requesting Mitchum reconsider his decision to decline the part.
As Mitchum told the story to the Times, "I heard this thumping and came downstairs. The producer had sent a bouquet of flowers, a case of bourbon and a note asking please would I do the film. I called at 6 a.m. Los Angeles time and said, 'Okay, I've drunk the bourbon, I'm drunk, I'll do it.'" Movie fans are sure glad he did.
In 1991, "Cape Fear" was remade by Martin Scorsese with Robert DeNiro in the role of Cady and Nick Nolte as Bowden. That version even had bit parts for both Mitchum and Peck. Peck died in 2003 (per Britannica), and Mitchum in 1997 (also via Britannica)