Why Cream Had Jimi Hendrix To Thank For One Of Their Biggest Hits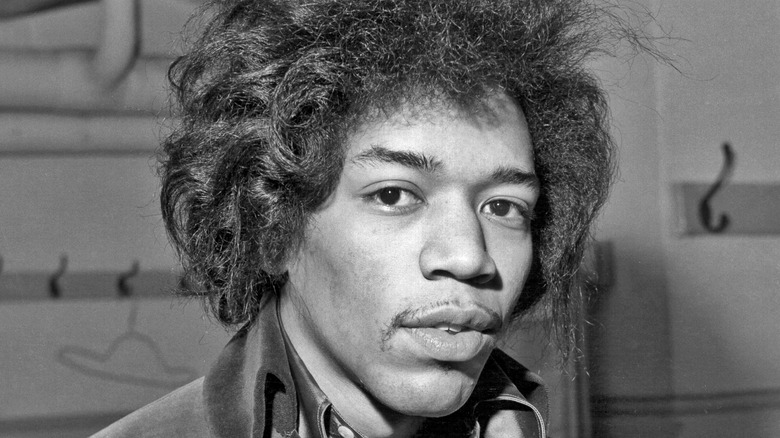 Michael Ochs Archives/Getty Images
Built on a bluesy guitar riff that's instantly recognizable for generations of rock music fans, the British band Cream, featuring Eric Clapton on lead guitar, scored perhaps their biggest hit in 1967 with the song "Sunshine of Your Love" (via AllMusic). If it weren't for Jimi Hendrix, another iconic musician and groundbreaking guitarist from the era, though, that song may not have ever existed, and if it had, it might not be the same song we now know today.
In addition to Clapton on lead guitar, Cream was a supergroup of sorts, with Jack Bruce on bass and Ginger Baker on drums, per Britannica. Mixing blues music with psychedelic sounds and hard rock, "Sunshine of Your Love," released on Cream's second album, '67's "Disraeli Gears," was not their first single. It's without a doubt the band's most well-known song, though, and remains one of Cream's highest charting songs to this day (via Ultimate Classic Rock).
Cream's bassist saw Hendrix perform live in London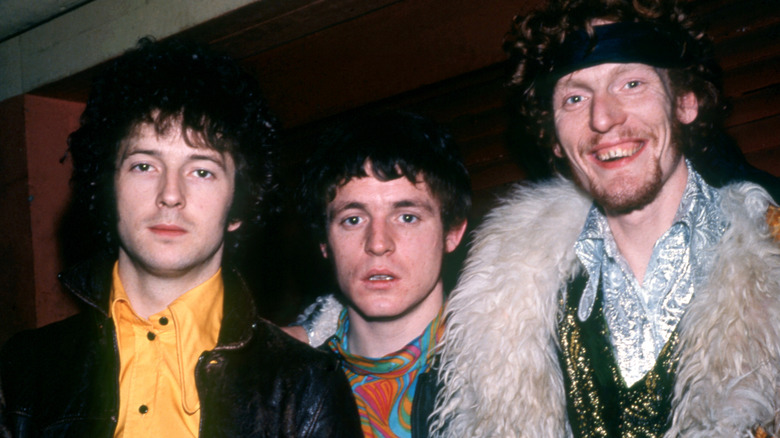 Icon And Image/Getty Images
Earlier in 1967, the same year "Disraeli Gears" was released, Cream's bassist, Jack Bruce, went to see The Jimi Hendrix Experience perform in London. From that live concert came the inspiration for the iconic blues-rock riff that formed the basis of Cream's biggest hit, played in unison in the song on both lead and bass guitar. In the 1995 book "Jimi Hendrix: Electric Gypsy" by Harry Shapiro and Caesar Glebbeek, Clapton remembered what happened next.
According to Clapton, the set that Hendrix and his band played that night was "blinding." To Clapton's knowledge, Bruce was unaware of Hendrix's music prior to that point but once he was, he was so inspired by what he saw that he went home to write the "Sunshine" riff. "It was strictly a dedication to Jimi. And then we wrote a song on top of it," Clapton said, and that was not the last time that Jimi Hendrix would play a part in the song's story.
Hendrix covered the song live on TV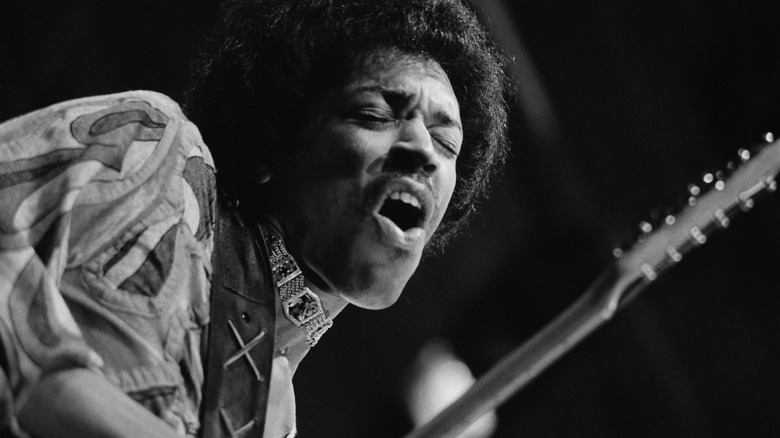 Evening Standard/Getty Images
Once released, "Sunshine of Your Love" was not a hit right away, but by 1968, the song reached No. 5 on the U.S. charts, Cream's highest chart position in history, as Billboard explains. It also went to No. 25 in the U.K that same year (per Official Charts). By that point, though, Cream had already announced they were breaking up. Chart position aside, the very next year, Hendrix was scheduled to perform on BBC's "The LuLu Show" when he made a last-minute set change. The results of that split decision would help cement Cream's song in rock history.
According to Rock Celebrities, Hendrix said live on air, "We'd like to stop playing this rubbish," referring to his own band's songs "Voodoo Child" and "Hey Joe," which they were meant to perform. Instead, Hendrix dedicated the song they played instead, which was "Sunshine of Your Love" to the band Cream, "We dedicate this to Eric Clapton, Ginger Baker, and Jack Bruce," Hendrix said. Controversially, Hendrix's cover of the Cream song caused the program they performed on to run overtime, but rock fans then and now didn't mind. Footage of Hendrix performing the song is available to watch on YouTube.