The Sad 2005 Death Of Basketball's First Superstar, George Mikan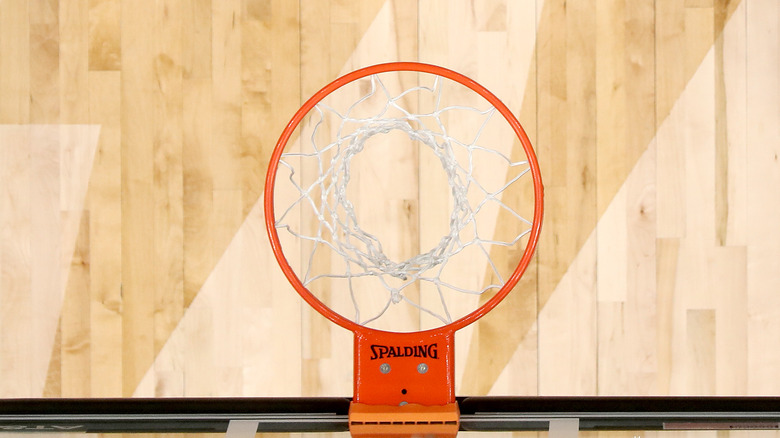 Steph Chambers/Getty Images
Today the debate still rages: is Michael Jordan or LeBron James the greatest of all time? In the late 1940s and early '50s, there was little argument: The GOAT was a 6-foot-10 center from Illinois named George Mikan. NBA.com calls him the league's "first superstar."
In the 1940s, the archetypal basketball player was smaller, rougher, faster, and more agile. Putting an awkward, slow giant on the court was almost unthinkable. Sure, they could defend the basket, but opponents would run circles around them when their team had the ball. In high school, Mikan was cut from the freshman squad over his lack of coordination and speed, plus his coach didn't think it wise for him to play in his much-needed glasses (via NBA.com). He made it onto the team in later high school years but had a long way to go in skill development.
When the United States entered World War II, Mikan could not serve due to his height (via Encyclopedia.com). Instead, he went to DePaul University in Chicago and made the basketball team under Ray Meyer, who believed he could transform Mikan into a weapon. Mikan jumped rope, shadow boxed, learned ballet, and lobbed 200 hook shots from each hand per day. He performed what much later was called the "Mikan Drill," where you throw the ball against the backboard with your right hand, catch it with your left, throw with your left, catch with your right, ad infinitum (via NBA.com). Soon Mikan was ready to make history.
The Gamechanger
By the time George Mikan graduated from DePaul in 1946, the NCAA had to change the rules because of his defensive dominance. He swatted so many balls away from the net that the organization banned goaltending. But his offensive power was even more astounding. The young player averaged nearly 20 points per game, scored 1,870 points, and led the team to an 81-17 record during his tenure (via Encyclopedia.com). He was a multi-year All-American and 1945's Most Valuable Player after DePaul won the National Invitation Tournament, which was the big tourney in those days. For two years, he was the country's top scorer, according to NBA.com. In college alone, he changed the game forever. Lanky giants could play offense, too. The age of the Big Men had arrived.
His professional career began with the Chicago Gears of the National Basketball League, which he led to an NBL championship win. He then landed a spot on the Minneapolis (now Los Angeles) Lakers. His NBL/NBA run went from 1946 to 1956, and he was absolutely dominant. The Lakers won six championships, meaning Mikan garnered seven national titles in eight years of professional play. (Michael Jordan won six in 15 years!) Mikan was the top scorer in the league for six seasons in a row, his best average being 28 points a game (per NBA.com). His play was tough and precise, and more rules changed because of him, too. When the 1950 Fort Wayne Pistons ran around and delayed all game to keep the ball out of Mikan's hands, winning 19-18, the NBA made a shot clock. Overall, this was the Jordan of the era; Mikan became a massive celebrity.
The Passing of a Legend
Upon retiring in the mid-1950s, George Mikan tried many different things. His run for Congress was unsuccessful, as was his stint coaching the Lakers (via Encyclopedia.com). Much of his post-playing days were spent as a lawyer in Minnesota, but he never fully left basketball behind, aiding with the launch and lead of the American Basketball Association and helping his state get another professional team, the Timberwolves. In the 1990s, he took up residence with his family in Arizona.
Mikan's body had taken a beating during his NBA career, with many broken bones and stitches, but it was diabetes and kidney problems that hampered him in old age. He regularly had dialysis treatments. In 2000, his right leg had to be amputated due to diabetic wounds (via ESPN). At 80, George Mikan died from kidney failure on June 1, 2005. "George Mikan truly revolutionized the game and was the NBA's first true superstar," NBA commissioner David Stern said when Mikan passed away (per ESPN). "He had the ability to be a fierce competitor on the court and a gentle giant off the court. We may never see one man impact the game of basketball as he did, and represent it with such warmth and grace."
Mikan gave the relatively small basketball fanbase of the 1940s its first hero. People came to see him rather than his team. "I went to New York one year," Mikan remembered (via NPR), "and up on the marquee, it said 'George Mikan vs. the Knickerbockers.' Then I had to go to the locker room, and the guys were on my back. I was getting dressed, and no one was dressing, so I say, 'What's going on, fellas?' and they said, 'Well, you're advertised, you're the star and everything else. Go out and play them.'"