What Nikolas Cruz's Life In Jail Is Really Like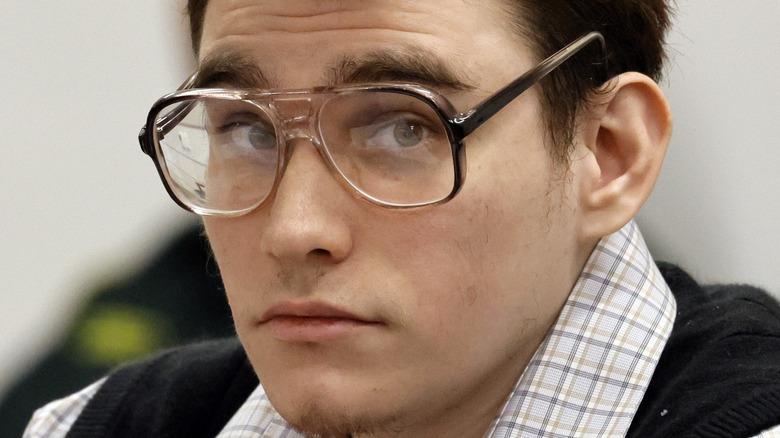 Pool/Getty Images
On February 14, 2018, Nikolas Cruz killed 17 people and wounded several others at Marjory Stoneman Douglas High School in Parkland, Florida (per NBC News). Fox 7 notes the Parkland shooting is now considered to be one of the deadliest school shootings in the country. Then 19, NPR states that Cruz attempted to flee but was found a few miles away from the school and arrested. In 2021, USA Today reported that Cruz pled guilty to 17 counts of murder and 17 counts of attempted murder. At the time, he apologized to the court and stated, "I am doing this for you, and I do not care if you do not believe me, and I love you."
Per CNN, prosecutors want to sentence Cruz to death, while his attorneys want a life sentence without the possibility of parole. WPBF writes that Cruz's fate will be decided by a jury by the end of this year. However, they must be unanimous in their decision to sentence him to death. If not, Cruz will automatically receive a life sentence without the possibility of parole (via the BBC). One individual that is pushing for the death penalty is prosecutor Michael Satz. Per CNN, he described Cruz as "cold, calculative, manipulative, and deadly." Despite this, his attorney explained (per ABC News) that "there is no defense to these crimes." She added, "We must understand the person behind the crime." Either way, it's safe to say that Cruz will never be free again.
He attacked a jail guard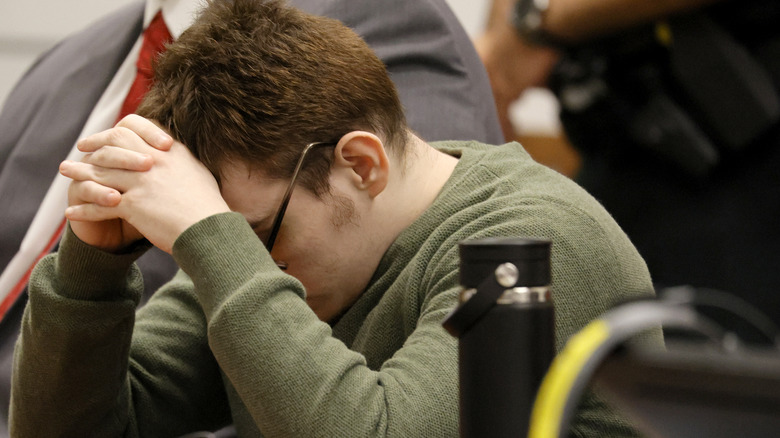 Pool/Getty Images
According to CNN, when Nikolas Cruz was arrested in February 2018, he was taken to Broward County Jail in Fort Lauderdale, Florida. However, he was first placed in the infirmary before being moved to a jail cell. The publication notes that due to the shooting's notoriety, Cruz was isolated from other prisoners. In the days after the massacre, deputies observed that he was calm and composed. Additionally, he was soft-spoken and was described as being "cooperative" and "well-groomed" with a "quiet demeanor." However, it did seem that Cruz was not sleeping and often stared at the ceiling or into space. His younger brother and a family friend also visited the shooter.
Nine months after his arrest, USA Today writes that Cruz was involved in an altercation with a guard named Sgt. Raymond Beltran. The attack was actually recorded by surveillance cameras (via YouTube). Tony Montalto, a parent who lost their daughter in the Parkland Shooting, stated (via USA Today), "The accused murderer who took our children's lives is clearly violent and took that out on a guard. He needs to face the justice system for that."
Per AP News, the scuffle began when Beltran told Cruz to stop dragging his feet. Cruz then flipped him off and charged at him. Beltran was able to push Cruz to the floor to handcuff and place him back into his cell (via News4JAX). Cruz is now facing an additional 15-year sentence if he is convicted of criminal battery of a law enforcement officer. CBS News states that Cruz pled guilty to the charge in October 2021.
Nikolas Cruz thinks he will be released from prison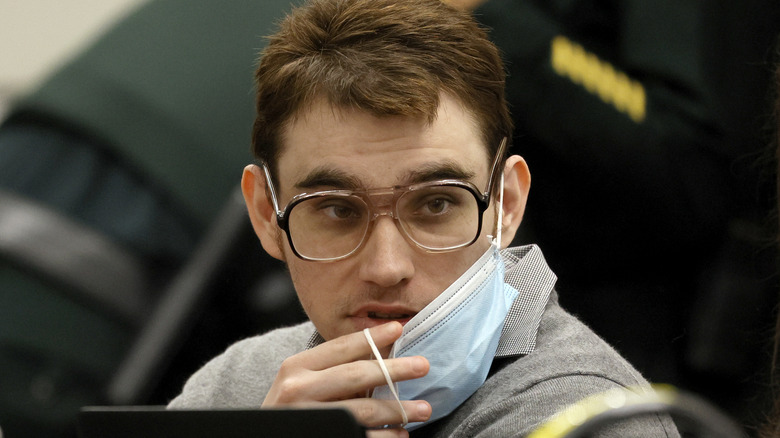 Pool/Getty Images
Fox News reports that prosecutors want to use Nikolas Cruz's battery conviction as another reason to execute him. Despite facing the possibility of capital punishment, the New York Post writes that the 23-year-old believes that he will one day walk free. Wesley Center, a counselor that was hired by his defense team, said that Cruz believes "his life's purpose was to be helping others." Center explained that Cruz made this realization while in jail, and he hopes he can accomplish this goal once he leaves prison. Fox 13 points out that this will never happen. However, this could provide the defense with proof that Cruz has mental health issues and therefore does not deserve to die. Per Fox 13, Center himself stated that Cruz has "irrational thoughts."
Per ABC News, the defense is also using Cruz's traumatic childhood and troubling school history as further proof of his fragile mental state. His sister, Danielle Woodard, recently testified that Cruz was "polluted" while still in the womb due to his mother's drug and alcohol use (via The Independent). Meanwhile, per ABC News, his defense attorney had said that his "brain was irretrievably broken." That being said, the New York Post states that Cruz drew a series of horrific sketches that depict shootings, Satan, and more while in jail. Cruz also wrote "666" on the wall with his blood as well as "I do not want life please help me go to death row!!! "As a result, Cruz is now on suicide watch in the midst of his sentencing trial (via Local 10).
If you or someone you know needs help with mental health, please contact the Crisis Text Line by texting HOME to 741741, call the National Alliance on Mental Illness helpline at 1-800-950-NAMI (6264), or visit the National Institute of Mental Health website.
If you or anyone you know is having suicidal thoughts, please call the National Suicide Prevention Lifeline by dialing 988 or by calling 1-800-273-TALK (8255)​.