Who Was The First Person To Ever Record Elvis Presley?
Hulton Archive/Getty Images
Of course, universal popularity is impossible. Even icons of Elvis Presley's caliber didn't please everyone. He's renowned as one of the most popular and best-selling musicians of all time, but there was fierce opposition to his lewd, gyrating shenanigans as he made a name for himself. In August 1956, "Look" magazine published a damning report on the man who was rapidly becoming the King as we know him.
"Presley is mostly nightmare. On-stage, his gyrations, his nose wiping, his leers are vulgar," the magazine stated, via Pop History Dig. "Presley has taken the rock 'n' roll craze to new sales heights. He has also dragged "big beat" music to new lows in taste."
Fame was quite the challenging ride for Presley, but regardless of what critics and the media were saying, they certainly couldn't stop talking about him. Such is the cachet of Presley's name today that it's hard to imagine him as a greenhorn musician, making his first nervous recordings that would eventually lead to global superstardom. However, there's one person to thank for Presley's very first recordings.
Elvis Presley's Sun Records debut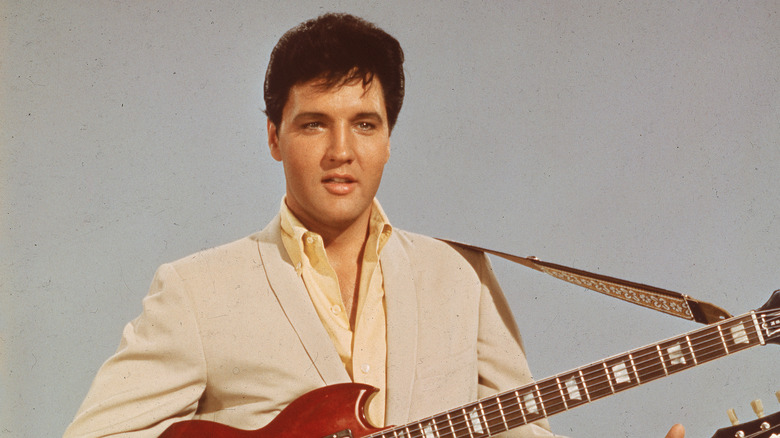 Hulton Archive/Getty Images
Followers of The King will know that his first recording contract was with Sun Records, which came about after a very different breakout moment in his musical career. In April 1953, Elvis Presley performed " Till I Waltz Again With You" at Humes' Annual 'Minstrel' Show, per Far Out Magazine. "Nobody knew I even sang. It was amazing how popular I became in school after that," Presley later recalled, according to the outlet.
Later that year, Far Out Magazine continues, Presley went to Sun Records, with the bold aim of recording himself and so starting to develop a name. He didn't leave these preliminary sessions with a recording contract, but Sun's Sam Phillips saw a glimmer of promise in the young man and asked him to return. This he did, and Presley toyed around in the studio with Bill Black and Winfield "Scotty" Moore, two other local talents, coming up with a song that Presley brought to life: "That's All Right." This soon got a lot of radio attention, and so The King's star took off.
Around this time in 1953, Elvis Presley recorded his very first "album," per How Stuff Works, a simple record of two songs on an acetate disc. It wasn't recorded by the illustrious Phillips himself, who was out of the office that day. Instead, the honor of the first person ever to record Elvis Presley reportedly went to Phillips' trusted right-hand woman at the record company, Marion Keisker.
Elvis Presley's great debt to Marion Keisker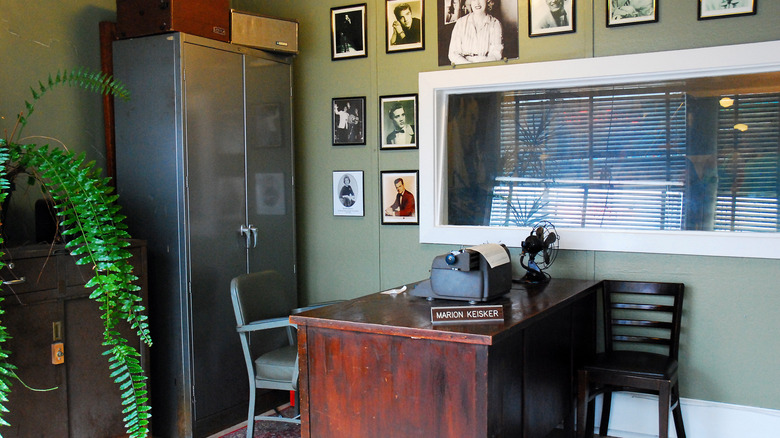 James Kirkikis/Shutterstock
Keisker, according to How Stuff Works, was intrigued by the young man who entered the recording studio that day, and they struck up a conversation about music — Elvis' music, more precisely, and whose style he resembled. "I don't sound like nobody," Presley famously responded, before he recorded The Ink Spots' "My Happiness" onto an acetate record under Keisker's guidance.
It is said, How Stuff Works goes on, that the recording was intended as a birthday present for Elvis' beloved mother. This may not have been the case, as the fateful recording session took place in the Summer (after Gladys Presley's birthday in April), but ultimately, it doesn't matter. What's important is that, it seems, he owes his beginnings to Keisker.
According to Elvis Australia, The Official Elvis Presley fan club, The King never forgot it. In January of 1971, he was honored as one of the U.S. Jaycees' Ten Outstanding Young Men of America of 1970 in Memphis. Keisker was also at the event, and on noticing her, Elvis insisted on bringing her to meet his friends and family in attendance, including Priscilla Presley. He told them, according to the outlet, that there would have been no Elvis Presley without Marion Keisker.