Madonna And The Beastie Boys Owe Their Career To A Studio 54 Doorman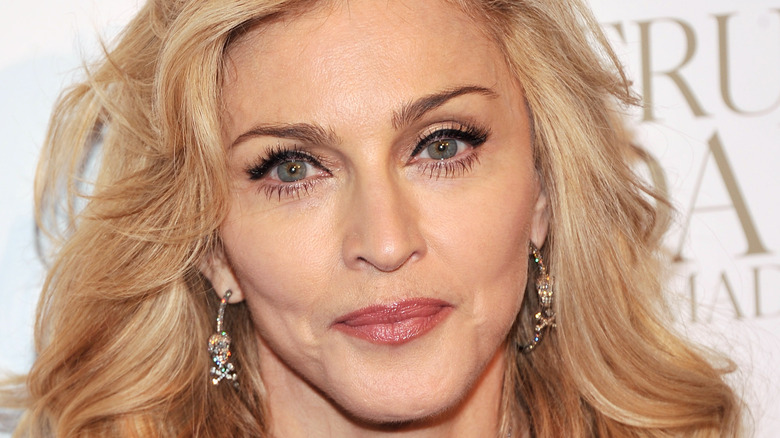 Stephen Lovekin/Getty Images
The 1970s were an exciting time in music, the New York City Club scene, and, more broadly still, the (largely) underground (at the time) LGBTQ+ community. As OZY notes, disco was getting big, the drugs flowed freely, and the AIDS epidemic hadn't yet turned casual, unprotected sex into a death sentence. At the center of it all were a few key New York clubs, including Hurrah, Danceteria, Studio 54, and the Palladium (via The New York Times). The city's glitterati would come through to see and be seen — if they could get through the door, that is. And the doorman/bouncer at those clubs — Studio 54 especially — was, for a time anyway, a man named Haoui Montaug. Beyond being just the bouncer, he was also the gatekeeper for the "look" of the club, and anyone who didn't fit his definition of what that look was would find themselves at the end of the line.
Montaug didn't just manage the crowds at New York City's hottest clubs — he was also a promoter in his own right, managing roving cabarets showcasing new talent. And two of the acts who appeared in his shows were Madonna and the Beastie Boys.
No Entiendes (You Don't Understand)
When he wasn't gatekeeping New York City's clubs — a job that he handled capriciously and according to however he was feeling that day, per "Factory: The Story of the Record Label" — Haoui Montaug was providing them with musical acts, or "roving cabaret" shows, as it were. He called one of his shows "No Entiendes" — "You Don't Understand" in Spanish — and at least once, his show featured an up-and-coming singer from Detroit named Madonna Ciccone, or just Madonna. In this video (warning: strong language), recorded in 1982, the host introduces the act as "the world premiere of [record label] Sire recording artist Madonna!" Madonna, who would have been 24 or 25 at the time, performed "Everybody." A year later, Madonna hit the big time with her self-titled debut album.
At around the same time, three young lads from New York were trying to make it big in rock, or punk, or hip hop, or whatever you would call the Beastie Boys' genre. As OZY reports, they, too, appeared in a Montaug-managed revue, although there appears to be no footage of this on the internet. The group's members — Ad-Rock, Mike D, and MCA — also got big a few years later.
Haoui Montaug's Legacy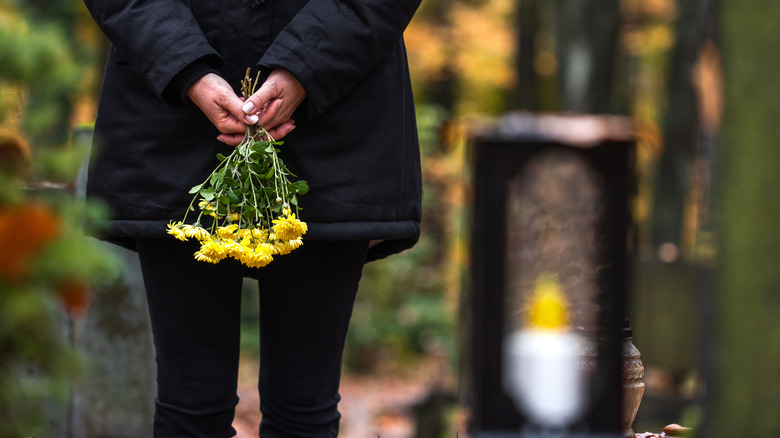 encierro/Shutterstock
As mentioned previously, Haoui (sometimes spelled "Howie") Montaug's heyday was in the years before the AIDS epidemic became a thing. However, once HIV exploded, it did so with a vengeance. And Montaug was one of the victims, dying from the disease in 1991 (via The New York Times).
Haoui Montaug went out in the most Haoui Montaug way possible: by throwing a suicide party. Knowing his time was coming to an end and not wanting to die suffering, the former bouncer invited some of his closest friends to his apartment, including Madonna, who joined by telephone (via New York Magazine). Surrounded by those he loved, he swallowed five barbiturate pills intending to overdose. However, it only put him into a labored sleep. The next morning, he woke up furious, threw everyone out, and instead took 20, the final chapter in the life of one of the New York LGBTQ+ community's most beloved members.
If you or anyone you know is having suicidal thoughts, please call the National Suicide Prevention Lifeline​ at​ 1-800-273-TALK (8255)​.