The Real Story Behind The Song Highwayman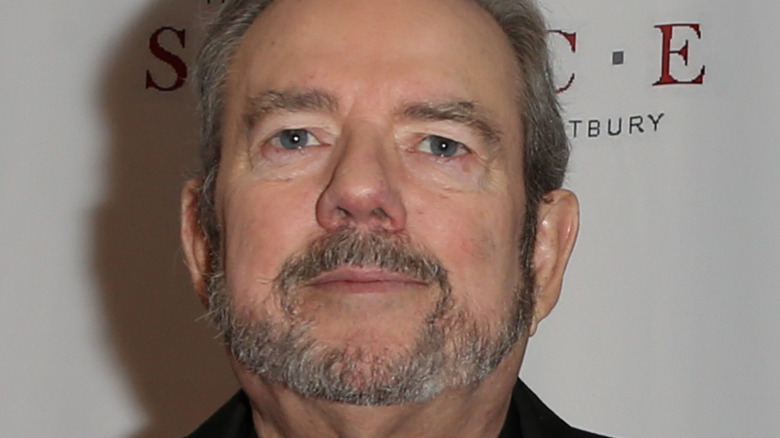 Debby Wong/Shutterstock
The country song "Highwayman" is a story-telling classic that has been recorded by several different performers, including the supergroup made up of Willie Nelson, Waylon Jennings, Kris Kristofferson, and Johnny Cash which named itself after the tune. The group took the song to the top of the country charts. The group carried on performing and championing the concept of "outlaw country," which, as noted by Pitchfork, represented a movement within the industry to work outside of the glitz and traditions of the mainstream Nashville scene and engage in songwriting that was self-aware, moody, and often darkly humorous. All four of the Highwaymen were active within the so-called "outlaw" scene of the 1970s, and the group's coming together in 1985 made what PBS American Masters called "the Mount Rushmore of country music." However, the song that inspired the group's name has its own history before and after Nelson, Jennings, Kristofferson, and Cash took it on. 
Jimmy Webb (above) was born in Elk City, Oklahoma in 1946, per AllMusic. He got his start in music in his father's Baptist church and eventually made his way to Los Angeles. There, he worked as a transcriber for other people's music while attempting to sell his own songs. In 1966, singer Johnny Rivers recorded Webb's song, "By The Time I Get To Phoenix." The song was modestly successful, but a version recorded by Glen Campbell a year later was a hit. After that, Webb wrote a string of hits for Campbell and the musical group, The Fifth Dimension. One of those hits includes the tune, "Up, Up And Away."
A hard partying night led to a hit song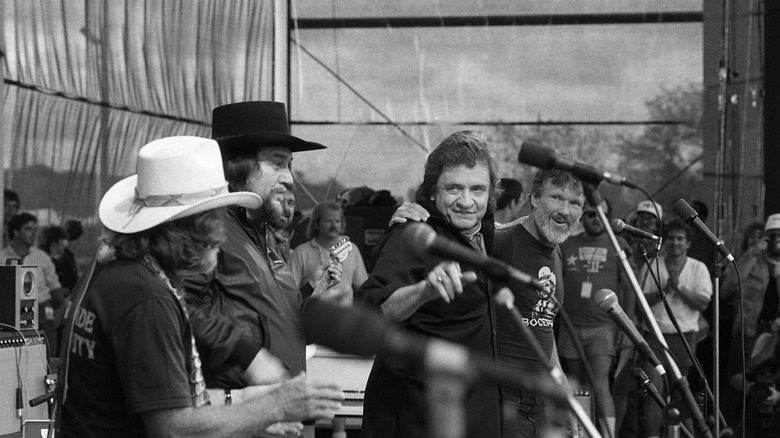 Beth Gwinn/Getty Images
By 1977, Jimmy Webb wrote a slew of hit songs and was working on his sixth album, "El Mirage," in London, England with producer George Martin. As Webb told Performing Songwriter, he'd also been busy "doing some professional drinking" with fellow singer-songwriter Harry Nilsson. He fell asleep one night and described how he " ... had an incredibly vivid dream. I had an old brace of pistols in my belt and I was riding, hell-bent for leather, down these country roads, with sweat pouring off of my body. I was terrified because I was being pursued by police, who were on the verge of shooting me." 
Upon awakening from his nightmare, Webb sat down at his piano and wrote the first verse of the iconic song within an hour. As he continued working, he " ... realized that this guy doesn't really die in the first verse. He's reincarnated. I thought, 'Where does this soul go?' So the verses started to evolve." The song has four verses in which the original highwayman's soul is reincarnated as a sailor, a builder working on the Hoover Dam, and finally, an astronaut. 
Webb recorded the song for "El Mirage," but according to Webb, the song "languished for years" until Glen Campbell recorded it and named his 1978 album "Highwayman" after the song. Glen Campbell would give the song yet another revival when he brought it to Johnny Cash, who was starting a new quartet with some of his fellow titans of country music. 
From Highwayman to Highwomen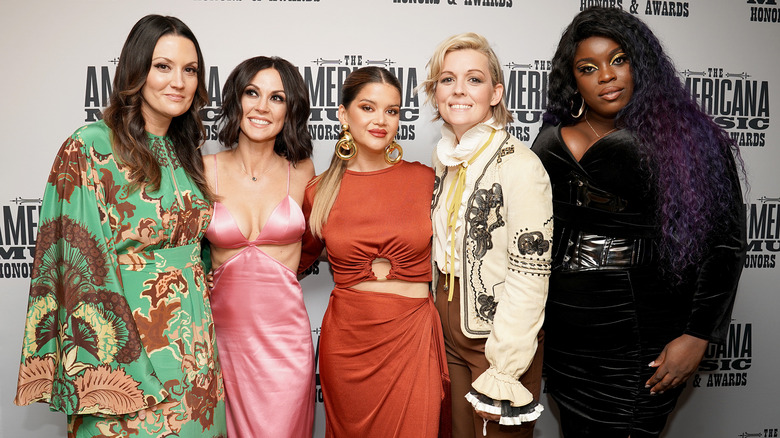 Erika Goldring/Getty Images
Johnny Cash brought the song to Willie Nelson, Kris Kristofferson, and Waylon Jennings and it fit into their plans for the group so well that they recorded it and named the band after it. As Jimmy Webb told Performing Songwriter, "There were four verses to 'The Highwayman.' Talk about predestination. I don't know how they decided who would take which verse, but having Johnny last was like having God singing your song." As reported by The Boot, the song went to number one on the Billboard Hot Country Songs chart and Webb won a Grammy for Best Country Song. In a 2022 interview with the podcast One By Willie, as reported by Texas Monthly, Webb discussed the song and its trajectory, telling reporter John Spong,  "[T]he end result was a hit record for them, and a kind of shot in the arm for my career. I got right back on, you know, the call list of guys to call. So I was happy."
The song had yet another rebirth in 2019 when Brandi Carlisle, Amanda Shires, Maren Morris, and Natalie Hemby formed their own supergroup, The Highwomen (above). Carlisle and Shires, with Webb's blessing, rewrote and recorded the song as "Highwomen," including guest vocalist Yola. Carlisle told Rolling Stone, "We rewrote it with fates that befell women: a doctor convicted of witchcraft; an immigrant who died trying to get over the border but got the kids over safe and sound; a preacher; and a freedom rider who gets shot."