Winston Churchill's Hilarious Reaction To The Tank That Bears His Name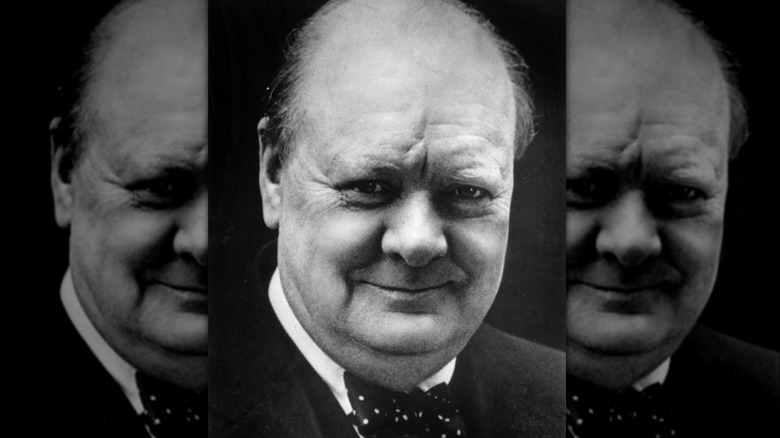 Keystone/Getty Images
Despite the dark moments in history through which he lived, Winston Churchill had a wicked sense of humor. His quips and comebacks are well-remembered today. When Member of Parliament Nancy Astor told Churchill that if she were married to him she'd poison his coffee, he replied, "If I were married to you, I'd drink it" (via Mirror UK). Informed he had a call from Lord Privy Seal one day while he sat on the toilet, Churchill barked, "Tell him I can only deal with one s*** at a time." Not even former prime ministers were spared: "I wish Stanley Baldwin no ill," Churchill said when asked to send Baldwin a birthday letter, "but it would have been much better if he had never lived."
Of course, Churchill was the butt of many jokes himself — for example, when Franklin Roosevelt poked fun at him to break the ice with Joseph Stalin at Allied meetings (per Hillsdale College). While this could get under his skin, he wasn't averse to self-deprecating humor. A famous example of this concerned a tank during World War II.
The birth of the Churchill Tank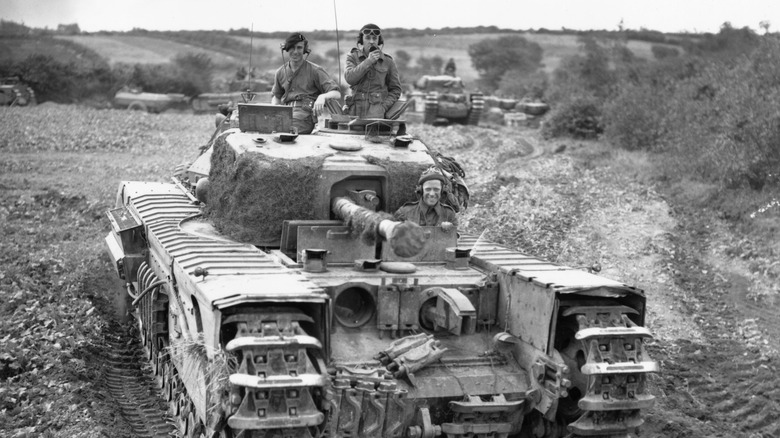 Fred Ramage/Getty Images
When the Nazis began marching across Europe, the British developed the A22, the "Churchill tank." Compared to their outdated models, this war machine was fast and agile, and had heavy armor (via Britannica). It lagged behind the firepower of German tanks, but could take an absolute beating and keep going. Nearly 6,000 of them were produced, battling at Normandy and throughout Western Europe.
There is actually some debate over whether the tank was named after Winston Churchill or one of his ancestors, a duke, Sir John Churchill (via Belfast Telegraph). The former reportedly wrote that it was indeed a tribute to the duke, a military commander in the late 17th and early 18th centuries, according to Beaches of Normandy Tours.
Churchill's crack about the tank works either way, really. The tank's first use was in the British attack on the German-controlled Dieppe port in France on August 19, 1942. The mission was disastrous. The Churchill tanks couldn't penetrate Nazi shore defenses, and half the British forces were killed, wounded, or captured (via We Are the Mighty). Later, the prime minister declared of the A22, "That is the tank they named after me when they found out it was no damn good!"
Bulldog at Heart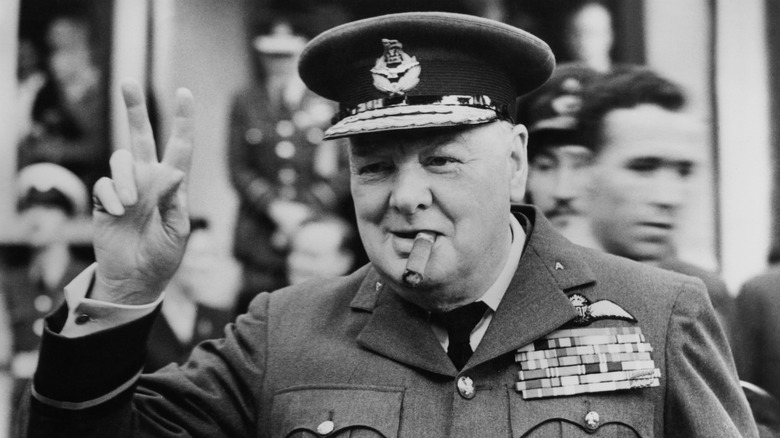 Central Press/Getty Images
This was a well-rehearsed joke. The month before, Winston Churchill was in the midst of a no-confidence motion in Parliament, and faced criticism over how the tank's development was going, according to America's National Churchill Museum. "As might be expected," Churchill replied, "it had many defects and teething troubles, and when these became apparent the tank was appropriately rechristened the 'Churchill.'" Yes, even when facing expulsion over his deficiencies, he wasn't afraid to jest about them. He of course survived the challenge to his leadership, and guided Britain until the Allied victory in 1945. Likewise, the Churchill tank, according to Britannica, was the most successful and most used British tank of the war, which adds another delightful flavor to Churchill's early reactions.
According to the International Churchill Society, the statesman and prime minister once said, "The nose of the bulldog has been slanted backwards so that he can breathe without letting go." In his leadership and humor, Churchill was a bulldog who would not let go.