James Dean's Childhood Accident That Actually Helped Him Land His Charming Smile
One of the biggest stars to ever grace the big screen was James Dean. He had charisma, charm, and was a superbly talented actor. In a short time, he had multiple successful films under his belt, including "East of Eden," "Giant," and "Rebel Without A Cause" (per IMDb). Despite his young age, Dean became a bona fide Hollywood star, acting alongside Natalie Wood, Elizabeth Taylor, and Rock Hudson.
Though he was undoubtedly a skilled performer, Dean had something else working in his favor: his face. To say that Dean was extremely handsome may be a bit of an understatement. During the 1950s he became one of the biggest heartthrobs of all time due to his tousled hair, chiseled jaw, and gorgeous smile. In 2018 Harper's Bazaar included him at the top of their list of "The 50 Hottest Men of All Time." While his good looks and bad boy swagger made him irresistible, turns out one of his best physical features was not something he possessed naturally, and he owed it all to a childhood accident.
Before he was America's favorite face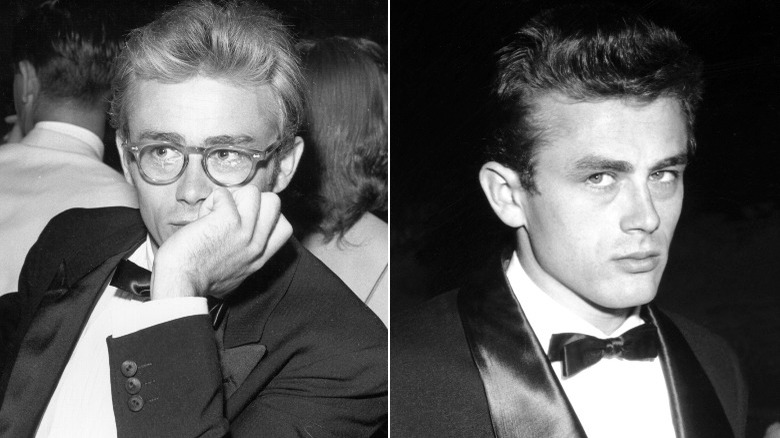 Michael Ochs Archives & Michael Ochs Archives/Getty
In 2022, we know James Dean as a gifted performer who was extremely good-looking and died a horribly tragic death way too young. Because of this it would be hard to imagine him any other way, but there was a James Dean before he became a Hollywood star.
Prior to getting his big break in the movie biz, James Dean was a fairly normal guy. According to Stacker, he pursued an education, and while in both high school and college participated in theater and acting classes. He was also a pretty good athlete, as he played both basketball and baseball, and even set a county record in pole vaulting. Though he had a handful of different talents, one thing he wasn't always: the handsome stud that stole the hearts of America's teenagers. As a teen, Dean was both short and skinny, and he suffered from nearsightedness (per History). But before he hit puberty, there was another physical change he underwent in regard to his two front teeth.
A happy accident
Because Dean was an active high schooler, it is fair to assume he was also pretty active as a child. Despite having a rough start to life, his cousin was quoted as saying that Dean was "never one to sit still" (per History). While this can be an endearing quality at times, it also can sometimes result in a little mischief or trouble.
As a child, Dean reportedly took to swinging on a trapeze in his aunt and uncle's barn one day. While doing so, he somehow managed to knock out not one, but two of his front teeth. He then wore fake teeth the rest of his life (per Belfast Telegraph). Obviously, telling people how he really lost his teeth didn't make for the greatest story, so he later told folks that he had lost them in a motorcycle accident. That of course fit better with his new found "bad boy" image.
Dean apparently also had a sense of humor about his false teeth and got a kick out of surprising people by removing them in the middle of a discussion. Though his front teeth weren't actually his, many fans were none the wiser, and swooned at the sight of his gorgeous grin.