Whatever Happened To Disgraced Former NBA Referee Tim Donaghy?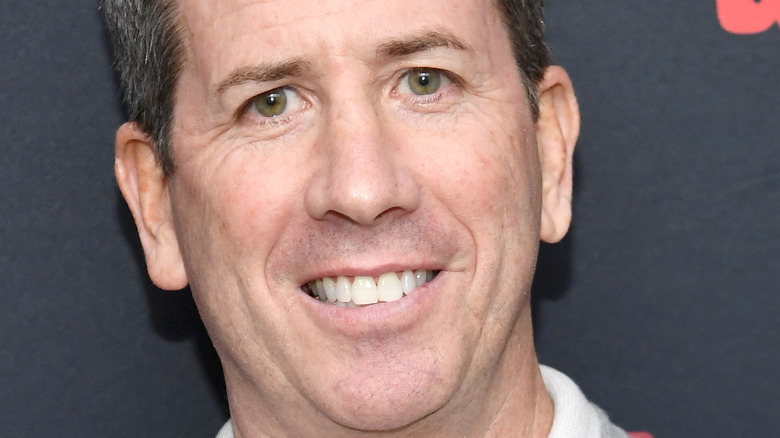 Dimitrios Kambouris/Getty Images
CBS Sports writes that from 1994 to 2007, Tim Donaghy worked for the NBA as a referee. However, his name now lives in infamy as he was arrested for betting on several games and being involved in a gambling scandal (via The Daily Beast). Sports Illustrated explains that in 2007, the FBI began investigating Donaghy, which led to his resignation from the NBA. The FBI claimed that the referee was not only betting on games but providing insider information to others to guarantee that they won bets (per ABC News). With this revelation, David Stern, who was then the National Basketball Association Commissioner, stated "I can't think of this as anything but an act of betrayal, of what we know in sports as a sacred trust."
Per the Yardbarker, Donaghy later pled guilty to conspiracy to engage in wire fraud and transmitting betting information across state lines. A different article from ABC News states that the disgraced referee admitted to taking money from gamblers; Donaghy would receive up to $5,000 in exchange for providing the bettor information on certain players and on specific referees.
According to NPR, Donaghy admitted in court that he had a gambling addiction and was seeking help. Nevertheless, he was still facing up to 25 years in prison for his crimes. In July 2008, he was sentenced to 15 months in prison. During his sentencing, he addressed the court and said "I'm very sorry ... I brought shame on myself, my family, and to the profession that I love" (per ABC News).
He had a hard time in prison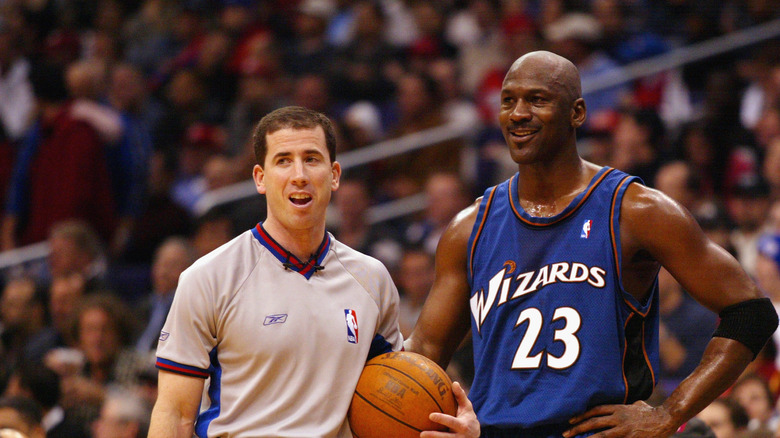 Lisa Blumenfeld/Getty Images
ABC News reports that besides prison time, Donaghy was also ordered to pay thousands in restitution to the NBA. According to Deadspin, Donaghy served his time in a prison in Pensacola, Florida. ESPN notes that he requested to be sent here specifically so that he could be close to his four daughters who lived in the state. Donaghy, by all accounts, had a miserable time in prison. Per Bleacher Report, he was beaten up by an inmate with "mob ties." The attack, which occurred in November 2008, left his knees and legs injured to the point where Donaghy needed surgery.
Another article from ESPN explains that Donaghy was released from prison after serving 13 months of his 15-month sentence. He was then sent to a halfway house but was jailed when he allegedly violated his probation. By November 2009, Donaghy was a free man. In an interview with New York Magazine, he revealed that he joined a white supremacy gang in prison after he snitched on other inmates for gambling.
Although he did not get a tattoo, he did shave his head. Donaghy explained that "It was a matter of me surviving and getting the f*** outta there" (via Complex). After his release from prison, he released a memoir titled "Personal Foul" in 2009 (per CBS News). The book centers on the NBA and ultimately, Donaghy's downfall.
He entered the world of professional wrestling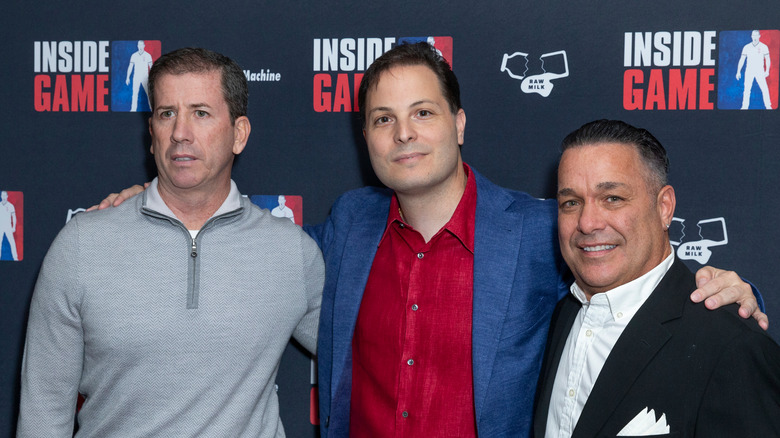 lev radin/Shutterstock
In 2017, Donaghy made news when he was once again arrested, this time for threatening a man with a hammer in Florida (via USA Today). The dispute involved his daughter and the homeowner of the house where his daughter was living. Donaghy was facing a charge of aggravated assault but the case was later dropped (per Bleacher Report). According to CBS Sports, Donaghy returned to his old profession in 2021. However, instead of being a referee for the NBA, he made his debut as the crooked referee in the world of professional wrestling. Donaghy ensured that wrestler Richard Holliday won a Caribbean Strap match against Savio Vega.
He had previously told Sports Illustrated that "Pro wrestling is entertainment, and I always joked the NBA was a form of entertainment and I compared it a little bit to pro wrestling behind the scenes." In 2022, it was announced that Netflix would be releasing a documentary on Donaghy's betting scandal titled "Untold: Operation Flagrant Foul." In the trailer (posted on YouTube), Donaghy is seen saying "I love the game of basketball. Growing up, it's all I did, all I dreamt of, and all I wanted to be a part of," he added, "Man did I f*** my life up." Per USA Today, "Untold: Operation Flagrant Foul" is set to be released on August 30.