The Truth About John McEnroe's Controversial Opinion Of Serena Williams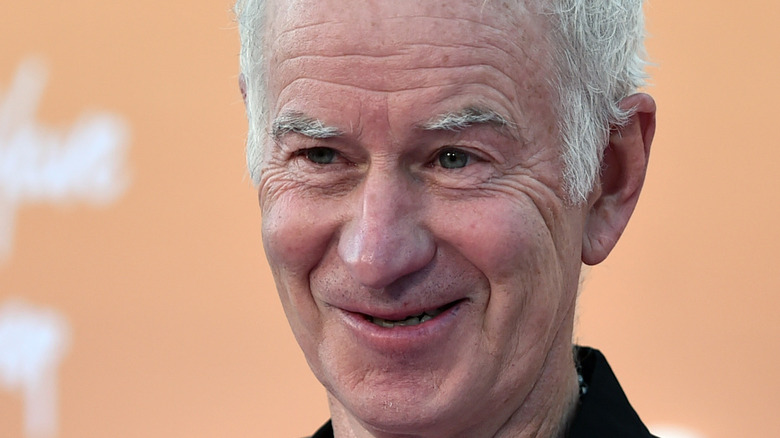 Alberto E. Rodriguez/Getty Images
Tennis great John McEnroe has won 77 titles and is considered to be one of the best players on the planet (via the International Tennis Hall of Fame). In the 70s and 80s, he had several U.S. Open and Wimbledon victories, per Britannica. McEnroe, as ESPN explains, is also known for his snappish behavior. Early on in his career, he earned the nickname "superbrat." Moreover, certain comments that he's made about other players have thrown him in some difficult predicaments. Recently, McEnroe praised another tennis legend; Serena Williams (per Entertainment Tonight). In August 2022, Williams announced through Vogue that she was planning to retire to focus on her family and other ventures.
McEnroe then told Entertainment Tonight "I hope it goes well for her, but it doesn't matter ultimately (because) she's an icon." He added, "She's like Muhammad Ali, in a way, and Michael Jordan, Billie Jean King, Tom Brady. I mean, she's up with the all-time athletes, whether she wins a match or she wins the tournament." However, Vox reports that in 2017, McEnroe was singing a different tune about Williams. In a now controversial interview with NPR, he stated that Williams was the best female tennis player in the world but that "if she played the men's circuit she'd be like 700 in the world."
McEnroe refused to apologize for his comments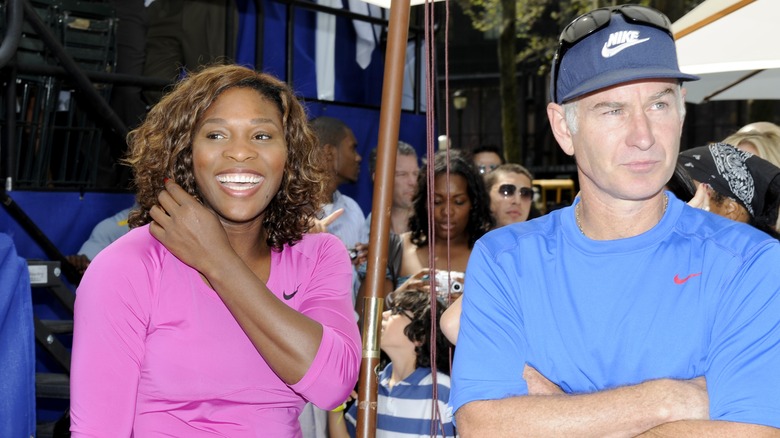 Rob Tringali/Getty Images
Per the infamous 2017 NPR interview, McEnroe added fuel to the fire while comparing Williams to male tennis players by stating that she was an "incredible player." Only to explain, "But if she had to just play the circuit — the men's circuit — that would be an entirely different story." Vox reports that his comments were not taken lightly as they echoed sexist sentiments that have plagued Williams' triumphant career. Nevertheless, CBS Sports reports that McEnroe decided against apologizing to Williams. Instead, he divulged that he regretted what he had said. However, this was not the first time McEnroe had made some less than favorable statements about Williams.
In 2000, he told the Sunday Telegraph (via ABC News) that "What they (Serena and Venus Williams) have achieved is great, but they have no respect for anyone in the game." On more than one occasion, McEnroe has expressed his belief that he could beat Williams in a tennis match (per The Guardian and 60 Minutes Australia).
Although Vox notes that Williams herself has said that she would likely lose a tennis match against a man due to physical differences, she did not take McEnroe's comments lightly. According to Bleacher Report, Williams responded to his NPR interview in a series of messages on Twitter. One of these tweets read "Dear John, I adore and respect you but please please keep me out of your statements that are not factually based."
He didn't like his portrayal in King Richard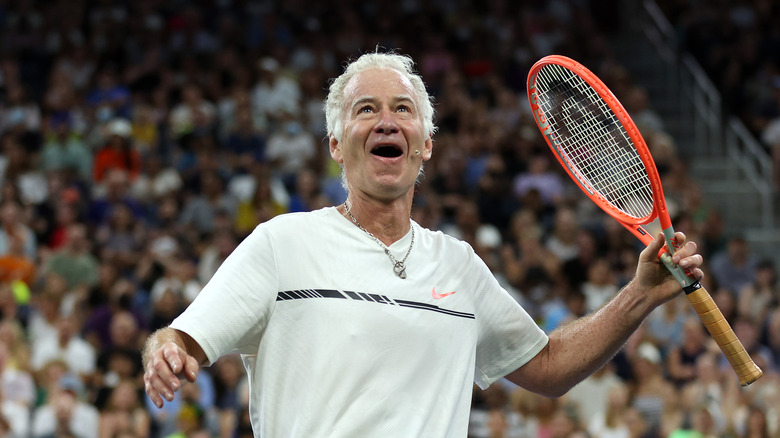 Jamie Squire/Getty Images
Despite this very public war of words, McEnroe and Williams went on to work together in 2021 on a commercial for DIRECTV (via The Daily Mail). McEnroe portrayed himself while Williams donned a Wonder Woman costume. With news of her retirement from tennis, McEnroe has continued to commend Williams and her legacy. He told Fox News "Serena's the greatest female athlete, to me, in the history of sports. I don't care who you could come up with. She's one of the greatest athletes period -– male or female. She's put herself along the likes of Tom Brady, Michael Jordan, whoever you wanna say ... She's 40 years old. She's done everything in tennis. She's got nothing to prove."
Shortly after, the New York Post reported that McEnroe was unhappy with his portrayal in "King Richard." The film, which was produced by Serena and Venus Williams (per IMDb), revolves around the Williams sisters' tennis beginnings while being coached by their father, Richard Williams. In one scene, the film depicts McEnroe refusing to meet the Williams as children. He explained "I didn't walk away in disgust, refuse to see Serena," McEnroe added, "I was there. Saw them. Why would I walk away after being told that I'm going to see two kids, 8 and 9, that are going to be future No. 1s? I refuse to see these kids for what? Because I'm a hothead? Not correct."
It seems that McEnroe and Williams will have to agree to disagree. As for McEnroe, a Showtime documentary titled "McEnroe" about his life and acclaimed tennis career is set to be released on September 2.