Sophia Loren's Unexpected Connection To Former Dictator Benito Mussolini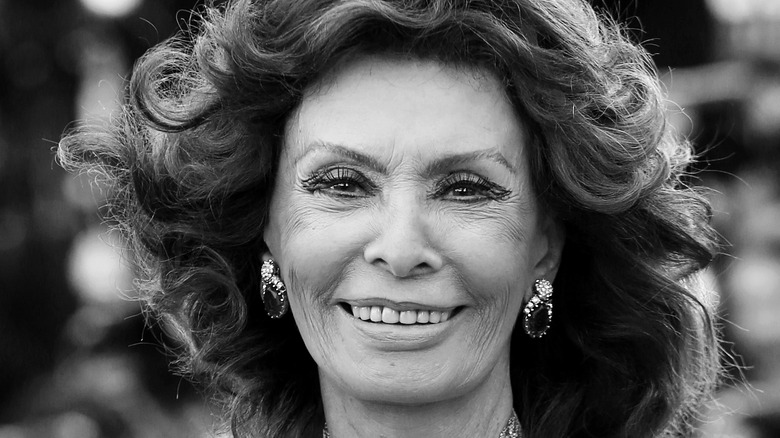 Andrea Raffin/Shutterstock
Despite the fact that there are nearly eight billion people on planet earth, the world is still a small place (via World O Meters). The ties that bind people run deep, and regardless of how many of us there are in any given place at any given time, there seems to be only a finite degree of separation between everybody. Italy in the 1940s was a troublesome place. In the throes of World War II, the Italian populace endured harrowing day-to-day unrest under the notorious dictator Benito Mussolini. 
During his quest to conquer whatever part of the world he could sink his claws into, Mussolini employed barbaric tactics that would make even the most cold blooded among us shudder. As History reports, the infamous fascist used poison gas and concentration camps to intimidate his foes and imperialize the Italian Empire he sought to erect by whatever means necessary. "It is a fascist empire, an empire of peace, an empire of civilization and humanity," he once said. 
How then, you might ask, did someone so angelic and revered as the Italian actress Sophia Loren become something of a personal acquaintance of Mussolini?  The beloved Italian actress and model became directly connected to the infamous leader through nuptial ties. In 1962, the New York Times reported on the marriage of Loren's sister Anna Maria Scicolone to Mussolini's son, Romano Mussolini. 
Sophia Loren's sister married Musollini's son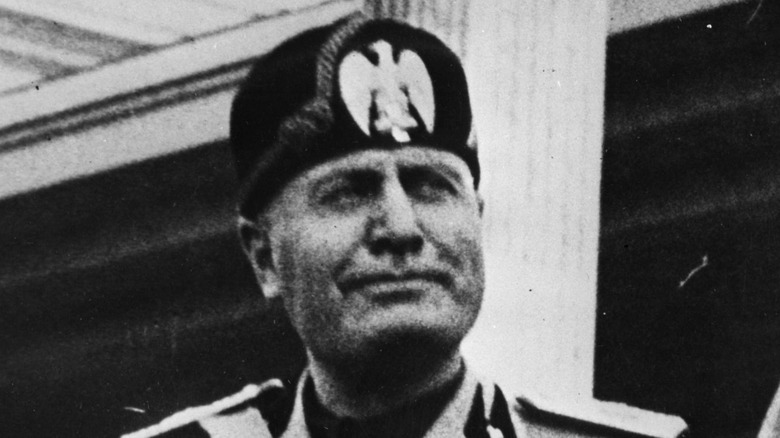 Fox Photos/Getty Images
"Romano Mussolini, jazz pianist and son of Benito Mussolini, today married Anna Maria Scicolone, sister of Sophia Loren, the film star, in a scene of almost complete confusion," The New York Times shared on March 3 of 1962. Naturally, the courtship was a widespread controversy that incited global buzz. You can watch the rare footage of the two unsuspecting lovebirds ascending the matrimonial altar here. At first, Sophia Loren (who was present at the ceremony and is visible in the footage) wasn't quiet about her aversion to the idea of her sister wedding the son of one of the most condemned and cruel leaders of the 20th century, but she ultimately accepted the courtship for what it was and stood by her sister all the same. 
In a photo from Bridgeman Images, you can see the actress holding her baby niece, Alessandra Mussolini, in 1963. The daughter of Anna Maria and Romano Mussolini ultimately became a political figure and served in the European Parliament between 2014 and 2019, winning a staggering number of votes during her campaign for a second term in office, as The Washington Post reports. Prior to her career in politics, Mussolini was a working actress like her aunt and appeared in 12 different films between 1972 and 1990. She was married to Mauro Floriani in October of 1989 and is the mother of three children (per IMDb). 
Romano Mussolini was a jazz pianist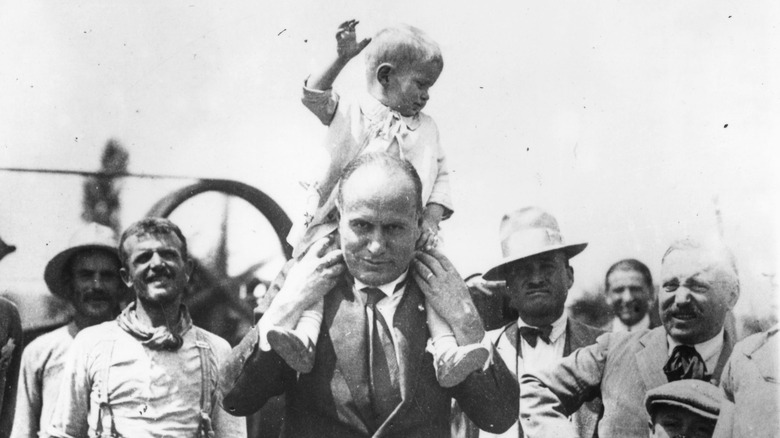 General Photographic Agency/Getty Images
Romano Mussolini (1927-2006) was the youngest of Benito Mussolini's five children (three sons and two daughters). According to the Los Angeles Times, Romano was 17 years old when his father died in 1945. Underneath the Axis dictator's rule, many facets of life were severely limited or banned outright, certain types of music being one of them. While the rest of Italy was prohibited from listening to or playing jazz music, Romano Mussolini fell in love with it as a child and resolved to pursue a career in it. He taught himself how to play the piano and became an avid listener of different jazz artists. However, once WWII came to a close and his father's disgraced political career was over, he fled to the island of Ischia with his remaining family members and his musical endeavors were put on hold. 
After a few years had passed and some of the rampant stigma around his name had diffused, Romano revived his musical aspirations and received his first record contract in 1956. Walter Veltroni, the former Mayor of Rome, once described him as "a personality that has contributed, in far away and difficult years, to spread and popularize in Italy the extraordinary artistic strength of jazz" (per Los Angeles Times) In 2006, Romano published an autobiographical account of growing up as the child of one of history's worst dictators entitled "My Father II Duce: A Memoir by Mussolini's Son."