How Many Women Is Larry Hall Suspected Of Murdering?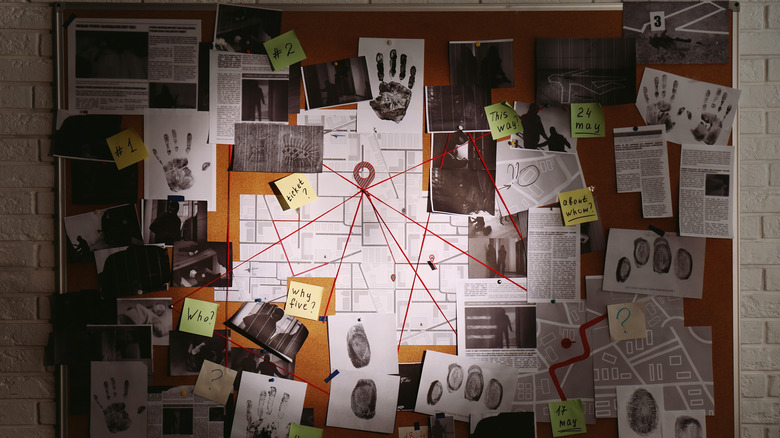 New Africa/Shutterstock
Serial killers have a tendency to exaggerate. According to Psychology Today, there are several reasons why a serial killer might say that they have killed more people than they really have, and a common one is to enhance their own legacy and/or importance. This summer, Apple TV+ released "Black Bird," a dramatic series based on the real-life relationship between serial killer Larry Hall (Paul Walter Hauser) and fellow prison inmate James "Jimmy" Keene, played by Taron Egerton. The plot revolves around the way in which inmate Jimmy Keene, a once popular drug-dealing high school football star facing 10 years in maximum security prison, strikes a plea deal with investigators to get suspected killer Keene to confess where he buried the bodies of the two women he was accused of murdering.
In 1995, Hall — who was said to have an IQ of 85 and made friends through participating in Civil War reenactments — claimed to have abducted, raped, and killed 15-year-old Jessica Roach, who disappeared in 1993 in Indiana (via CNN Presents). He was convicted for Roach's kidnapping and led investigators to believe he was directly involved in the murder of 19-year-old Tricia Reitler (via Bustle). However, Hall changed his story several times, both to law enforcement officials and to Keene.
If you or anyone you know has been a victim of sexual assault, help is available. Visit the Rape, Abuse & Incest National Network website or contact RAINN's National Helpline at 1-800-656-HOPE (4673).
If prison walls could talk
On an episode of "CNN Special Report: To Catch a Serial Killer," Jimmy Keene told host Brooke Baldwin about how he used his affable personality to immediately befriend Larry Hall while in prison. He observed one night that Hall was watching a show about serial killers in a recreation room and was angered when another inmate changed the channel. Keene got into a brawl with the inmate, earning Hall's trust. Hall went on to admit to Keene that he killed Tricia Reitler but did not reveal the location of her body. (The bodies of the alleged victims besides Roach were never found. It's important to note that Hall worked as a gravedigger as a teen and had experience digging and covering up human remains.)
On one occasion, Keene spotted Hall carving a falcon statue in a wood shop class and uttering that the bird was protecting the souls of the dead (via Bustle). Keene claims he saw a map drawn by Hall with dots indicating the burial places of more victims and lost his temper, revealing that he was acting as an informant. He was placed in solitary confinement and could not recall where the map went or where the locations were.
A legend in his own mind?
While Larry Hall was never convicted for murder and was imprisoned solely on the kidnapping charge, he was excited to take credit for killing up to 40 women in various disappearances across the Midwest (via The Cinemaholic). He has admitted to his involvement in at least 19 specific cases of identified murdered young women but also has attempted to take credit for a series of Jane Doe cases. Originally, Hall was brought to authorities' attention for stalking women from his van and, similar to the way in which Jeffrey Dahmer was let off by police during a traffic stop, he was let go (via Newsweek). Hall was sentenced to life in prison by a jury for his involvement in the Roach kidnapping and went on CNN in 2011, stating, "All of the girls looked alike. I cannot remember all of them. I picked up several girls in other areas, but I can't remember which ones I hurt." He would go on to recant this statement on "Dateline."
Blaming a personality disorder and a personal yearning to please and cooperate with others, Hall tried to recant his statements in 1996 when filing for an appeal. However, the appeal was denied, and Hall is serving his life sentence in a medium-security prison outside of the Midwest. He sits behind bars in Butner, North Carolina.