Elvis' First Song Only Cost Him $4 To Record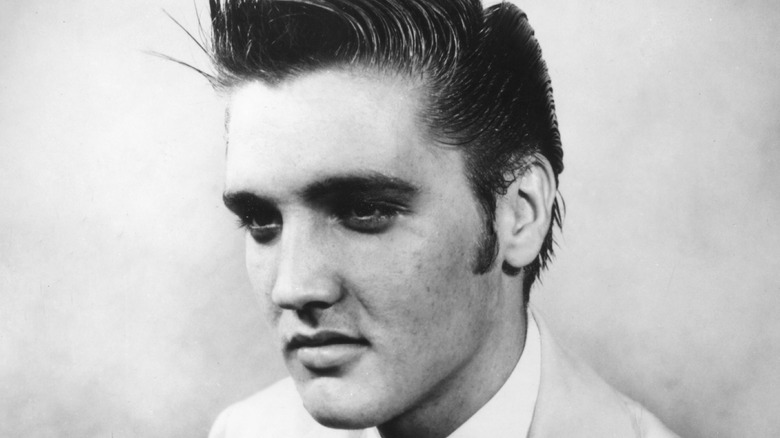 Memphis Brooks Museum/Getty Images
In the 1950s, Elvis Presley's fame reached levels of fame no other celebrity had reached before. This meteoric rise happened within just a few years after he began performing around the southern United States. According to Graceland, he was a regular performer for the Louisiana Hayride radio show in 1954 and began to draw bigger audiences by 1955. But by 1956, he booked 11 national television appearances and had three No. 1 singles: "Heartbreak Hotel," "Love Me Tender," and "Don't Be Cruel." 1956 was his breakout year. However, Presley began recording music even before booking performing gigs and getting a record deal.
Presley and his family moved from his birthplace of Tupelo, Mississippi to Memphis Tennessee when he was 13 years old. The family lived in the Lauderdale Courts apartments at first, a public housing complex in the projects of Memphis until 1953 (per Love Property). This was the same year in which Presley recorded his first song.
Elvis Presley made his first recording in 1953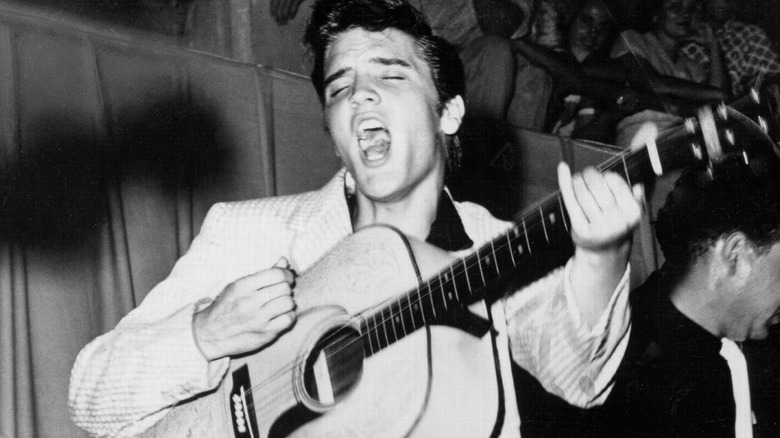 Michael Ochs Archives/Getty Images
At 18 years old in 1953, Elvis Presley was working as a truck driver. However, his passion for music was already setting him on the path to stardom. He went to the owner of Sun Records, Sam Phillips. According to The Tennessean, He paid $4 to record a song called "My Happiness." Some believe that it was supposed to be a birthday gift for his mother, to whom he was very close. However, his family did not own a record player. He went to a friend's house to try it out and left it there. 60 years later, his friend's niece found it and offered it to an auction held at Graceland in 2015. It sold for $300,000.
It is hard to believe that Presley was not always the showman with the shaking hips and flashy outfits with which he is commonly associated. "You could hear Elvis at the age of 18; he doesn't want to mess up," said Graceland archivist Angie Marchese on CBS News. "He wanted it to be perfect."
Elvis Presley was not the only star to record at Sun Records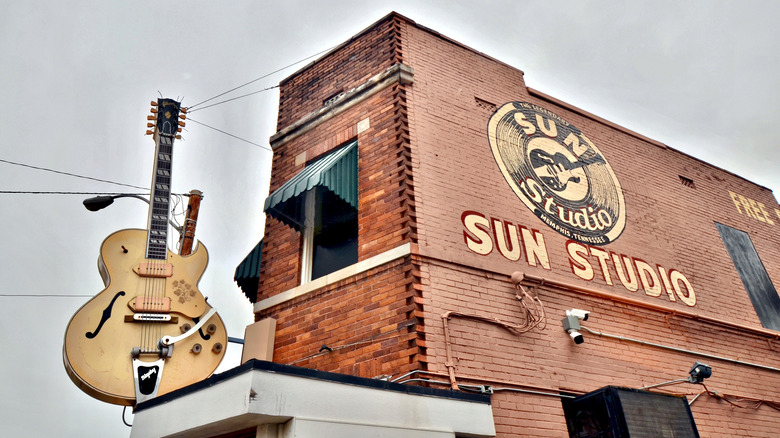 girlwander1982/Shutterstock
Sun Records became part of Elvis Presley's origin story for much more than his first-ever recording. It was here that he recorded "That's Alright" in 1954. The song did not make it big nationally, but did help Presley gain fame around the area, coupled with his performances around the southern United States (per The San Diego Tribune). He signed a record deal with Sun Records, but soon signed with RCA Records in November of 1955. "Heartbreak Hotel" hit the charts just a few months later and the rest is history.
Presley fans can still visit Sun Records in Memphis, along with Johnny Cash, Jerry Lee Lewis, and Roy Orbison fans. Sun Records became a hub for all of these household names and a proponent for the "rockabilly" sound that combined country music with blues and jazz. "That's Alright" and other early songs in Presley's repertoire combine these genres as well. Primary Wave purchased Sun Records in 2021, but keeps the legacy alive for future generations.