Did Weird Al Yankovic Really Know Madonna?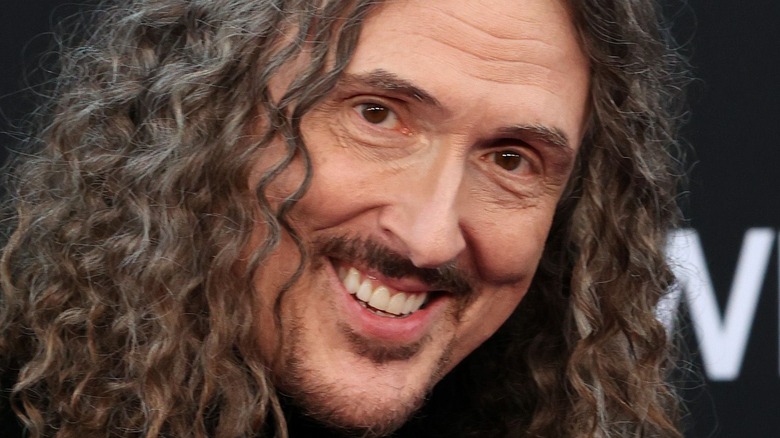 Kevin Winter/Getty Images
Weird Al Yankovic is an iconic figure known for his clever parody songs (via AllMusic). In 1979, he released "My Bologna," a parody of "My Sharona" by the Knacks. Since then, Yankovic has continued to release parody after parody of current popular hits. This includes "Eat It," a parody of Michael Jackson's "Beat It," and "Smells like Nirvana," a parody of Nirvana's "Smells like Teen Spirit." According to Yankovic's biography, he's won five Grammy awards and has left an undisputed mark on the entertainment world. So much so that he now has his own biopic (per Rolling Stone).
Per IMDb, "Weird: The Al Yankovic Story" stars Harry Potter's Daniel Radcliffe as Yankovic and Evan Rachel Wood as pop legend Madonna. In the film's trailer, Yankovic and Madonna are seen hooking up. Furthermore, the film delves into Yankovic's drug use and rock 'n' roll lifestyle. Although the trailer claims to tell "the untold true story" of Yankovic's career origins and his meteoric rise to fame, the film is not an accurate representation of Yankovic's persona. As the Daily Mail explains, "Weird: The Al Yankovic Story" is nothing but a satirical take on Yankovic's life. This includes his relationship with Madonna.
They were never romantically involved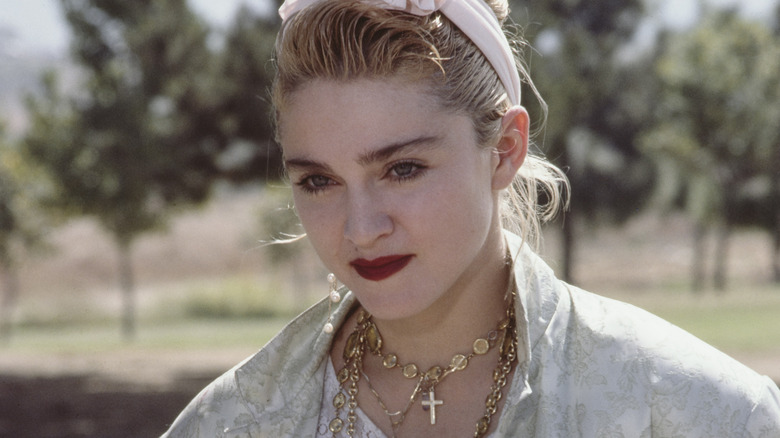 Michael Ochs Archives/Getty Images
Madonna (portrayed by Evan Rachel Wood) is heavily featured in the trailer for "Weird: The Al Yankovic Story." Distractify writes that Madonna enters Yankovic's mansion and asks, "I was wondering if you were going to do a parody of my song, 'Like a Virgin'?" Yankovic then asks, "Now I'm curious, is that song ... autobiographical?" Madonna says "yes," and the pair make out. She then exclaims, "Except for the fact that I've had a lot of sex." Despite the film's implication that Yankovic and Madonna were in a romantic relationship at one point, the Daily Mail reports that this is simply not true. In fact, the publication notes that it's unknown if the two have ever met before.
According to Rolling Stone, "Weird: The Al Yankovic Story" explores Yankovic's drug-fueled behavior and the negative effects it had on his personal life. However, this is also an exaggeration of the truth. In a 2014 interview with Rolling Stone, Yankovic stated, "But I've never done drugs recreationally. I've been around people that smoked dope, pot, Mary Jane, reefer. I enjoyed being around those people in college because it was very easy to make them laugh. But it was never my thing and my parents drilled into me not to ever take drugs, so out of respect for them I never did." Nevertheless, "Weird: The Al Yankovic Story" does get one thing right — Yankovic did indeed write a parody of "Like a Virgin."
Like a Surgeon was Madonna's idea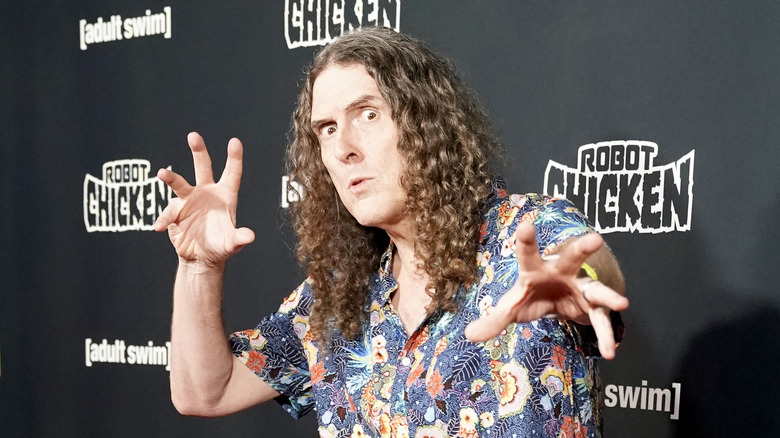 Erik Voake/Getty Images
In 1985, Al Yankovic released "Like a Surgeon," his take on "Like a Virgin" (via Discogs). According to American Songwriter, "Like a Virgin" appears on Madonna's 1984 album of the same name. Although Madonna did not write the song, it did launch her into super stardom. Spin adds that "Like a Virgin" has been continually named one of the best songs of the '80s. Per AllMusic, "Like a Surgeon" Was released on Yankovic's "Dare to Be Stupid." In the now iconic music video for "Like a Surgeon " (as seen on YouTube), Yankovic portrays a medical professional making questionable decisions in the operating room.
Despite never meeting (per the Daily Mail), Yankovic told WNYC Studios that Madonna created the concept for "Like a Surgeon." He explained, "Madonna was actually the person who suggested that I do the parody 'Like a Surgeon.' She was apparently talking to a friend of hers as they were walking through New York City one day, and she just happened to wonder aloud, "I wonder when Weird Al's gonna do a parody of 'Like A Virgin' called 'Like A Surgeon.' It got back to me, and I thought — not a bad idea, thanks Madonna, think I will!" Totally '80s adds that Madonna's friend knew Yankovic's manager, which is how he was told about the idea. "Like a Surgeon" is also the only Yankovic parody that was developed by the original artist. 
"Weird: The Al Yankovic Story" will be released on the Roku Channel on November 4 (via Rolling Stone).