You Probably Didn't Know James Dean Was Also A Record-Setting Basketball Star
Despite his short career, James Dean is regarded as a cultural icon in Hollywood. His films include "Rebel Without a Cause," "East of Eden," and "Giant," and his acting career was going on an upward trajectory. However, his life was cut short when he died in an automobile accident in 1955 at just 24 years old (via Biography). The young actor was on his way to a car race — an activity he loved doing when not working — when the tragedy occurred.
Apart from racing, Dean also had other hobbies including painting and appreciating art. As noted by Alberti's Window, the actor often visited museums, and one of his favorites was the Museum of Modern Art. His other interests include horse riding, bullfighting, and photography. But even before he became a well-known actor, Dean was a stellar athlete during his high school and college years. In fact, he was once described as someone who could "knock the eyes out of a basket" (via Indy Star).
James Dean was always interested in sports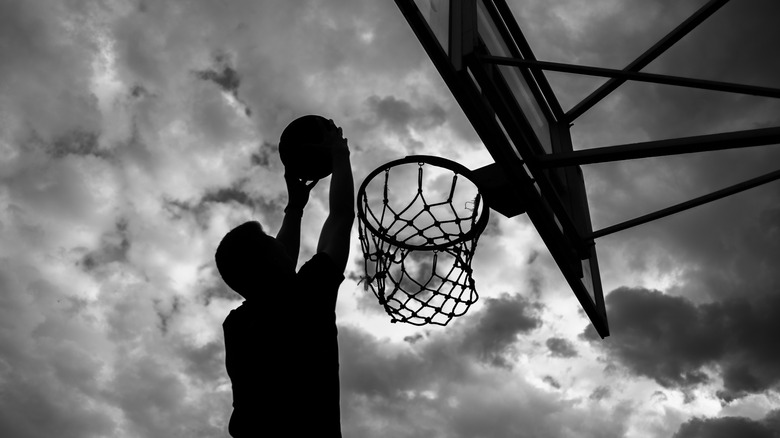 Gennadiy Naumov/Shutterstock
James Dean was born in Marion, Indiana, in 1931, and his family moved to Santa Monica, California, due to his father's job as a dental technician. James, nicknamed Jimmy, had a close relationship with his mother, and it was devastating for the young boy when she died of cancer when he was just 9 years old, as noted by History. Afterward, his father sent him back to Indiana to be cared for by his aunt and uncle who lived on a farm.
His Uncle Marcus doted on him and was instrumental in fostering Dean's talent in sports. As reported by Indy Star, Marcus provided a makeshift court for the young boy by placing two basketball hoops in his large barn, so Dean could hone his skills. He gave him tips and tricks, which led to Dean being a good basketball player. Not only that, but Dean also played hockey in the winter months on the pond on his uncle's property, and Marcus even set up a pit for his nephew to practice pole vaulting. According to a former classmate, Dean was shy in his younger years but as he excelled in various sports, he became more confident.
He was a star basketball player
Per Stateline Sports Network, James Dean was part of several clubs in Fairmont High, including basketball, theater, track, and band, and despite being good at everything he did, his favorite was basketball. He stood at 5 feet 8 inches and had bad eyesight, but that didn't stop him from becoming a star athlete. In the book "James Dean: Rebel Without a Cause," the author, Wes Gehring, noted that Dean was a perfectionist who often threw his eyeglasses on the court whenever things didn't go the way he wanted, and by the time he graduated, he had destroyed 15 pairs of eyeglasses.
One of Dean's most memorable games was during the finals game of the sectionals wherein his team lost, but his performance was outstanding, providing 15 points out of his team's 34 (via Indy Star). In his senior high school yearbook, Dean was described as "a brilliant senior guard" and "rated as one of the most outstanding guards in the country." He set sports records in his high school and was even awarded the top athlete during his senior year. One of his basketball coaches called him a "clean-cut, All-American type boy." Additionally, Dean held a county record for pole vaulting and had a batting average of .333 in an amateur baseball league.