Prince Harry And Meghan's Children Just Moved Up In Succession To The Throne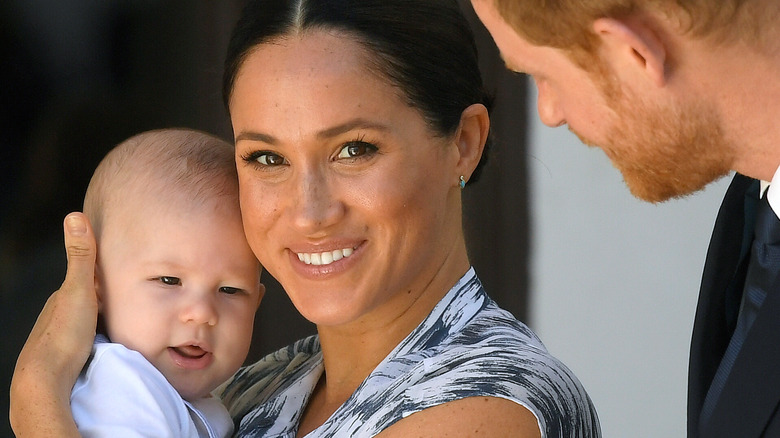 Pool/Getty Images
After a 70 year rule, Queen Elizabeth II has died at the age of 96 (via NPR). With her death, her son Charles is now the king. Shortly after, King Charles III, as he will now be called, released a statement on Twitter that read "We mourn profoundly the passing of a cherished Sovereign and a much-loved Mother. I know her loss will be deeply felt throughout the country, the Realms and the Commonwealth, and by countless people around the world." According to USA Today, the queen's death brings into question the royal duties under King Charles rule.
However, one thing remains clear; the line of succession(per USA Today). Per the BBC, Prince William and his three children are first in line for the throne after King Charles. The Daily Mail notes that now, Prince Harry and his children with former actress Meghan Markle, have moved up in the line of succession. The queen's death now means that Prince Harry is fifth in line for his throne while his children, Archie Harrison Mountbatten-Windsor and Lilibet Diana Mountbatten-Windsor are sixth and seventh. Nevertheless, there has been some controversy regarding their formal royal titles. Prior to the queen's death, neither child was technically a prince or princess.
Meghan Markle claimed Archie was denied a royal title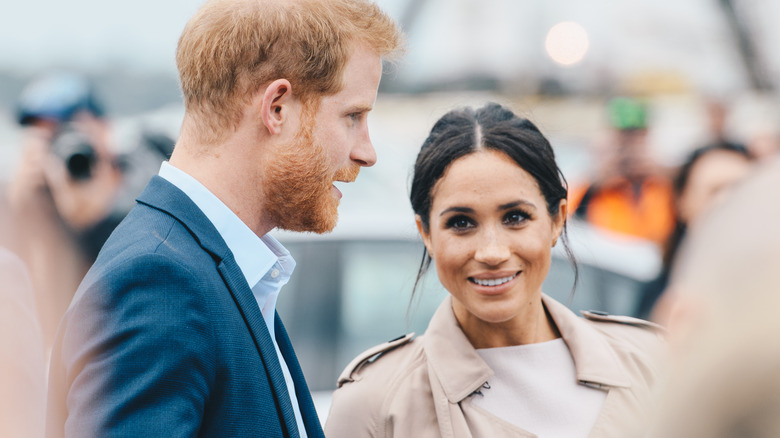 Shaun Jeffers/Shutterstock
In an interview with Oprah, Meghan Markle, who was then pregnant with her and Prince Harry's second child, divulged that their son Harry was not given a royal title. She stated that "[i]t was not our decision to make" and that there was "no explanation" for it. Markle, who is biracial, added that she believed it might have been due to Archie's skin color (via the Daily Mail). Per People, a lack of a royal title means that Archie is not entitled to receive security. However, the publication notes that it's not uncommon for members of the royal family to lack formal titles.
The BBC explains this is due to a 1917 letter by King George V. Here, George V declared that only the eldest living son of the eldest son of the Prince of Wales would be named a prince (HRH), which means that Prince George was automatically a prince since he was the son of the son (Prince William) of the Prince of Wales (Charles). This then did not automatically apply to George's siblings, nor Harry and Meghan's children. As George V's letter explained, all other great-grandchildren "shall have the style and title enjoyed by the children of Dukes" (via Newsweek).
This said, in December 2012, the queen issued a "letters patent," allowing Prince George's siblings, Charlotte and Louis to also have HRH titles (via the BBC).
Both children are now entitled to be a prince and princess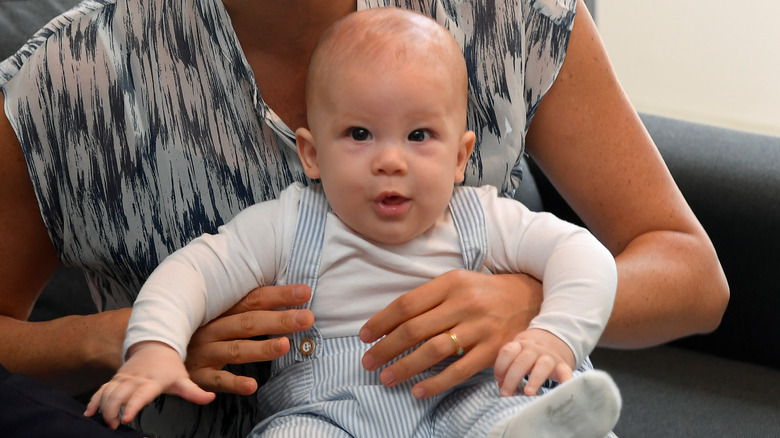 Pool/Getty Images
Newsweek reports that under George V's decree, Prince Harry and Meghan Markle were entitled to name Archie a duke. Instead, they opted for Master Archie as they said they wanted their son to be a "private citizen." But as People notes, the queen's death changes everything. The BBC reports that with their great-grandmother's death, Archie and Lilibet are now the grandchildren of a monarch, King Charles III. As grandchildren, Archie and Lilibet are now entitled to gain royal titles as prince and princess. Nevertheless, Prince Harry and Markle can choose not to officially accept these titles for their children.
In her interview with Oprah, Meghan Markle said that she's not too concerned about royal titles or what they mean. She explained, "All the grandeur surrounding this stuff is an attachment I don't have. I've been a waitress, an actress, a princess, a duchess. I'm clear on who I am independent of that stuff. The most important title I will ever have is 'mom.'" However, in that same interview, Prince Harry and Markle noted that they did want Archie to be a prince for safety reasons (per Cosmopolitan). Markle added that she also didn't want her son to be treated differently from other royal grandchildren (via the Daily Mail).