How Did Muddy Waters Get His Name?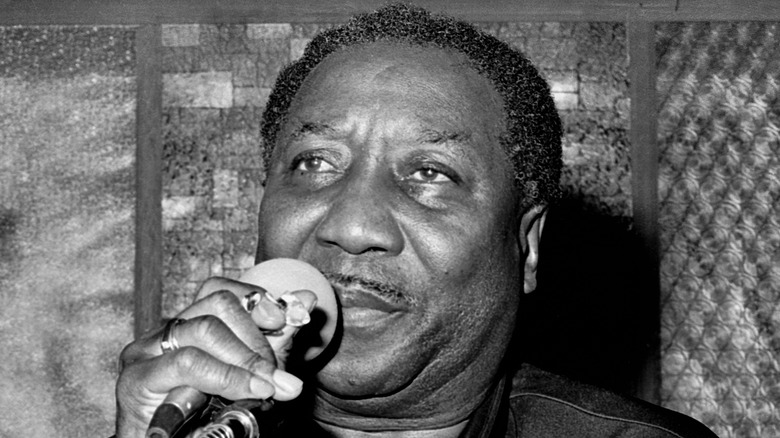 Amy Kossover/Getty Images
Muddy Waters is an iconic U.S. blues musician who has been dubbed the "father of modern Chicago blues" (via The Telegraph). His sound has influenced other music legends like Otis Rush, Eric Clapton, and the Rolling Stones, according to Rolling Stone. But before all that, he was just a little boy playing in the moist dirt of his Mississippi birthplace. Indeed, those humble origins are how he got his famous name. 
Muddy Waters was born with the name McKinley Morganfield to Ollie Morganfield and Bertha Grant in 1913, though he would later claim he was born in 1915, his biographer Robert Gordon wrote in an excerpt from "Can't Be Satisfied" published in The New York Times. However, it wasn't his parents who raised him. His mother died when he was very young, and his father married another woman and had 10 children with her. Little Morganfield went to live with his grandmother Della Grant. It was she who gave him the first half of his memorable nickname. She called him "Muddy" because of his early fondness for the mucky brown stuff along the banks of Deer Creek, according to The Telegraph. "When I got big enough to crawl around, I would play in the mud and try to eat it," he told rock journalist Robert Palmer (via Rolling Stone).
Flowing upstream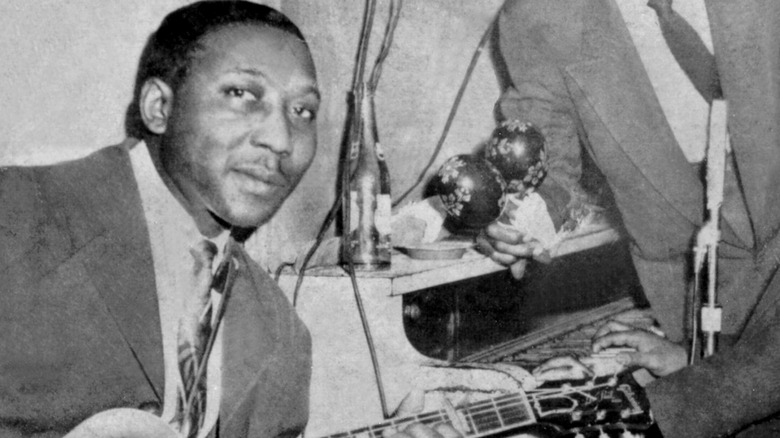 Michael Ochs Archives/Getty Images
The "Waters" half of Muddy Waters stage name came a little later. Robert Palmer wrote for Rolling Stone that it was an invention of childhood friends. The National Park Service wrote that it was added by his family members when he began to play the harmonica. He started the instrument at age 7 and by 13 was performing at local parties like fish fries. His Washington Post obituary also linked the nickname to his early performances. Robert Gordon, meanwhile, wrote that the name "Water" came from his musical performances in Mississippi, but the final "S" wasn't tacked on until he moved to Chicago (via The New York Times).
Muddy Waters' music career grew from those first backyard gigs to leading a quartet of singers as a teenager and then taking up guitar in 1935, according to The Washington Post. He made his first recording in 1941 when folklorist Alan Lomax came south to record music for the Library of Congress, per Britannica. However, it was Waters himself who would bring the Delta blues sound northward when he moved to Chicago in 1943. There, he picked up the electric guitar a year later and went on to record hits including "I'm Your Hoochie Coochie Man," "Got My Mojo Working," and "Rollin' Stone," according to Biography. The last of these was the inspiration for the name of the band the Rolling Stones, Bob Dylan's famous song "Like a Rolling Stone," and Rolling Stone magazine, according to the eponymous magazine. 
Mississippi mud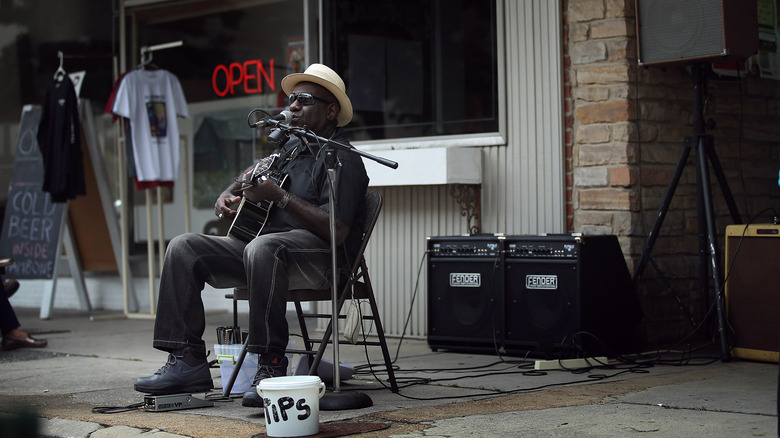 Scott Olson/Getty Images
Perhaps Muddy Waters' greatest legacy is serving as the bridge between his hometown music style and the global phenomenon that is rock 'n' roll. Delta blues is usually associated with a single singer playing guitar along with their words, according to PBS. Waters played the style with amplified instruments, which is what's known as the Chicago blues style. This style later evolved into rock music, according to Mississippi Blues Trail. Perhaps it's fitting, then, that the Mississippi Earth didn't just give Waters his name; it also provided his first instrument. "When I was around 3 years old, anything with a sound, I would try to play it. I'd take my stick and beat on the ground tryin' to get a new sound and be hummin' my little baby song along with it," he told Robert Palmer (via Rolling Stone). 
For Waters, the music didn't stop until he passed in 1983 following a heart attack, according to Biography. He had won six Grammys before his death, but he continues to enjoy a long musical afterlife. He was added to the Rock & Roll Hall of Fame in 1987 and given a Lifetime Achievement Grammy Award in 1992. He feared near his death that people would stop listening to and playing the blues, according to The Telegraph, but as long as people remember his music, it will remain as enduring as mud on boots.