President Biden's Message To King Charles Conveyed American Admiration Of The Queen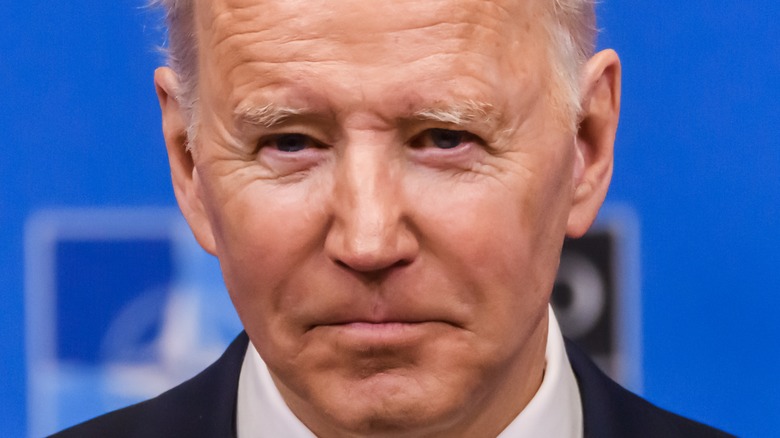 Gints Ivuskans/Shutterstock
As the world learned of Queen Elizabeth II's death, various prominent figures, including President Joe Biden, paid tribute to the queen and the royal family (per USA Today). He provided a statement (via The White House) that read, "In a world of constant change, she was a steadying presence and a source of comfort and pride for generations of Britons, including many who have never known their country without her." According to AP News, President Biden and first lady Jill Biden will be attending the queen's funeral on September 19.
On the same day he accepted the invitation, Politico reports that President Biden quoted the queen while giving a speech honoring the victims who died on 9/11. He stated, "Grief is the price we pay for love." Per the Daily Mail, the queen originally spoke these words in 2001 in light of the 9/11 attacks. Now, The Hill reports, the president has formally called King Charles III to offer his condolences. This phone call comes only days before the Bidens' arrival in London for the queen's funeral.
President Biden hopes that the US and the UK will continue their relationship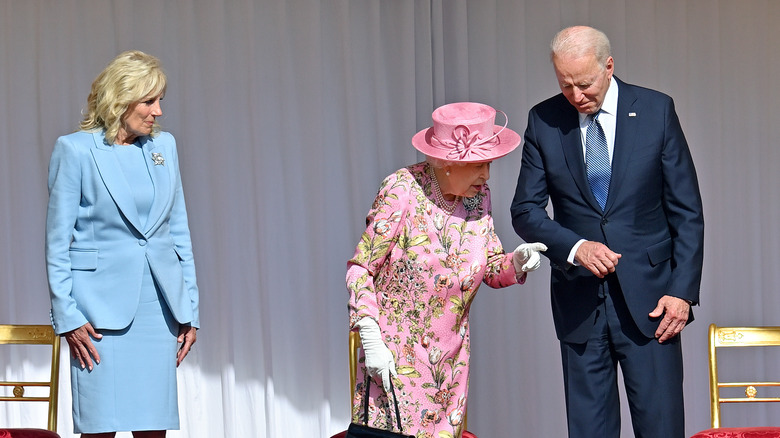 Pool/max Mumby/Getty Images
In his phone call to Charles, Biden spoke about his own trip to Windsor Castle in June 2021, where he was hosted by the queen (via The White House). Of this trip, he had said that Queen Elizabeth "reminded me of my mother, in terms of the look of her and just the generosity" (per CBS News). He continued his call by adding that the American people have nothing but respect for the late monarch. Furthermore, Biden relayed that he intends to have the same relationship with Charles as he did with the queen. This echoed his earlier statement released upon the queen's death, in which President Biden noted that "In the years ahead, we look forward to continuing a close friendship with the king and the queen consort."
According to Yahoo! News, the queen's 70-year reign ushered in a "special relationship" between the U.S. and the U.K. CBS News relates that Elizabeth met 13 presidents, including Harry Truman and Dwight Eisenhower. This undoubtedly contributed to her popularity and celebrity-like status in the U.S. (per The Guardian). Now, it's expected that King Charles III will follow in his mother's footsteps and carry on this significant legacy.
"Queen Elizabeth II was a stateswoman of unmatched dignity and constancy who deepened the bedrock Alliance between the United Kingdom and the United States," said President Biden. "She helped make our relationship special." He concluded, "Her legacy will loom large in the pages of British history, and in the story of our world."