The Legend Behind The Prince Albert Piercing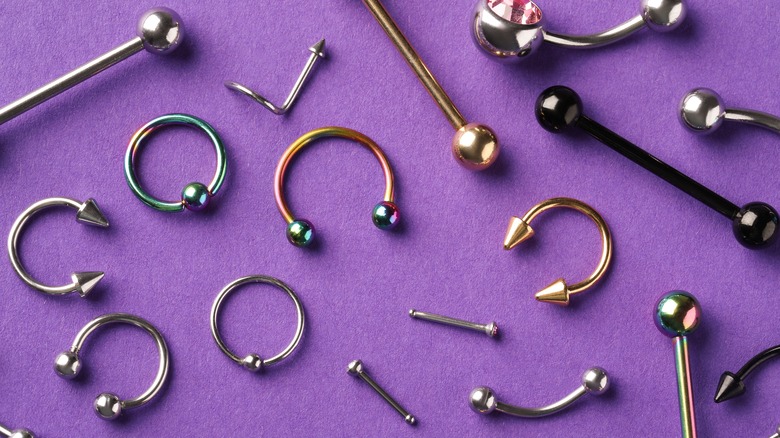 New Africa/Shutterstock
In 2018, as the world celebrated the arrival of Prince William and Kate Middleton's third child, rumors started circulating amongst the general public about the baby's potential name, and people had a hard time holding their tongues. "The royal family's web developer may have inadvertently spoiled the name of Prince William and Kate Middleton's third child — which could may be Albert — on the family's website," People magazine shared shortly after the birth. If you're puzzled as to why the name Albert would be controversial for anyone, maybe you've never heard of the infamous Prince Albert piercing. If you have, well... you understand the alarm.
Luckily, the royal couple settled on Louis as a name for their newly welcomed son, which probably saved the kid a lot of hassle and heckling throughout coming years. Assuming you're one of those people who still has no clue what we're talking about, let's back up a little bit and explain some things. Prince Louis was almost Prince Albert, and a Prince Albert is the notorious moniker granted to a piercing one receives on his... well, on his... "little prince," if you will. If that's not clear enough, try this one on for size: a Prince Albert is a piercing one gets on their penis. There. We said it. 
The infamous Prince Albert piercing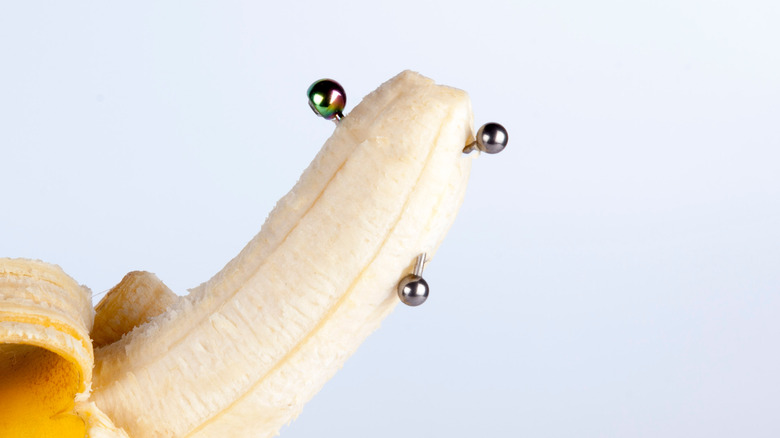 Alexander_IV/Shutterstock
In the midst of all the buzz surrounding Queen Elizabeth II's recent death, you can at least rest assured knowing that you're able to search the royal family — including Prince Louis' name — on the internet without the risk of stumbling upon any unsavory images of a bedazzled male appendage. According to Men's Health magazine, the Prince Albert is one of the most popular and common piercings for men to get on their private parts (yes, it's one of several), though it can seriously hinder one's sexual practices and requires a substantial period of healing after the fact, so practice caution if you're considering getting one. 
If this is your first time hearing about the regal Prince Albert piercing, you might be wondering why anybody in their right mind would poke a hole in that particular part of their body. Well, some guys just like the way it looks, as The Huffington Post reports. Others swear by the notion that it simply makes sexual intercourse better for both parties, and several women have attested to this. In any case, someone, somewhere, at some point in time was the first to give himself an anatomical piercing of this sort, so where did it all begin? Also, why is it called a Prince Albert?
The man, the prince, the legend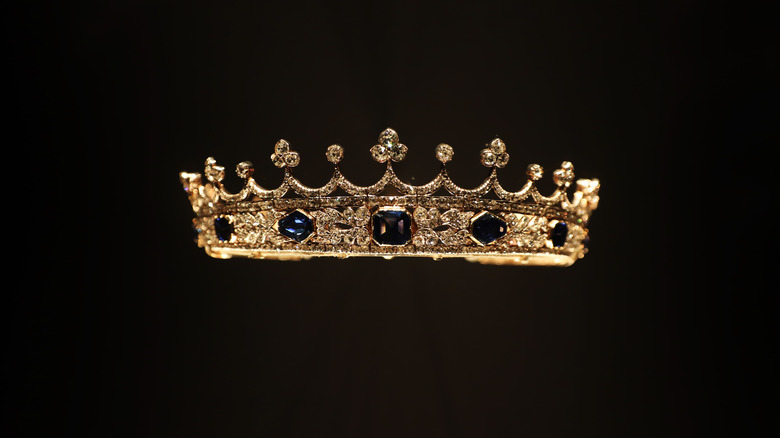 MikolajS/Shutterstock
Even those who are aware of what a Prince Albert is might not know why it's even called that. Well, according to The Huffington Post, stories have proliferated throughout the ages of Queen Victoria's husband, the noble Prince Albert, and an alleged phallic adornment he was reputed to wear. Legend tells that the prince pierced his male parts in order to "assist the hang of his genitals within relatively tight trousers." That might seem like an overcorrection, but various royal customs throughout the centuries have certainly looked odd at times (for instance, Good House Keeping reports that whenever the queen decides she is done eating, everyone at the table must stop as well). 
Another theory postulates that Prince Albert had something known as Peyronie's disease, which is an ailment that creates a severe curve in the penis and causes extremely painful erections. The piercing some claimed he had was rumored to assist in stifling the overarching curvature. However, there has never been any substantial evidence to fully credit either proclamation, so the legend of the Prince Albert piercing remains nothing more than a legend. Its practice in the modern day, however, lives on (via The Huffington Post).