The Real Reason Princess Anne's Daughter Has An Unusual Royal Name
SHP Photography/Shutterstock
When Queen Elizabeth II died on September 8, she was survived by eight grandchildren, according to CNN – two from each of her four children — as well as 12 great-grandchildren, according to People. Many people might be hard-pressed to name any members of the extended royal family besides Princes William and Harry and their wives. All things being equal, William will one day reign on the throne now occupied by his father; the other has effectively left the royal family for a new life in America. The king's nephews and nieces remain largely out of the public eye. Of those, the closest to the throne after Prince William is Princess Beatrice, the daughter of Prince Andrew and Sarah Ferguson. The princess is ninth in line to the throne, according to Royal Line of Succession. In 2020, Princess Beatrice married Edoardo Mapelli Mozzi (per Hello! Magazine).
Even further down the line (at 20th) is Zara Tindall (above). She has an unusual name among the royal family in that she uses a surname, as opposed to just a first name and a title (such as William, Prince of Wales), and her first name isn't English (like William or Andrew or Elizabeth). Zara is the daughter of King Charles' sister, Anne, and Captain Mark Philips. According to her mother — Anne, the Princess Royal, who's 16th in the line of succession — none other than Zara's uncle, Prince Charles (now King Charles), picked out that name for the newborn (per Gloucestershire Live).
Who Is Zara Tindall?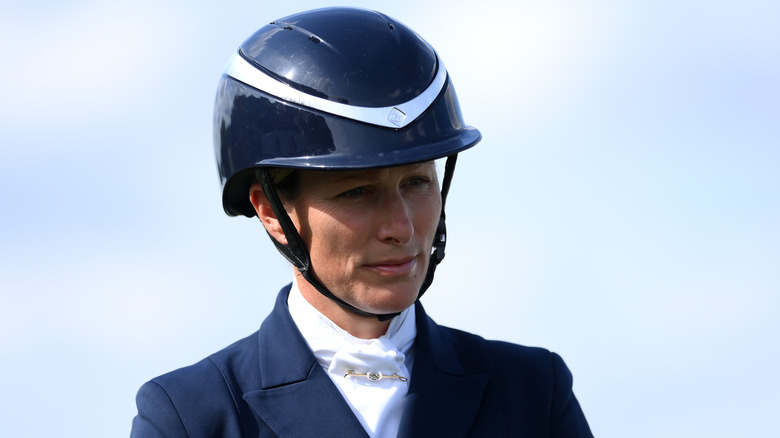 Shaun Botterill/Getty Images
Zara Phillips was born on May 15, 1981, according to Hello! Magazine, the second child of Princess Anne and her then-husband, Captain Mark Phillips (per Express). According to The New York Times, Anne, the Princess Royal (as she's officially styled), is widely regarded as one of the hardest-working members of the royal family, making more than 400 appearances a year in various capacities. (Vanity Fair reports that the number was 500 in 2019.) The Times quotes historian Edward Owens: "She's always recognized that the family can only enjoy the privileges of royal life if they work hard." Among her many charitable endeavors was serving as president of Save the Children for nearly 50 years, from 1970 to 2017, for which she was nominated for the Nobel Peace Prize.
Within that context of royal duties and the public attention that attracts, Anne was keen to see her children — both Zara and her older brother, Peter — have as much of a normal life as possible, and steadfastly refused to allow them to receive titles, honors and styles. "I think it was probably easier for them, and I think most people would argue that there are downsides to having titles," she told Vanity Fair in 2020. "So I think that was probably the right thing to do." Express reports that Peter went on to become a successful marketing executive. There have also been personal family challenges with which the children have had to cope; Princess Anne and Mark Philips divorced after nearly 20 years of marriage, in 1992 (per Britannica).
'Bright as the dawn'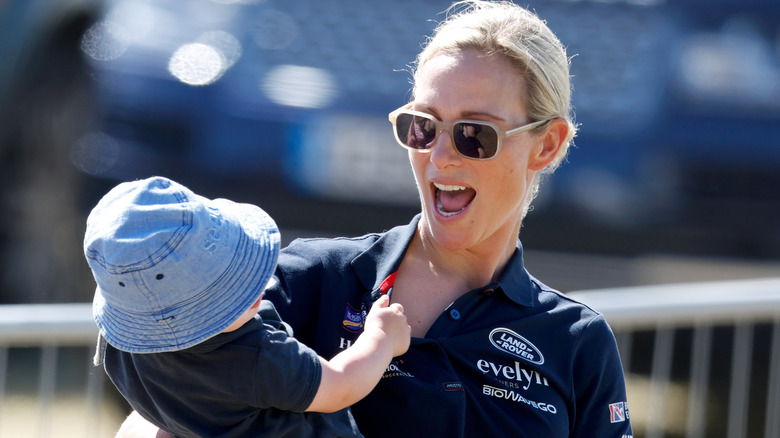 Max Mumby/indigo/Getty Images
Though titles were not part of Zara's life, wealth certainly has been. Like so many other women born into the British aristocracy, she attended tony boarding schools and then went to university, where she earned a degree in physical therapy. She also developed a fondness for riding horses, and competed in the Olympics in 2012. These days, according to Gloucestershire Live, Zara lives a "low-key" life with her husband, Mike Tindall, a former rugby player, whose surname she uses. The couple are the parents of three children: Mia, Lena, and Lucas.
According to Hello! Magazine, when Zara was born, her arrival was unexpectedly quick, so much so that her mother, Princess Anne, would quip, with traditional British terseness, that "the baby made a rather sudden and positive arrival." Anne's brother, then-Prince Charles, suggested the name Zara, which is supposedly Greek for "bright as the dawn." Of course, the British royal family speaks English, not Greek, and traditionally uses English names. So why the Greek reference? It could be that Charles was simply fond of the name, but there is, of course, a Greek connection to the current royal family. Charles' father — Zara's grandfather – Prince Philip was actually born in Greece, into what was, at the time, the Greek monarchy.
Charles' beliefs aside, it's unclear if Zara is actually means "bright as the dawn" or simply something similar. Bible Study Tools says that it is in fact Greek and means "rising like the sun." However, Good Housekeeping notes that it could also mean "princess," "seed," or "flower."