What We Know About The Last Group Of People To View The Queen's Coffin Before The Funeral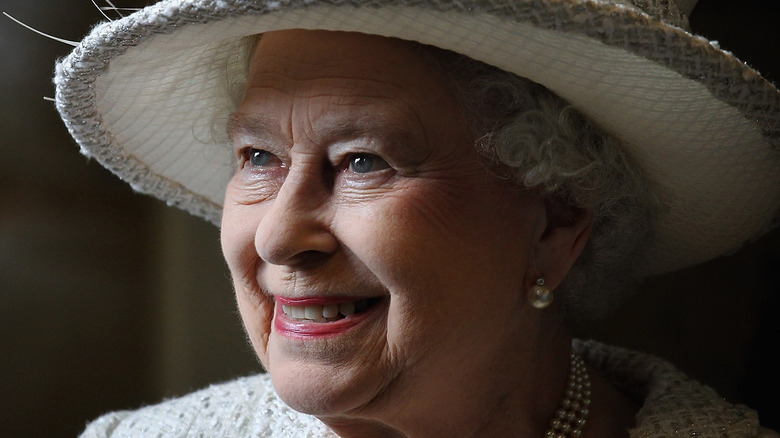 Chris Jackson/Getty Images
In four days of lying in state, the coffin of Queen Elizabeth II was visited by hundreds of thousands of mourners from the United Kingdom and beyond — but what do we know about the final group allowed to pay their respects? 
BBC reports that the queue's longest wait time was more than 24 hours. It's worth noting that some mourners, who could have enjoyed special privileges and queue-skipping, chose instead to join the line. Per Elle, Tilda Swinton, Sharon Osbourne, and, as widely reported, soccer legend David Beckham waited for hours to see the Queen's coffin. Speaking to ITV from the line, 12 hours into his wait, Beckham revealed that he truly appreciated being surrounded by so many other royalists who shared what Queen Elizabeth II meant to them. "It's special to be here to celebrate, and to hear the different stories, what people have to say," he shared. He also pointed out that the massive turnout was a testament to Queen Elizabeth II's legacy. "Everybody wants to be here to be part of this experience and celebrate what Her Majesty has done for us," Beckham told ITV, before returning to his place in the line. 
With that said, the stars in line were joined by countless others. The Telegraph reported that over 1 million royalists gathered over the four days. That period has since come to a close, and the final mourners have said their goodbyes. So, what do we know about that final cluster? 
The final two mourners had special connections to Queen Elizabeth II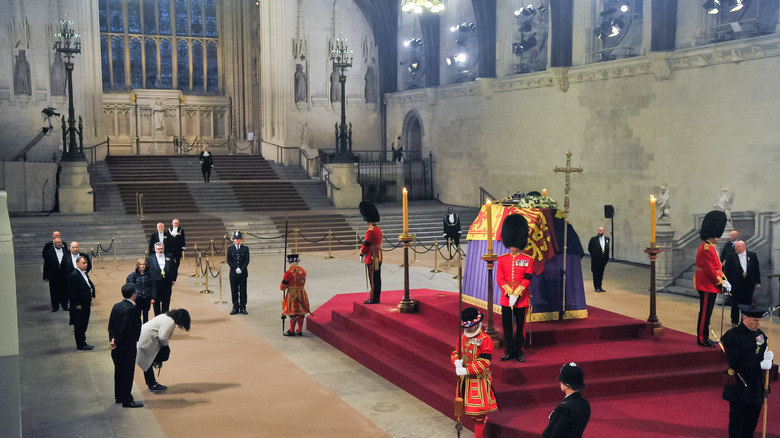 Laura Lezza/Getty Images
The final group to bid Queen Elizabeth II a final goodbye was much like those who went before them; they were royalists with a deep affection for the late head of state. Such was undoubtedly the case for mourners Amy Storer, Natalie Mustin, and Lucia Inglis. According to the Daily Mail, the three embarked on quite a journey to reach the line after a train cancellation. The group ultimately stood in line for over 10 hours. However, according to Inglis, it was a small price to pay. "Standing in line for a few hours is nothing compared to the years [the queen] has devoted to service," she shared.
The final two people through the line shared stories about their connection to the late Queen Elizabeth II. Second-to-last in line, Iranian-born Sima Mansouri revealed that her cousin had served as a flower girl to greet the monarch when she visited Tehran in the '70s. Speaking to The Independent after exiting Westminster Hall, an emotional Mansouri described her experience inside as "astounding." As for the very last person in the queue, Christina Heerey, she revealed that she was a member of the Royal Air Force, and as such, had sworn allegiance to Queen Elizabeth II. It's no surprise then that she stood in line not just once but twice! 
"She was well worth it," Heerey told The Independent reporters. Something tells us that's a sentiment shared by everyone who dedicated their time to the historic line.