The Two New Pieces Of Music That Were Made For The Queen's Funeral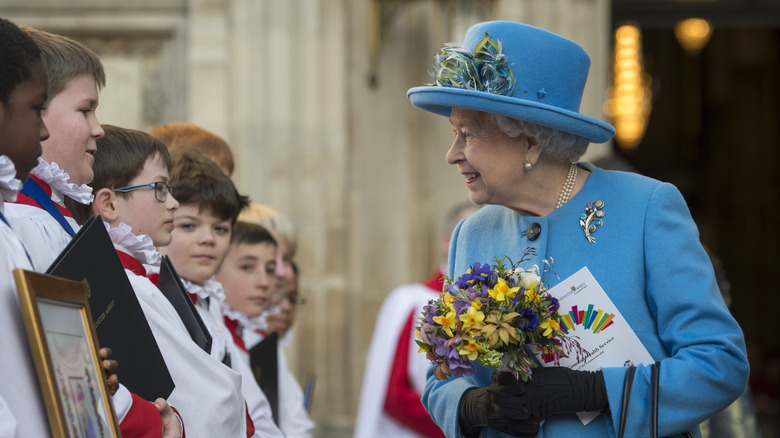 Wpa Pool/Getty Images
2,000 attendees said their final goodbyes to Queen Elizabeth II at her state funeral, which was held at London's historic Westminster Abbey (via CNN). Today reports that the music for her majesty's funeral was an integral part of the service. In fact, Westminster Abbey tweeted, "Much of the music at today's State Funeral was selected for its special significance to HM Queen Elizabeth II, and many of the choices also have a long association with Westminster Abbey." According to Classic FM, the music was sung by The Choir of Westminster Abbey and The Choir of His Majesty's Chapel Royal.
Additionally, three hymns and two anthems were performed in the service (per Classic FM). Good Housekeeping reports that these hymns included "The Lord's My Shepherd," "The Day Thou Gavest, Lord, Is Ended," and "Love Divine, All Loves Excelling." People explains that "The Lord's My Shepherd" was incredibly special to the queen. The publication states that this hymn was sung during her 1947 wedding to Prince Phillip. Moreover, Classic FM notes that "The Day Thou Gavest, Lord, Is Ended" was performed at Queen Victoria's 1897 Diamond Jubilee. Per CNN, the Charles Wesley hymn, "Love Divine, All Loves Excelling," was sung during the 2011 wedding of the Prince and Princess of Wales. Slipped Disc reports that composers Judith Weir CBE and Sir James MacMillan each wrote a new piece for the queen's funeral.
The pieces were inspired by her faith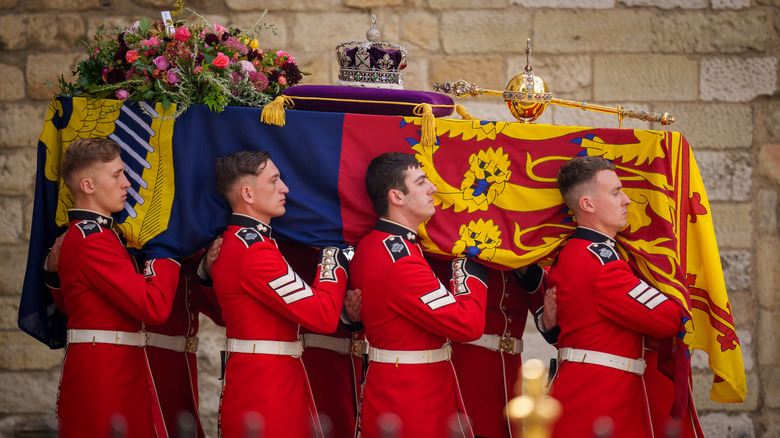 Christopher Furlong/Getty Images
According to Today, Weir, who is the Master of the King's Music, composed "Like as the heart," while MacMillan's piece is called "Who shall separate us?" For "Like as the heart," Weir stated that she reworked Psalm 42 to create a piece demonstrating the queen's commitment to religion and her faith (via Slipped Disc). She explained, "The words and music speak at first of the soul's great sadness and thirst for God's reassurance; but as the psalm progresses, the mood becomes calmer and more resolved, culminating in consolation, with the words "Put thy trust in God." 
Classic FM writes that Weir recently composed pieces for the "Service of Thanksgiving" for the queen's Platinum Jubilee in June 2022 (via the BBC). As for MacMillan's piece, it was inspired by the New Testament's "Epistle to the Romans." MacMillan, per Slipped Disc, stated,  "I am honoured that my anthem "Who shall separate us" commissioned for this event will be sung at the Commendation." ABC News reports that the queen will be buried at ​​St. George's Chapel in Windsor Castle. Per another article from Classic FM, another one of Weir's pieces, "The Tree of Peace" will be performed at the queen's committal service.