The Traditional Service That Was Seen For The First Time Ever At The Queen's Funeral
Dan Kitwood/Getty Images
As it has been over 70 years since the last British monarch died and Queen Elizabeth took the throne, most people have been witnessing the various ceremonies and traditions of a sovereign's funeral for the very first time. We've certainly never seen a five-mile long queue to see a coffin before. 
There was also one final traditional service performed for the queen right before her burial that has never been televised before. It has to do with the "Wand of Office," a thin, ceremonial rod once used by the Lord Chamberlain to discipline naughty courtiers, according to the Evening Standard. We assume the practice of actually swatting at people who misbehave has long died out, but the Lord Chamberlain position — apparently a post of high honor and importance in the royal household — has not. 
Queen Elizabeth's last Lord Chamberlain was Lord Parker of Minsmere. And like all things royal, he had a final act of pomp and circumstance to perform at the queen's funeral ceremony.
The breaking of the Wand of Office was televised for the first time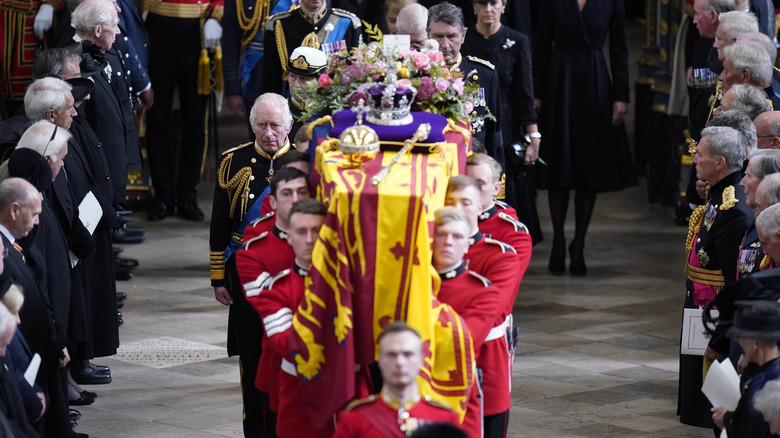 Wpa Pool/Getty Images
Viewers watching Queen Elizabeth's funeral ceremony on TV will have seen the breaking of the Wand of Office, in which the Lord Chamberlain ceremoniously breaks the rod, according to Deadline, thereby signifying the end of the Lord Chamberlain's service to the monarch. Lord Parker of Minsmere then placed the broken rod on the queen's coffin, and eventually it will be buried alongside her. 
The body of Queen Elizabeth has already had quite a journey, which is not quite completed yet. First, she was transported from Scotland, where she died, to London. Her coffin then was laid out in Westminster Hall for public viewing for four days, before another procession through London, ending at St. George's chapel, per People. There, Deadline reported, the queen will be laid to rest for good alongside her husband, Prince Philip. 
As for the future of Lord Parker, it's up to King Charles III to now choose a new Lord Chamberlain.