Why Queen Elizabeth II's Catafalque Holds Great Significance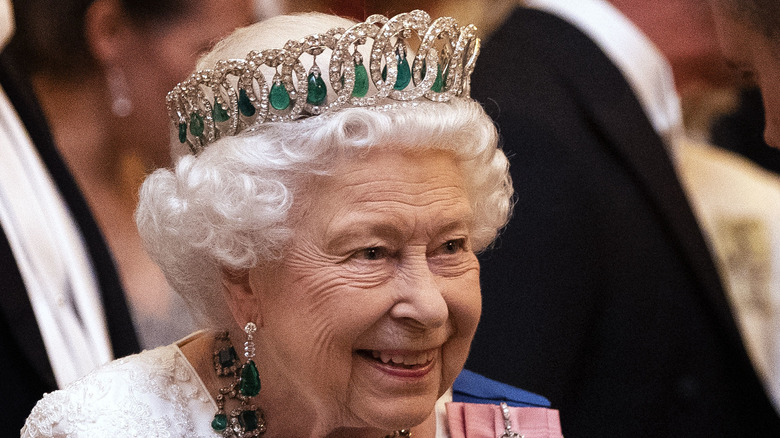 Wpa Pool/Getty Images
Queen Elizabeth II died September 8 at the age of 96. Her death has precipitated a celebration of her life and legacy, full of pomp and circumstance truly fit for a queen. Part of that celebration involves something called a catafalque. From the Italian word catafalco, or scaffolding, a catafalque is a raised platform on which the coffin of a noteworthy person is placed so that the public can better view it, as National World explained. It is essentially a fancier version of a bier and is usually made from metal or wood.
In the case of the queen, the catafalque is playing a role in enabling the public to view her coffin during the lying-in-state period, as The News explained. This will take place in London's Westminster Hall from Wednesday, September 14 to the day of her funeral on Monday, September 19, the U.K. government announced. Anyone who wants to pay their respects can pass by the raised coffin from 5 p.m. Wednesday to 6:30 a.m. Monday. Hundreds of thousands of people will likely pass by the coffin on its catafalque, AP News reported. 
Lying in state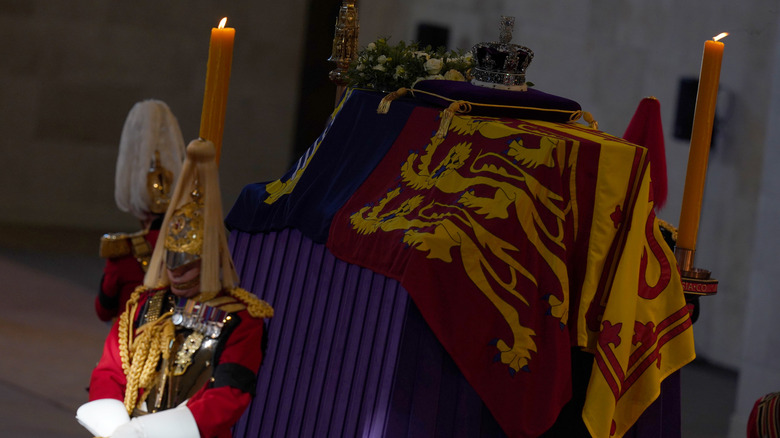 Wpa Pool/Getty Images
Queen Elizabeth's coffin was placed on the catafalque Wednesday after a procession transporting it from Buckingham Palace, as AP News reported. The coffin was borne by a horse-drawn carriage and then placed on the catafalque by eight pallbearers. The catafalque was draped in purple, with four yellow candles, one at each corner, according to iNews. The lying-in-state period is steeped in tradition. The queen's coffin rests in the exact same spot as her father's, grandfather's, and great-grandfather's coffins, The Guardian said. It was also carried to the spot in the same carriage as the one that carried her father's remains.
Her coffin itself was covered in the Royal Standard; her crown, which has nearly 3,000 diamonds; and a flower wreath, AP News reported. Those flowers included white roses and dahlias, lavender and rosemary from Windsor, and pine from Balmoral, according to The Guardian. In addition to a 24-hour stream of mourners, the coffin will be kept company by constant vigils. The first vigil was carried out by four Household Calvary officers who stood facing away from the coffin with their swords and heads tilted toward the ground.