The Queen's Relationship With Her Canadian Mare Was Unlike Any Other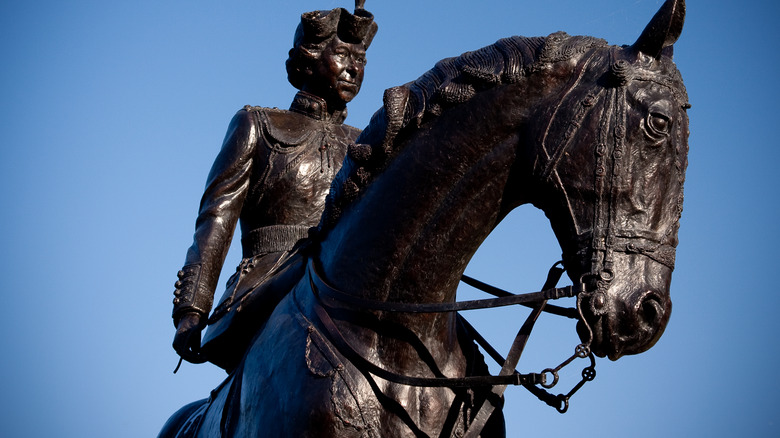 Scott Prokop/Shutterstock
On September 19, 2022, a state funeral for Queen Elizabeth II was held at the historic Westminster Abbey in London, England. Leaders, celebrities, and revered names from across the world were in attendance. The funeral marked a new epoch in Great Britain's royal legacy as it said goodbye to its longest-reigning monarch, and Yahoo News reports that no less than 2,000 guests were there to pay their respects. "She was an inspiring presence to be around," Sir Elton John declared before a concert audience following her death. "She led the country through some of our greatest and darkest moments with grace and decency and a genuine caring warmth" (via the "Today" show).
There's no doubt that people across the globe will continue to reminisce on their various relationships and experiences with the late sovereign, but her personal correspondents weren't strictly limited to human beings. According to Horse Nation, the late queen had a distinct predilection for the company of horses.
Burmese, the queen's beloved mare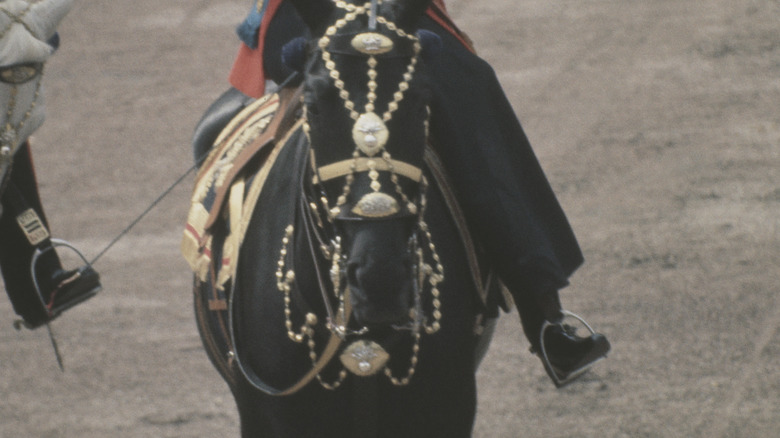 Steve Wood/Getty Images
As reported by Horse Nation, Burmese, Queen Elizabeth II's beloved mare, was born in Saskatchewan, Canada, in 1962 and was initially destined to join the Royal Canadian Mounted Police (RCMP). The radiant mare's obsidian coat and regal stature were truly something to behold, and being a devout horse lover herself, the queen was entranced by the animal's primal charm. She came into Elizabeth's possession after the mare turned 7 and the RCMP offered Burmese as a gift to the monarch, who was reportedly in the market for a new horse. 
According to Globe Trotting, Queen Elizabeth rode Burmese almost every day while passing the time at various residences she called home. She also appeared in several royal ceremonies astride the stunning mare who, by all accounts, was considered to be one of her dearest friends and most trusted allies. For over two decades, the animal lived a full and happy life alongside her royal counterpart. Burmese sadly passed away in 1990 at the age of 28 (per Horse Nation).
The Trooping of Colour incident, 1981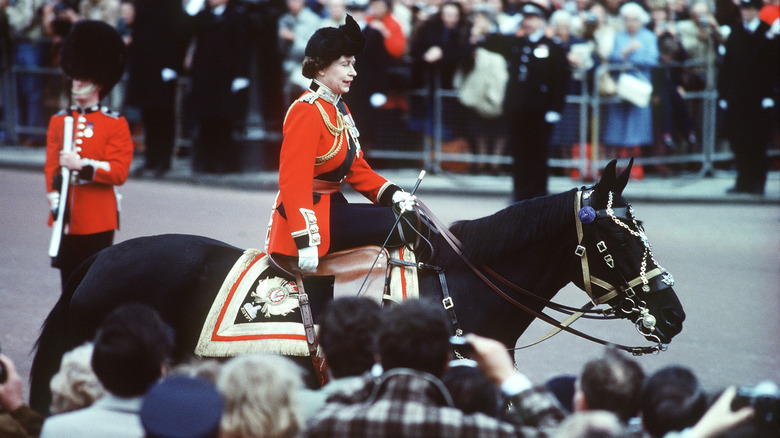 Anwar Hussein/Getty Images
The Trooping of Colour ceremony takes place each year and is the official celebration of the regency's birthday. It's been going on for almost 300 years, as The Royal Family reports, and throughout her reign, Queen Elizabeth II rode Burmese in no less than 18 of them before the animal was retired in 1986. It was in June of 1981 when the royal pair was subjected to what could have been a fatal disaster. According to Global Trotting, Queen Elizabeth and Burmese were leading the Trooping of Colour parade when an unruly bystander produced a pistol and fired six blanks in her direction, causing Burmese to reel and thrash in a frenzied panic. 
Luckily, what could have been a terrible catastrophe turned into an austere display of coolness under pressure. Burmese continued to flail and kick, and for a moment, it seemed as though the queen would be violently thrown from her saddle. However, she remained poised and focused, and in no time at all, managed to calm the beast and regain control over her without much trouble. The ceremony continued and the pair remained steadfast as they led the day into a benevolent conclusion (via Horse Nation).